The global 3D bioprinting market was valued at $1.78 billion in 2021 and it is expected to reach $10.3 billion at a CAGR of 16.7% between 2022 and 2032. The growth of 3D bioprinting market is gradually growing. The growth of this market is attributed to a rising aging population with chronic disease, and a limited number of organ donors. Increasing technological advancement with the integration of artificial intelligence and machine learning, proliferating R&D investment across the bioprinting industry, and increasing incidence of chronic diseases are other vitally impacting attributes likely to boost market growth during the forecast period.
By region, North America is leading the 3D bioprinting market with a significant share across the globe.
Over a couple of years, the COVID-19 pandemic has hampered the growth of the 3D bioprinting market. Hence, medical sectors across most countries are being overburdened. Thus, multiple 3D bioprinting communities had been focusing on offering their respective skills to reduce the burden on the supply chain. Due to this pandemic, the demand for 3D bioprinting products has increased. Several key players are focusing on creating a respiratory epithelium model using their proprietary 3D printer U-FAB, along with other bioprinting technologies. Moreover, many pharmaceutical companies are rapidly adopting 3D bioprinting products and technologies for the development of various medicines. Additionally, 3D bioprinting is gaining importance in the healthcare industry due to the potential for producing complex solid organs such as hearts, kidneys, and lungs for transplantations.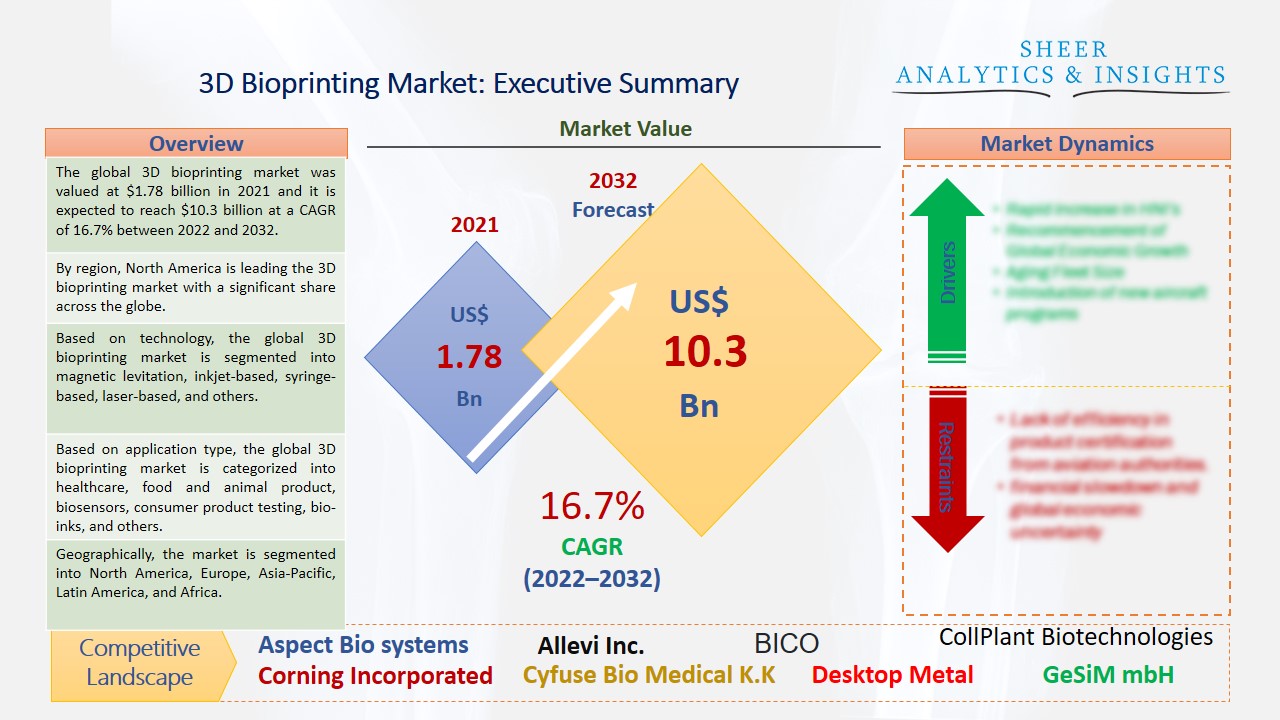 Source: SAI Research
Download Free PDF Sample Request
However, there are several disadvantages of 3D bioprinting and these are lack of precision with regards to droplet size and droplet placement compared to other bioprinting procedures. Hence, these are expected to hamper the growth of the 3D bioprinting market.
Based on technology, the global 3D bioprinting market is segmented into magnetic levitation, inkjet-based, syringe-based, laser-based, and others. The inkjet-based segment holds the largest share of the market due to its usage in enabling the printing of complex living organs or tissues on the culture substrates with the help of biomaterials as bio-inks. The adoption of inkjet-based printing is increasing in the medical sector, which has been contributing to the segment's market. Along with this, magnetic levitation is also anticipated to hold the maximum share of the market due to its rapid growth which can be attributed to the cost-efficiency associated with a lot of advanced technology.
Based on application type, the global 3D bioprinting market is categorized into healthcare, food and animal product, biosensors, consumer product testing, bio-inks, and others. Among these, the healthcare category is leading the market growth with a significant share and is anticipated to accelerate the 3D bioprinting market over the upcoming years due to the wide usage of medical pills to cure various chronic diseases is fueling the growth of the 3D bioprinting market. Various technologies are becoming advanced at present days. These technologies can be widely used in medical sectors and associated industries. This would drive the market throughout the forecast period.
Geographically, the market is segmented into North America, Europe, Asia-Pacific, Latin America, and Africa. Among these, North America holds the largest share of the market and is projected to dominate the 3D bioprinting market globally. The increasing incorporation of IT in the healthcare industry is estimated to accelerate the growth of the market. There is a maximum number of key players which are situated in this region. These key players are trying to establish mergers and acquisitions with other manufacturing companies for new research and development of 3D bioprinting products. Hence, the demand for 3D bioprinting is increasing, as various advanced technology has been reconnoitered for drug testing and organ transplantation.
Besides this, the Asia-Pacific region is also anticipated to dominate the market during the forecast period due to the rising cases of several illnesses in several countries such as India, China, and Japan, among others. In these countries, rapid investments of government in R&D are also seen at present days, which would help the market to grow.
According to the study, key players such as 3D Bioprinting Solutions (Russia), Aspect Bio systems (Canada), Allevi Inc (U.S), BICO (U.S), CollPlant Biotechnologies (Israel), Corning Incorporated (U.S), Cyfuse Bio Medical K.K (Japan), Desktop Metal (U.S), GeSiM mbH (Germany), Inventia Life Science (Australia), Manchester Biogel (U.K), Organovo Holdings (U.S), Prellis (U.S), Precise Bio (U.S), Pandorum Technologies (India), regenHU (Switzerland), ROKIT Healthcare (South Korea), Regemat 3D S.L (Spain), SunP Biotech (U.S), Tissue Regeneration Systems Inc (U.S), Vivax Bio (Russia), among others are leading the global 3D bioprinting market.
Scope of the Report:
Report Coverage
Details
Market Size in 2021

US$ 1.78 Billion

Market Volume Projection by 2032

US$ 10.3 Billion

Forecast Period 2022 to 2032 CAGR
16.7%
Base Year:

2021

Historical Data

2019, 2020 and 2021

Forecast Period

2022 to 2032

Segments covered

By Technology: Magnetic Levitation, Inkjet-Based, Syringe-Based, Laser-Based & Others

By Application Type: Healthcare, Food and Animal Product, Biosensors, Consumer Product Testing, Bioinks & Others

Geographies covered

North America, Europe , Asia-Pacific , LAMEA

Companies covered
Aspect Bio systems (Canada), Allevi Inc (U.S), BICO (U.S), CollPlant Biotechnologies (Israel), Corning Incorporated (U.S), Cyfuse Bio Medical K.K (Japan), Desktop Metal (U.S), GeSiM mbH (Germany), Inventia Life Science (Australia), Manchester Biogel (U.K), among others
The Global 3D Bioprinting Market Has Been Segmented Into:
The Global 3D Bioprinting Market – by Technology:
Magnetic Levitation
Inkjet-Based
Syringe-Based
Laser-Based
And Others
The Global 3D Bioprinting Market – by Application Type:
Healthcare
Food and Animal Product
Biosensors
Consumer Product Testing
Bioinks
Others
The Global 3D Bioprinting Market – by Regions:
North America
Europe
Germany
France
Italy
U.K.
Russia
Rest of Europe Countries
Asia-Pacific
India
China
Japan
South Korea
North Korea
Rest of Asian Countries
LAMEA
Brazil
Saudi Arabia
Rest of LAMEA
Note: This table of contents is a content of a published report. As per client requirement, cross-sectional analysis across all industries or specific geography or 'country-based' analysis can be provided as a part of paid customization. Please place your queries on sales@sheeranalyticsandinsights.com or query@sheeranalyticsandinsights.com