The global 3D printing plastics market was valued at $2.3 billion in 2021 and it is expected to reach $10.1 billion at a CAGR of 14.2% between 2022 and 2032. The demand from various end-user industries such as healthcare, aerospace, defense, and consumer goods is increasing. Hence, these have helped the 3D printing plastics market to grow across the globe. Multiple benefits are also expected to fuel the growth of the 3D printing plastics market during the forecast period.
By region, North America is dominating the 3D printing plastics market across the globe with significant share.
3D printed plastics product is attaining economies of scale through the consumption of lesser lead time, reduced costs, and mitigated risks, among others. A large number of customers have various demands for 3D printing plastic products. Thus, many key players are focusing on customizing based on this growing demand. In several developed nations, the government is supporting their country's companies which are beneficial for several end-user industries such as automotive, medical, and consumer goods. Moreover, the demand for high-quality healthcare instruments is growing in other developed countries as well. Some countries across the Asia-Pacific region are focusing on creating high a high demand for 3D printing plastics, especially in face shields, 3D printed masks, and filter cover applications. This positive growth is anticipated to fuel the market in the upcoming years. Furthermore, new developments in the additive manufacturing industry are creating new growth opportunities in most countries globally. Companies are primarily engaged in manufacturing stainless steel performance exhausts, which is another major factor projected to drive the growth of the market.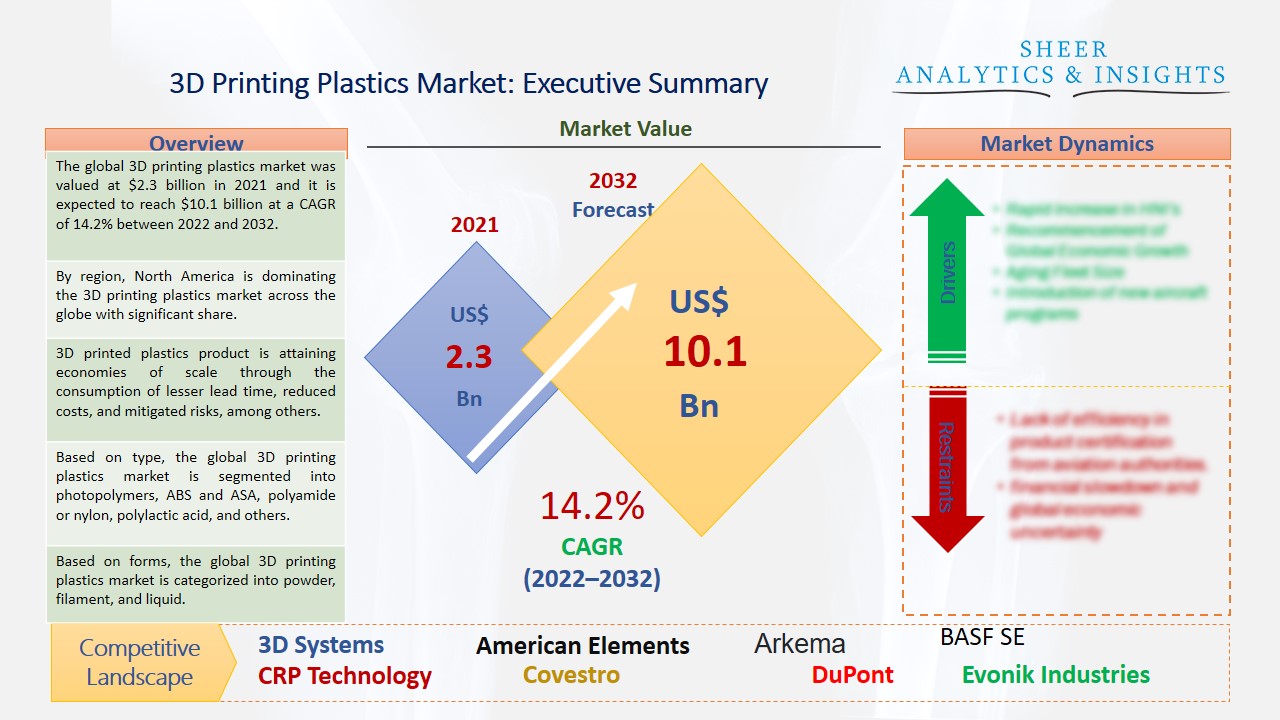 Source: SAI Research
Download Free PDF Sample Request
Based on type, the global 3D printing plastics market is segmented into photopolymers, ABS and ASA, polyamide or nylon, polylactic acid, and others. The photopolymer segment holds the largest share of the market and is accounted for more significant growth in upcoming years. Due to its soluble liquid mixtures of monomer, polymer base, and oligomers along with a photoinitiator, and its sensitive quality, the segment is anticipated to boost market growth. Besides this, polyamide or nylon is also anticipated to hold the largest share of the market during the upcoming years as nylon consists of a comparatively higher melting point, which allows it to become an ideal material. Hence, this can be used in several applications.
Based on forms, the global 3D printing plastics market is categorized into powder, filament, and liquid. The filament category holds the maximum share of the market and is anticipated to accelerate the market growth over the forecast period due to its versatile properties, coupled with a surge in demand from several application industries such as food packaging, tableware, upholstery, and disposable garments. Because of this, the market is projected to gain more growth soon.
Based on end-user, the global 3D printing plastics market is divided into automotive, aerospace and defense, healthcare, electronics, and consumer goods, among others. Among these, the healthcare sector is anticipated to drive market growth in upcoming years due to its cost-effectiveness, ease in customization, and growing incidences of vascular and osteoarthritis diseases. Moreover, technology is also improving every year, hence, advanced technology with governmental support is very essential which is also directly helping the market to gain more share. This is also expected to drive market growth. Demand for healthcare components such as face shields, mask clips, and 3D printed masks and filter covers on the account are estimated to grow.
Based on regions, the market is segmented into North America, Europe, Asia-Pacific, Latin America, and Africa. Among these, the North American segment accounted for the largest share of the market. Primarily, due to advanced technology in the 3D printing plastics industries, the market is being contributed to market growth globally. Most of the key players are located in several developed countries such as the U.S, Canada, and Mexico. Due to the increase in the geriatric population, and rising demand for 3D printing plastics production in these countries, the market is anticipated to gain more significant growth.
According to the study, key players such as 3D Systems (U.S), American Elements (U.S), Arkema (France), BASF SE (Germany), CRP Technology (Italy), Covestro (Germany), DSM (Netherlands), DuPont (U.S), ExOne (U.S), EOS (Germany), Evonik Industries (Germany), Formlabs (U.S), GE Additive (Germany), Huntsman Corporation (U.S), Henkel (Germanay), Materialise NV (Belgium), SABIC (Saudi Arabia), Shenzhen eSUN (China), Solvay SA (Belgium), Stratasys (Israel), among others are leading the global 3D printing plastics market.
Scope of the Report:
Report Coverage
Details
Market Size in 2021

US$ 2.3 Billion

Market Volume Projection by 2032

US$ 10.1 Billion

Forecast Period 2022 to 2032 CAGR

14.2%

Base Year:

2021

Historical Data

2019, 2020 and 2021

Forecast Period

2022 to 2032

Segments covered

By Type: Photopolymers, ABS and ASA, Polyamide/ Nylon, Polylactic Acid & Others

By Form: Powder, Filament, Liquid

By End-User: Automotive, Aerospace and Defense, Healthcare, Electronics and Consumer Goods & Others

Geographies covered

North America, Europe , Asia-Pacific , LAMEA

Companies covered
3D Systems (U.S), American Elements (U.S), Arkema (France), BASF SE (Germany), CRP Technology (Italy), Covestro (Germany), DSM (Netherlands), DuPont (U.S), ExOne (U.S), EOS (Germany), Evonik Industries (Germany), among others
The Global 3D Printing Plastics Market Has Been Segmented Into:
The Global 3D Printing Plastics Market – by Type:
Photopolymers
ABS and ASA
Polyamide/ Nylon
Polylactic Acid
Others
The Global 3D Printing Plastics Market – by Form:
The Global 3D Printing Plastics Market – by End-User:
Automotive
Aerospace and Defense
Healthcare
Electronics and Consumer Goods
Others
The Global 3D Printing Plastics Market – by Regions:
North America
Europe
Germany
France
Italy
U.K.
Russia
Rest of Europe Countries
Asia-Pacific
India
China
Japan
South Korea
North Korea
Rest of Asian Countries
LAMEA
Brazil
Saudi Arabia
Rest of LAMEA
Note: This table of contents is a content of a published report. As per client requirement, cross-sectional analysis across all industries or specific geography or 'country-based' analysis can be provided as a part of paid customization. Please place your queries on sales@sheeranalyticsandinsights.com or query@sheeranalyticsandinsights.com