The Global Adult Diaper Market was $3.40 Bn in 2019, and it is expected to reach $5.40 Bn by 2028. It is eventually growing at a commendable high compound annual growth rate CAGR of 4.7% between 2020-2028. However, the current pandemic of COVID-19 is expected to aggravate the market at much faster rate. This growth is seen due to isolation of mid age and old age people kept in same ward especially for COVID affected people. For maintaining proper hygiene, adult diapers are provided to them. They are mainly of disposable and pant types. Also increasing growth rate of hospitalization of especially population above fifty, is also helping this market to grow at present and in forecast period too.
Global Disposable Diapers Segment Is Estimated to Witness Remarkable Growth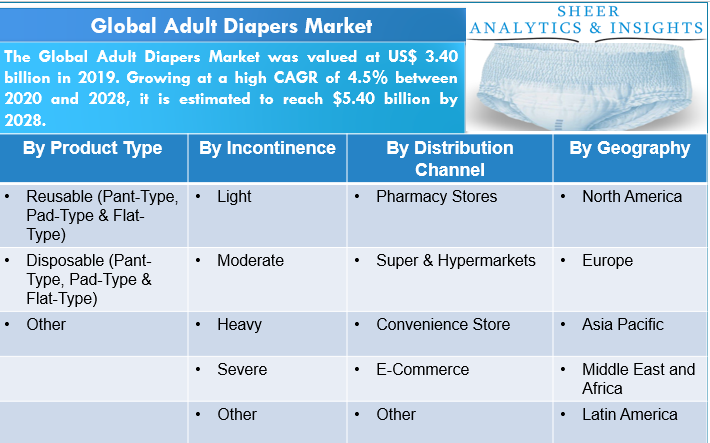 Source: SAI Research
The global Adult Diaper Market has been segmented into Product, Incontinence, and by Distribution Channel. By product type, the global Adult Diaper Market is divided into: Reusable (Pant-Type, Pad-Type and Flat-Type), Disposable ((Pant-Type, Pad-Type and Flat-Type). By incontinence, global Adult Diaper Market is divided into Light, Moderate, Heavy, and Severe. By distribution channel, the global Adult Diaper Market is divided into Pharmacy Stores, Super & Hypermarkets, Convenience Store and E-Commerce.
By Region, North America is Holding the Major Market Share
The global Adult Diaper Market has been geographically segmented into Asia-Pacific, Europe, North America, Latin America, the Middle East, and Africa region. In addition to this, North America Adult Diaper Market is holding the largest market share currently and is estimated to show the fastest compound annual growth rate through the forecast period due to factors such as high awareness of personal hygiene among geriatric population. Moreover, the region is strongly hit by the COVID-19 which is expected to accelerate the demand for Adult Diapers that contribute towards the growth of Adult Diapers in this region. The Adult Diaper Market in the Asia Pacific region, however, is projected to show a decent growth rate over the forecast period due to increasing concerns towards health and wellness of geriatric population. Covid-19 impact on the Asia Pacific is also a reason for fueling the market of Adult Diaper. Europe and LAMEA region are also projected to experience significant growth over the forecast period from 2020 to 2028.
Major Players in Adult Diaper Market
Some of the prominent players in the global Adult Diaper Market include Attends Healthcare Group Ltd., Covidien, DSG International, Hengan Group, Kimberly-Clark Corporation, Fine Hygiene, KAO corporation, Ontex International, P&G, Paul Hartmann AG, Svenska Cellulosa Aktiebolaget (SCA) and Unicharm Corporation.
The Global Adult Diaper Market Has Been Segmented Into:
Global Adult Diapers Market: By Product Type
Reusable

Pant-Type
Pad-Type
Flat-Type

Disposable

Pant-Type
Pad-Type
Flat-Type
Global Adult Diapers Market: By Incontinence Type
Light
Moderate
Heavy
Severe
Global Adult Diapers Market: By Distribution Channel
Pharmacy Stores
Super & Hypermarkets
Convenience Store
E-Commerce
Global Adult Diaper Market: By Region
North America

USA
Canada
Mexico
Rest of North America

Asia Pacific

India
China
Japan
Australia
Rest of Asia Pacific

Europe

UK
Germany
France
Spain
Italy
Russia
Rest of Europe

Latin America, Middle East & Africa

Brazil
South Africa
UAE
Rest of LAMEA
Note: This table of contents is a content of a published report. As per client requirement, cross-sectional analysis across all industries or specific geography or 'country-based' analysis can be provided as a part of paid customization. Please place your queries on sales@sheeranalyticsandinsights.com or query@sheeranalyticsandinsights.com