The 'Global Aerosol Market' was valued $81.2 bn in 2020 and is expected to reach $ 191.3 bn at the CAGR of 7.7% between 2021 and 2031. Covid overall impact in the market is positive. There is a huge demand of spray sanitizers and other household items such as insecticides, food-based sprays etc, as most of the working population during this period had worked from home and require these items with much more than higher usage rate. Even though this market had rose in short term, but its usage now became a habit of most of the population. This regular usage during and after COVID is the main reason which has helped the market to grow at higher rate than expected from past few years. Other new segment which is driving the market is toilet seat sprays for women to be used in public or private washrooms. With advent of increasing safety against UTI infections, demand of women sanitizer sprays has seen a good growth in past two years and is expected to impact positively in long term too.
By Region, North America holds a significant market share of more than 49.4% in 2021
The Global Aerosol has been geographically segmented into North America, Europe, Asia Pacific and LAMEA. North American Aerosol market was $ XX billion in 2020 and is expected to reach above XX billion by 2031, growing a CAGR of 5.6% during forecast period. As per some of our key opinion leaders, Asia Pacific is expected to gain the share with highest incremental rate during forecast period. China followed by India is expected to be the most revenue generation countries for Aerosol products due to huge applications in household and industrial sector.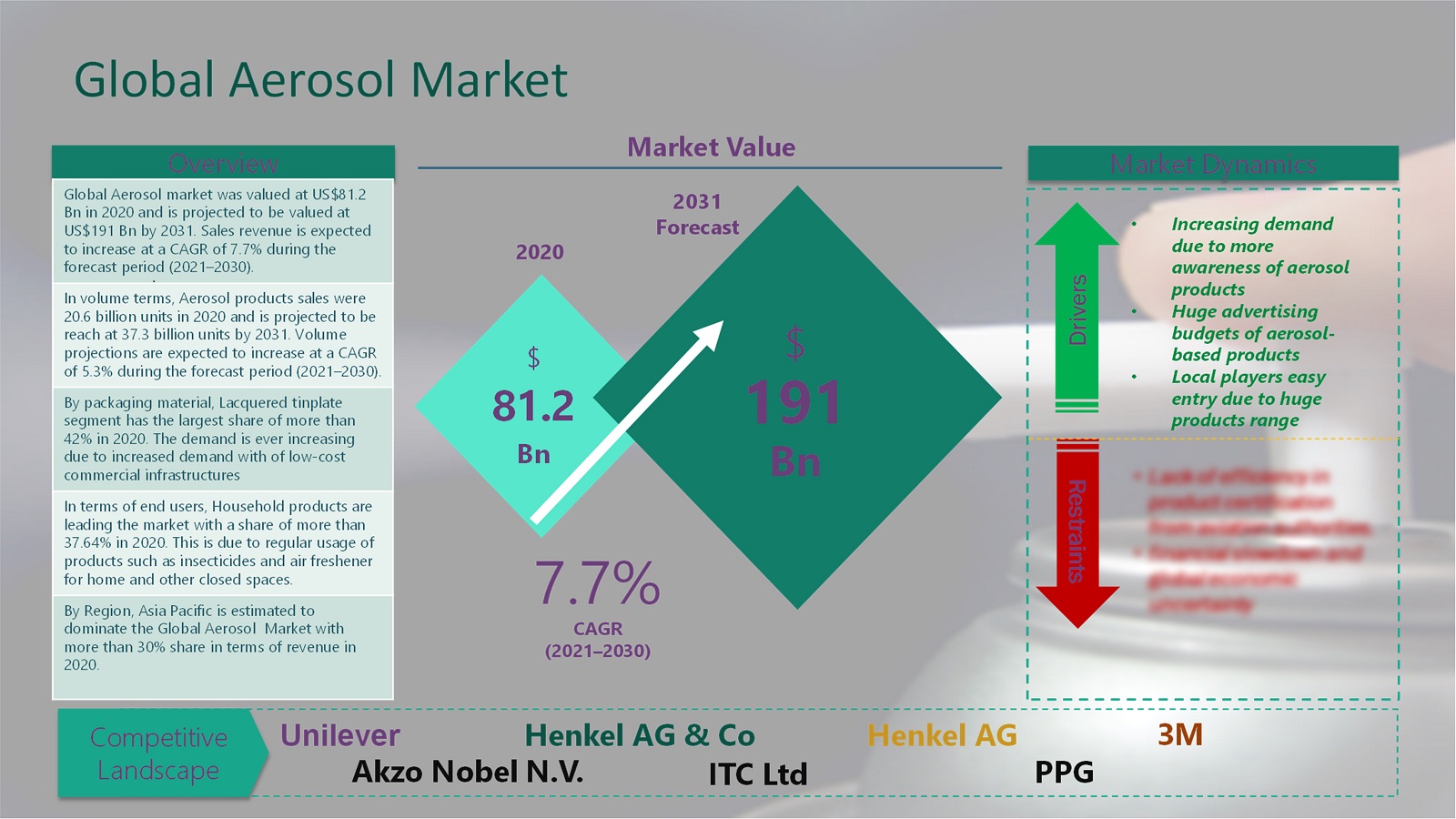 Source: SAI Research
Aerosol is defined as colloidal system of liquid or solid particles in gas. An aerosol includes both the suspended particle and gas, which is generally air. The size of the particles in an aerosol range from about 0.001 to 100 microns. The most common form of an aerosol is a pressurized spray can, which is generally used to dispense hair spray, to whipped cream, to enamel paint, and furniture polish. Aerosols have the tendency to coagulate or collide and combine with each other to form a larger particle. For example, a cloud made of tiny water droplets and ice crystals.
Aerosols are of two types, natural and artificial. Examples of natural aerosols are natural geyser steam, dust, fog, and sea salt. Examples of artificial aerosols include smoke, haze, and particulate air pollutants. Based on nature and size of the suspended particles present in gas/air, to form an aerosol, the aerosols are further categorized in the subgroups of:
Fumes - solid particles (0.001 to 1 micron size) are suspended in air. Smoke is the suitable example of it.
Dusts - solid particles (1-to-100-micron size) are suspended in air. Examples of it are coal dust, soil and sand, pollen, fly ash and cement dust are suspended into atmosphere.
Mists - mists are liquid particles (less than 10 micron in size) is dispersed in air. Fog and smog come under this sub-group.
Sprays - liquid particle (larger than 10+ micron size) are dispersed in air. Such as aerosol can dispensing deodorants or paint.
Approximately three-quarters of the total aerosol found in the earth's atmosphere is generated from natural resources. The primary sources for aerosol formation are soil and rock debris, sea salt, smoke from forest fires, emissions from volcanic eruptions, and solid and liquid particles formed during the chemical reaction in the earth's atmosphere.
For commercial and industrial application purposes, aerosols are also manufactured by artificial processes. The basic concept of aerosol technology includes a spray can filled with product, which is to deliver (such as paint, hair spray, and deodorant) a propellant and sometimes a carrier to assist in dispersing the product, then pressing a button on the top of the can, that disperses the mixture of these components in the form of an aerosol. However, it's a complex procedure. For example, an aerosol pesticide must be formulated so that on pressing the button, it releases a precise amount of poison to kill the insect without causing any adverse hazard to the environment or human life. Likewise, an aerosol throat inhaler carefully dispenses a precise amount of medication by pressing the can button.
Aerosols offer a wide range of products from mass-market goods to specific aerosol types dedicated for industrial and technical or medical purposes. Aerosols have applications in various industries, such as cosmetics, household products, pharmaceuticals, paints, personal care, automotive, pest control, air care, and food.
Personal care is the largest application segment in the global aerosols market, followed by the household application segment. The increasing demand for personal care and household products is anticipated to impact the aerosol market's growth positively. Moreover, the demand for room and air freshener, fragrances, deodorants, perfume, insecticides is increasing with time, further propelling the demand for aerosols.
The growing consciousness towards health and hygiene application areas for aerosols would increase during the forecast period. Asthma inhalers and pain healing sprays are the major application areas of aerosols in the pharmaceutical industry.
Major Players in Global Aerosol
According to the study, key players operating in this market are 3M, Akzo Nobel N.V, Arkema Group, Linde Plc, The Chemours Company, Royal Dutch Shell p.l.c., Henkel AG & Co. KGaA, Honeywell International Inc., Diversified CPC International, Emirates Gas LLC, Proctor & Gamble, Honeywell, Unilever, Henkel AG, Godrej, Grillo-Werke AG, ITC Limited, J & J and Reckitt.
Scope of the Report
Report Coverage

Details

Base Year:

2020

Market Size in 2020:

US$ 81.2 Billion

Historical Data for:

2018 to 2020

Forecast Period:

2021 to 2031

Forecast Period 2021 to 2031 CAGR:

7.7%

2031 Value Projection:

US$ 191.3 Billion

Segments covered:

By Packaging Material: Lacquered tinplate (Steel with layer of tin), Aluminium, Plastic and other polymers, Glass.

By Application: Personal Care, Household, Automotive & Industrial, Food, paint, Medical, and Others

Geographies covered:

North America: U.S., Canada, Mexico

Europe: Germany, U.K., Spain, France, Italy, Russia, Rest of Europe

Asia Pacific: China, India, Japan, Australia, South Korea, ASEAN, and Rest of Asia Pacific

Africa: South Africa, North Africa, and Africa

Middle East: GCC, Israel, and Rest of Middle East

Latin America: Brazil, Argentina, Rest of Latin America

Companies covered:

3M, Akzo Nobel N.V, Arkema Group, Linde Plc, The Chemours Company, Royal Dutch Shell p.l.c., Henkel AG & Co. KGaA, Honeywell International Inc., Diversified CPC International, Emirates Gas LLC, Proctor & Gamble, Honeywell, Unilever, Henkel AG, Godrej, Grillo-Werke AG, ITC Limited, J & J and Reckitt.
The Global Aerosol Market Has Been Segmented into:
Global Aerosol Market: By Packaging Material
Lacquered tinplate (Steel with layer of tin)
Aluminium
Plastic and other polymers
Glass
Global Aerosol Market: By Applications
Personal Care

Deodorants and Perfumes
Hair Spray
Shaving Mousse/Foam
Hand Sanitizers
Others

Household

Insecticides & Plant Protection
Air Fresheners
Furniture & Wax Polishes
Others

Automotive & Industrial

Greases
Lubricants
Spray Oils
Cleaners

Food

Oils
Whipped Cream
Sprayable Flavours
Oils

Paints
Medical

Inhaler
Pain Relieving Sprays
Others

Others
Global Aerosol Market: by Region
North America
Europe

U.K.
Russia
France
Italy
Germany
RoE

Asia Pacific

South Korea
Japan
China
India
Australia
RoAPAC

Latin America, Middle East and Africa (LAMEA)
Note: This table of contents is a content of a published report. As per client requirement, cross-sectional analysis across all industries or specific geography or 'country-based' analysis can be provided as a part of paid customization. Please place your queries on sales@sheeranalyticsandinsights.com or query@sheeranalyticsandinsights.com