The global aesthetic fillers market was valued at $2.5 billion in 2021 and it is expected to reach $7.8 billion at a CAGR of 10.7% between 2022 and 2032. The increasing popularity of minimally invasive and noninvasive aesthetic procedures, expanding public awareness of cosmetic procedures, and an increase in the number of elderly people are the main drivers that are fueling the market expansion for aesthetic fillers worldwide.
By region, North America has led the aesthetic fillers market with significant growth over the past few years.
The most popular non-surgical aesthetic filler procedures use hyaluronic acid, collagen, polymers, and particles. The demand for aesthetic injectable has increased in recent years as a result of consumers' increasing emphasis on beauty. Aesthetic fillers are gel-like substances that are injected into the skin to restore lost volume, smooth lines, soften wrinkles, and improve facial contours. Additionally, the sector is predicted to grow as a result of elevated consumer awareness of minimally invasive procedures brought on by various beauty ads produced by significant market participants. Given that Botox is one of the most commonly utilized products, there is a greater need for aesthetic procedures. The selection of cosmetic filler products is always growing, and they are increasingly reaching the demographics that place a high value on appearance. The market is also growing due to new indications and an expanded selection of bio-stimulators and cosmetic fillers. These major factors are driving the growth of the aesthetic fillers market across the globe.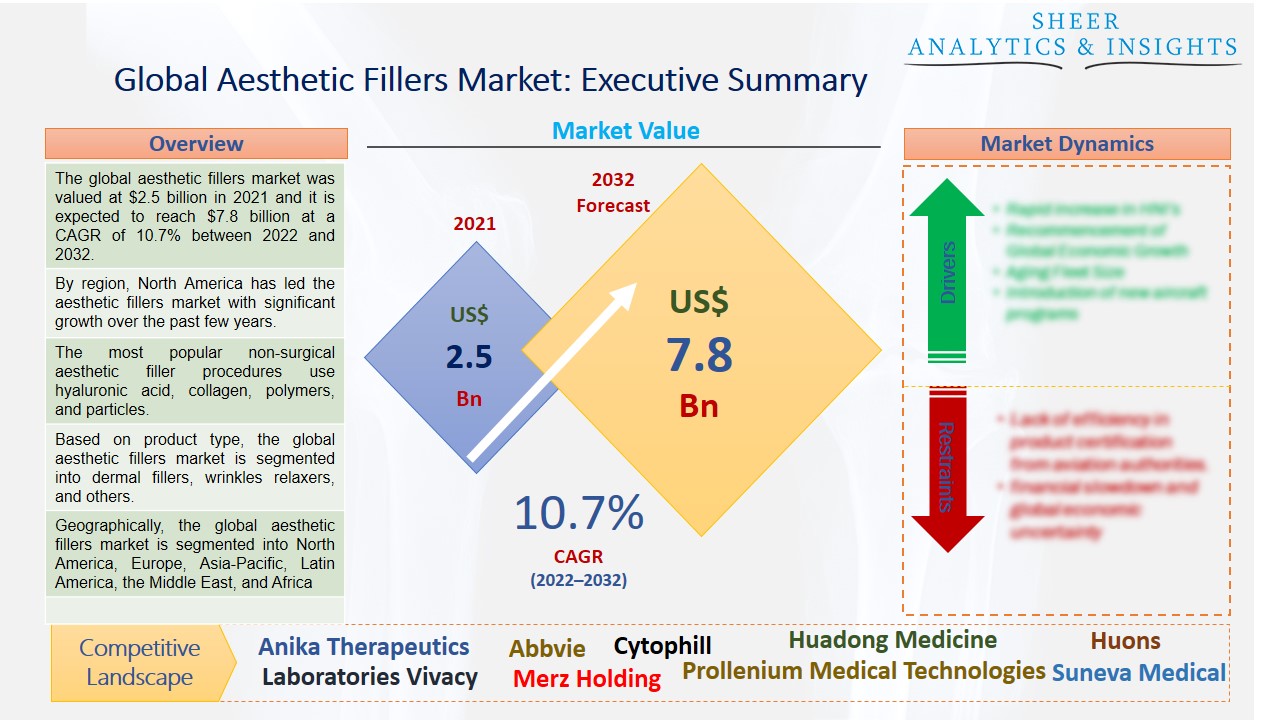 Source: SAI Research
Significant drivers of the global growth of the aesthetic filler market include the rise in healthcare spending, increased acceptability of tissue fillers, and an aging population. Rapid technical advancements in dermatology and cosmetology have increased the demand for dermal fillers. The growing public knowledge of cutting-edge aesthetic procedures has also been a development driver. Due to altering application-based needs, major market manufacturers have focused on incorporating research and development (R&D) activities and producing new product outcomes for certain operations. Leading market firms have demonstrated how sophisticated delicacy may be useful in many activities. The development of the cosmetic filler business, however, could be hampered by adverse effects related to dermal fillers, a lack of rules limiting their use, high prices, and an increase in the distribution of fake goods.
However, patients frequently arrive with inflated expectations fueled by deceptive advertising and are under pressure to do operations that may or may not be beneficial to them, which is the biggest difficulty in the market for aesthetic fillers. The number of complications following cosmetic treatments is rising, especially when they are carried out by workers who are not properly qualified. The commercialization of medicine has resulted in the introduction of compromised medical ethics and compromised quality, growth in patient risk, poor patient selection, and office surgery centers without regulation or peer review. This is due to increased competition for patients in almost every medical and surgical field.
Based on product type, the global aesthetic fillers market is segmented into dermal fillers, wrinkles relaxers, and others. The dermal fillers segment holds most of the market share and is anticipated to drive market growth during the forecast period due to its rising demand among several emerging countries. In this market, the introduction of new products is driving growth. A growing number of people are using hyaluronic acid-based remedies because of their safety and longevity. Additionally, during the forecast period, well-known companies like ALLERGAN (AbbVie, Inc.), who market hyaluronic acid products in regions with a rapid economic expansion like Europe, are projected to boost the segment's growth. The calcium hydroxyapatite industry has been driving market expansion over the past few years because of its safety attributes. The launch of fresh items in this market by significant companies also helps the category flourish.
In terms of application type, the wrinkle removal category accounted for the largest share of the market and is projected to dominate the market over the forecast period. Consumers spend a larger share of their money on cosmetics, particularly those who fall within the age range of 25 to 40. Therefore, producers are constantly introducing new goods and services to meet the rising demand. The market for cosmetic fillers is also growing as a result of the rising popularity of online distribution channels. Additionally, a surge in the use of cosmetic injectable for parenthesis lines, face wrinkles, lip lines, lip augmentation, lip border restoration, perioral lines, and crow's feet lines is predicted to support market expansion.
Geographically, the global aesthetic fillers market is segmented into North America, Europe, Asia-Pacific, Latin America, the Middle East, and Africa. North America holds most of the market share and is anticipated to accelerate the market growth during the forecast period. Several key players are situated in this region which is a plus point for the market. Consumers are becoming more and more self-conscious on a global scale. Hyaluronic acid, collagen, polymers, and particles are utilized in nonsurgical cosmetic filler techniques to improve the appearance of the skin or a feature. The rise is partly attributable to the large investments made in R&D by the government and market companies, which made several items available in the area. On the other hand, the Asia-Pacific region is also anticipated to become the second-largest market in the future. The region is anticipated to place an increasing emphasis on physical appearance, which will have a substantial impact on the market for face injectable treatments. Countries like South Korea, Australia, and India support this region. It is anticipated that India will have the fastest-growing economy.
According to the study, key players such as Anika Therapeutics (U.S), Abbvie (U.S), Cytophill Inc (U.S), Galderma Holdings (Switzerland), Huadong Medicine (China), Huons (South Korea), Laboratories Vivacy (France), Merz Holding GmbH (Germany), Prollenium Medical Technologies (Canada), SciVision Biotech (Taiwan), Suneva Medical (U.S), Vital Esthetique (France), Zimmer Biomet (U.S), among others are leading the global aesthetic fillers market.
Scope of the Report:
Report Coverage
Details
Market Size in 2021

US$ 2.5 Billion

Market Volume Projection by 2032

US$ 7.8 Billion

Forecast Period 2022 to 2032 CAGR
10.7%
Base Year:

2021

Historical Data

2019, 2020 and 2021

Forecast Period

2022 to 2032

Segments covered

By Product Type: Dermal Fillers, Wrinkles Relaxers & Others

By Application Type: Acne Scars Treatment Wrinkle Removal, Rhinoplasty, Lip Augmentatio & Others

Geographies covered

North America, Europe, Asia-Pacific, LAMEA

Companies covered
Anika Therapeutics (U.S), Abbvie (U.S), Cytophill Inc (U.S), Galderma Holdings (Switzerland), Huadong Medicine (China), Huons (South Korea), Laboratories Vivacy (France), Merz Holding GmbH (Germany), Prollenium Medical Technologies (Canada), SciVision Biotech (Taiwan), Suneva Medical (U.S), Vital Esthetique (France), Zimmer Biomet (U.S) & Others
The Global Aesthetic Fillers Market Has Been Segmented Into:
The Global Aesthetic Fillers Market – by Product Type:
Dermal Fillers
Wrinkles Relaxers
Others
The Global Aesthetic Fillers Market – by Application Type:
Acne Scars Treatment
Wrinkle Removal
Rhinoplasty
Lip Augmentation
Others,
The Global Aesthetic Fillers Market – by Regions:
North America
Europe

U.K.
France
Germany
Italy
Rest of Europe

Asia Pacific

India
China
Japan
Australia
Rest of Asia Pacific

LAMEA
Middle East
Latin America
Africa

South Africa
Egypt
Others
Note: This table of contents is a content of a published report. As per client requirement, cross-sectional analysis across all industries or specific geography or 'country-based' analysis can be provided as a part of paid customization. Please place your queries on sales@sheeranalyticsandinsights.com or query@sheeranalyticsandinsights.com