The Africa freelance payment market was valued at $349.2 million in 2021 and it is expected to reach $1421.21 million at a CAGR of 12.9% between 2022 and 2032. Freelance payment is based on the agreement between a freelancer and an individual or multiple clients. In short, freelancers are self-employed who get payment through various online payment platforms in exchange of complete some project or work for organizations and companies. The actual payment terms are set by the freelancers for their efforts.
In Africa, Kenya holds the largest share in the freelance payment market.
Payment for freelancers also depends on industry, skills, experience, and location. Additionally, they can take payment based on works of the day, hour, or week which depends on per project. However, the agreed amount that needs to be paid after completion of the work or projects. Freelancers usually take payments through online payment platforms so they can have a simple, easy, and secure transaction of money. By using standard payment systems, freelancers would be in a better position to get paid and clients would be more comfortable paying through methods they are already using instead of other payment options. Furthermore, another benefit of using popular payment systems is that they function all around the regions across the globe. For instance, some payment systems such as PayPal, Payoneer, Square, Stripe, and TransferWise, among others are available in many developed and under-developed countries. Even in Africa, these digital payment platforms are helping all freelance workers to get paid very easily and securely. Hence, these rising factors are estimated to propel the growth of the African freelancing payment market during the forecast period.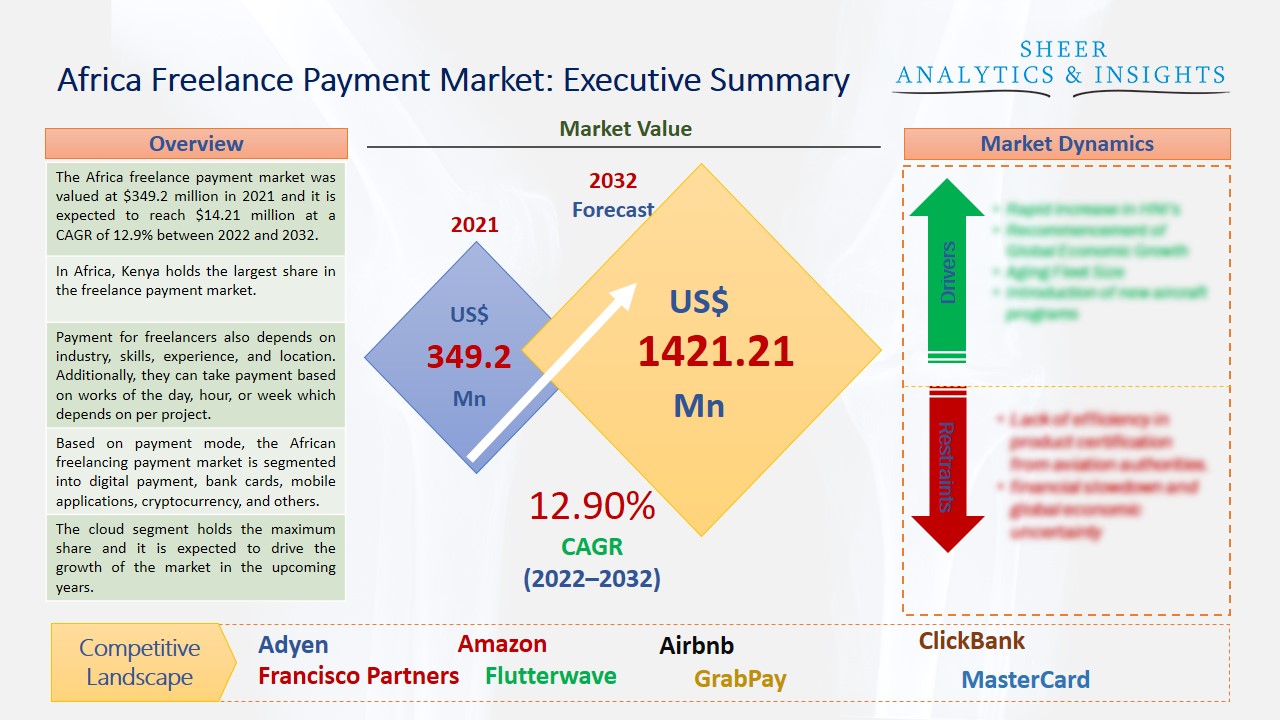 Source: SAI Research
Download Free PDF Sample Request
Based on payment mode, the African freelancing payment market is segmented into digital payment, bank cards, mobile applications, cryptocurrency, and others. The digital payment segment holds the maximum share in Africa. Due to increasing online transactions through various digital platforms, this segment is estimated to gain more growth in upcoming years. Other segments such as bank cards and mobile applications are also helping the freelancers in Africa.
Based on the deployment model, the market is segmented into cloud and on-premises. The cloud segment holds the maximum share and it is expected to drive the growth of the market in the upcoming years. Various payment solution vendors are focusing on adopting cloud-based technologies to offer better money transaction solutions to a large number of customers. Thus, African freelancers are getting such benefits while they are about to get paid after the completion of their work or projects. Artificial intelligence, data analytics, and others have been adopted by various companies and bank organizations; therefore, this cloud segment is becoming popular across the country.
Based on end-user, the market is divided into arts and entertainment, science and technology, IT, and Telecom, among others. The science and technology segment is dominating the market over the last few years. In this modern world, various companies and organizations of technologies are hiring a lot of freelancers for their projects. Therefore, based on science and technological skills, freelancers in Africa are getting work from multiple clients, which have driven the market growth by gaining significant growth opportunities. IT and Telecom industries have been also rising and they are also hiring lots of freelance workers from Africa. Hence, these segments are projected to boost the market in upcoming years.
Based on regions, the market is categorized into Kenya, South Africa, Nigeria, Morocco, and others. Kenya is dominating the freelance payment market due to the increased hiring of freelance workers across the city and various online payment transactions for freelance workers. Moreover, the average salary of freelancers in Kenya is more than other freelancers who are living in other cities across the country. In Kenya, online freelance jobs are more available due to high-speed internet connections and the growing adoption of computers and mobile phones. Expert freelance writers are about to get better payment based on their projects, which would benefit the overall market to have significant growth across the country.
In Nigeria, a company named Flutterwave has launched brand new e-commerce services to scale small, medium, and large enterprises across the country. Additionally, this leading payment company in Africa is focusing on bringing e-commerce a few steps closer to the new merchants and their customers. The company is also trying to help merchants and all the customers by increasing sales and revenue shares. African freelancers are mostly using this payment platform to get easy and secure payments from their clients. Netherlands-based Company has launched issuing to improve embedded financial products to enable platforms and marketplaces to make tailored financial experiences for their customers and other users. The company is focusing on improving these experiences by enabling platforms to offer their users online and physical cards for business transactions and to directly receive payment faster than before. Therefore, these new launches are estimated to drive the African freelancing payment market in the upcoming years.
According to the study, key players such as Adyen (Netherlands), Amazon (U.S), Airbnb (U.S), ClickBank (U.S), Francisco Partners (U.S), Flutterwave (Nigeria), GrabPay (Malaysia), MoneyGram International Holdings (U.S), MasterCard (U.S), One97 Communications (India), PayPal (U.S), Paystack Payments (Nigeria), Payoneer (U.S), Quickbooks (U.S), RazorPay (India), SendCash (Africa), Stripe (U.S), Skrill (U.K), Visa Inc (U.S), WorldRemit (U.K), Wise Company (U.K), Western Union (U.S), Xero (New Zealand), among others are leading the Africa freelance payment market.
Scope of the Report:
Report Coverage

Details

Market Size in 2021

US$ 349.2 million

Market Volume Projection by 2032

US$ 1421.21 million

Forecast Period 2022 to 2032 CAGR
12.9%
Base Year:

2021

Historical Data

2019, 2020 and 2021

Forecast Period

2022 to 2032

Segments covered

By Payment Mode: Digital Payment, Bank Cards, Mobile Application, Crypto Currency And Others

By Deployment Type: Cloud, On-Premises

By End-User: Arts & Entertainment, Science and Technology, IT and Telecom & Others

Geographies covered

Africa: Kenya, South Africa, Nigeria, Morocco

Companies covered
Adyen (Netherlands), Amazon (U.S), Airbnb (U.S), ClickBank (U.S), Francisco Partners (U.S), Flutterwave (Nigeria), GrabPay (Malaysia), MoneyGram International Holdings (U.S), MasterCard (U.S), One97 Communications (India), PayPal (U.S), Paystack Payments (Nigeria), Payoneer (U.S), Quickbooks (U.S), RazorPay (India), SendCash (Africa), Stripe (U.S), Skrill (U.K), Visa Inc (U.S), WorldRemit (U.K), Wise Company (U.K), Western Union (U.S), Xero (New Zealand), among other
Africa Freelancing Payment Market Has Been Segmented Into:
Africa Freelancing Payment Market – by Payment Mode:
Digital Payment
Bank Cards
Mobile Application
Crypto Currency
Others
Africa Freelancing Payment Market – by Deployment Type:
Africa Freelancing Payment Market – by End-User:
Arts & Entertainment
Science and Technology
IT and Telecom
Others
Africa Freelancing Payment Market – by Regions:
Africa
Kenya
South Africa
Nigeria
Morocco
Others
Note: This table of contents is a content of a published report. As per client requirement, cross-sectional analysis across all industries or specific geography or 'country-based' analysis can be provided as a part of paid customization. Please place your queries on sales@sheeranalyticsandinsights.com or query@sheeranalyticsandinsights.com