The global agriculture variable rate technology market was valued at $6.8 billion in 2021 and it is expected to reach $23.2 billion at a CAGR of 11.50% between 2022 and 2032. Agriculture variable rate technology is a type of tool or service which is mainly used for farming. It provides varied crop materials to a given landscape.
North America is expected to dominate the agriculture variable rate technology market across the globe.
Agriculture variable rate technology provides materials such as crop protection chemicals, fertilizers, and seeds which optimizes the production of crops. Moreover, it helps in reducing the production costs and increases the profitable costs. It gives a positive impact on the environment which has driven the market growth. Variable-rate technology provides several innovative and advanced technologies such as drone technology, and artificial intelligence which are expected to increase crop production and earn more profits. The maximum number of agriculture variable rate technology companies is based in Europe and North America regions. Traditional agriculture industries are very much dependent on farmers or laborers; hence it takes a lot of time for crop production and harvesting. However, with the advanced technology automation methods can replace the laborers and help the agriculture industries to get a high amount of production in less time.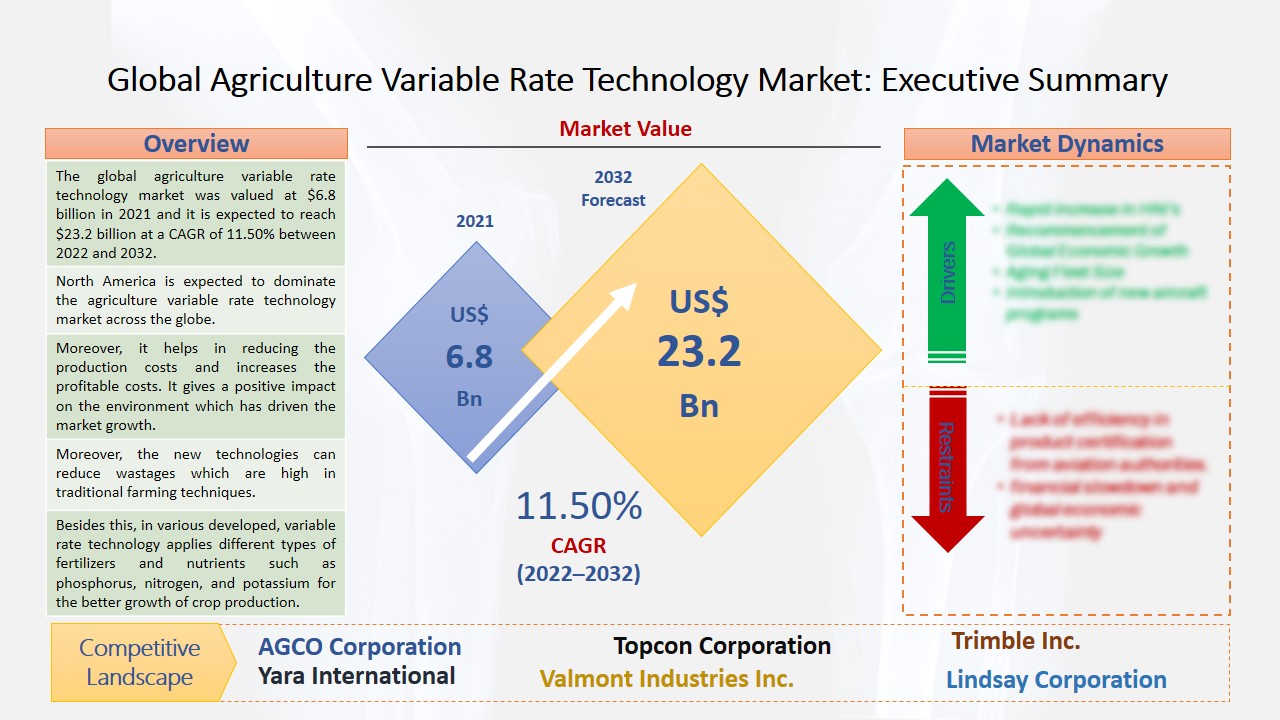 Source: SAI Research
There are several advanced technologies such as smart sensors, GPS, automatic driverless vehicles, and GNSS, among others which are used in agriculture variable rate technology. These services are helping in reducing labor costs and utilizing resources. Moreover, the new technologies can reduce wastages which are high in traditional farming techniques. Based on the enterprise sizes the agriculture variable rate technology is segmented into small, medium, and larger farms. Among these, larger farms are mainly helping the market to gain certain profits across the globe. However, the costs of the advanced technology which is used in agriculture are efficient but very expensive. Therefore, in developing countries such as India, China, Indonesia, and Brazil, traditional farming is growing more than new technology-based farming due to the lack of high investments in agriculture.
Over the past few years, the increasing adoption of new variable-rate technologies has supported the market growth of agriculture across the North American region. Moreover, the Asia-Pacific region is also expected to witness profitable market growth over the forecast period from 2022 to 2032. Besides this, in various developed, variable rate technology applies different types of fertilizers and nutrients such as phosphorus, nitrogen, and potassium for the better growth of crop production.
Key players such as Deere and Company (U.S), AGCO Corporation (U.S), Topcon Corporation (Japan), Trimble Inc (U.S), Yara International (Norway), Valmont Industries Inc (U.S), Lindsay Corporation (U.S), Hexagon (Brazil), AG Leader Technology (U.S), The Climate Corporation (U.S), SJ DJI Technology (China), Kubota Corporation (Japan) and other companies are leading the agriculture variable rate technology market across the globe.
Scope of the Report:
Report Coverage

Details

Base Year:

2021

Market Size in 2021:

USD 6.9 Billion

Historical Data for:

2019, 2020 and 2021

Forecast Period:

2022 to 2032

Forecast Period 2022 to 2032 CAGR:

11.50%

2032 Value Projection:

USD 23.2 Billion

Segments covered:

By Product Type: Soil Sensing, Fertilizer VRT, Crop Protection Chemical VRT, Seeding VRT, Yield Monitoring, Irrigation VRT & Others.

By Services: Hardware, Software & Other.

By Crop Type: Cereals and Grains, Oilseeds and Pulses, Fruits and Vegetables.

By Applications: Sensor-Based VRT, Map-Based VRT & Other

Geographies covered:

North America - U.S, Canada, Mexico

Europe - Germany, France, Italy, U.K, Russia, Rest of Europe Countries

Asia-Pacific -India, China, Japan, South Korea, North Korea, Rest of Asian Countries

LAMEA - Brazil, Saudi Arabia, Rest of LAMEA

Companies covered:

Deere and Company (U.S), AGCO Corporation (U.S), Topcon Corporation (Japan), Trimble Inc (U.S), Yara International (Norway), Valmont Industries Inc (U.S), Lindsay Corporation (U.S), Hexagon (Brazil), AG Leader Technology (U.S), The Climate Corporation (U.S), SJ DJI Technology (China), Kubota Corporation (Japan) and other
The Global Agriculture Variable Rate Technology Market Has Been Segmented Into:
The Global Agriculture Variable Rate Technology Market – By Product Type:
Soil Sensing
Fertilizer VRT
Crop Protection Chemical VRT
Seeding VRT
Yield Monitoring
Irrigation VRT
And Others
The Global Agriculture Variable Rate Technology Market – By Services:
Hardware
Software
Other Services
The Global Agriculture Variable Rate Technology Market – By Crop Type:
Cereals and Grains
Oilseeds and Pulses
Fruits and Vegetables
The Global Agriculture Variable Rate Technology – By Applications:
Sensor-Based VRT
Map-Based VRT
Other Applications
The Global Agriculture Variable Rate Technology – by Farm Size:
The Global Agriculture Variable Rate Technology – by Regions:
North America
Europe
Germany
France
Italy
U.K.
Russia
Rest of Europe Countries
Asia-Pacific
India
China
Japan
South Korea
North Korea
Rest of Asian Countries
LAMEA
Brazil
Saudi Arabia
Rest of LAMEA
Note: This table of contents is a content of a published report. As per client requirement, cross-sectional analysis across all industries or specific geography or 'country-based' analysis can be provided as a part of paid customization. Please place your queries on sales@sheeranalyticsandinsights.com or query@sheeranalyticsandinsights.com