The Global Air Purifier Market was $11.6 Bn in 2020, and it is expected to reach $46.1 Bn by 2031. It is eventually growing at a commendable high compound of annual growth rate CAGR of 12.6% between 2021-2031. An air purifier is an appliance designed to clean the air in the office, home, cars, and factories. The device can purify the air from smoke, dust, odors, viruses, volatile organic compounds, gases, pollen, formaldehyde, and pet dander. Increasing stringent regulations for the industrial infrastructure and rising consumer awareness about air pollution will propel market growth. Rising industrialization and motorization have raised the pollution level rapidly, which is expected to be a significant driver of the global market during the forecast period. Growing health consciousness, along with the advancement in air purification technology, which has made air purifiers very effective against pollution, is expected to be a prime driver of the market. Now, moving forward, the robust demand for the global Air Purifier market in the air purification department is further estimated to create new necessities and augment the market of growth over the forecast period of 2021-2031.
Global Air Purifier Segment Is Estimated to Witness Remarkable Growth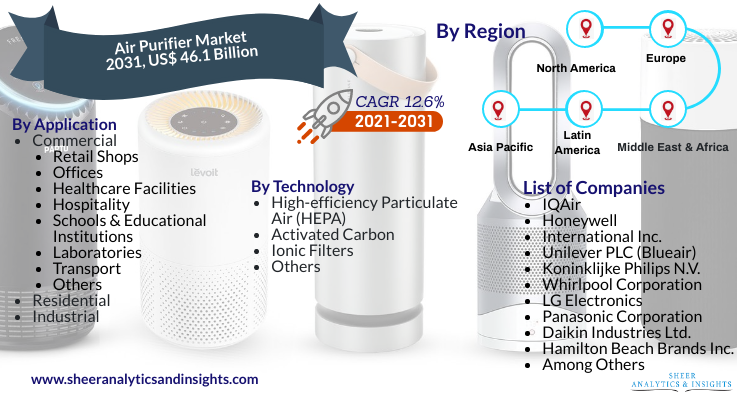 Source: SAI Research
The Air Purifier market is segmented as technology and application. Based on technology, the global Air Purifier market has been divided into High-efficiency Particulate Air (HEPA), Activated Carbon, Ionic Filters, and Others. Based on Application, the global Air Purifier market has been bifurcated as Commercial, Retail Shops, Offices, Healthcare Facilities, Hospitality Schools & Educational Institutions, Laboratories, Transport, Others, Residential, and Industrial.
By Region, North America is Holding the Major Market Share
The Air Purifier Market has been geographically segmented into North America, Asia Pacific, Latin America, Middle East, and Africa region. In addition to this, North America has a significant share among those regions. Increasing awareness for air purification is the major factor for the growth of the market over the region. The growing demand for motorization and industrialization are the factors in the development of the market. Increasing disposal incomes, availability of various international retail, and other potential factors drive the market over the forecast period. Apart from that, the Asia Pacific and the Rest of the regions are expected to increase the growth rate in the upcoming forecast period of 2021 to 2031.
Major Players in the Global Air Purifier Market
The report covers a detailed outlook about the company, and it includes the company or industry profiles and market share of key players operating in the global market. Key players in the report include IQAir, Honeywell International, Inc., Unilever PLC (Blueair), Koninklijke Philips N.V., Whirlpool Corporation, LG Electronics, Panasonic Corporation, Daikin Industries, Ltd., Aerus LLC, Hamilton Beach Brands, Inc., Camfil, Carrier, Trotec GmbH, EcoQuest, and LIFA air among others.
The Global Air Purifier Market Has Been Segmented into:
Global Air Purifier Market: By Technology
High-efficiency Particulate Air (HEPA)
Activated Carbon
Ionic Filters
Others
Global Air Purifier Market: By Application
Commercial

Retail Shops
Offices
Healthcare Facilities
Hospitality
Schools & Educational Institutions
Laboratories
Transport
Others

Residential
Industrial
Global Air Purifier Market: By Region
North America

USA
Canada
Mexico
Rest of North America

Europe

UK
Germany
France
Spain
Italy
Russia
Rest of Europe

Asia Pacific

India
China
Japan
South Korea
Rest of Asia Pacific

Latin America, Middle East & Africa

Brazil
South Africa
UAE
Rest of LAMEA
Note: This table of contents is a content of a published report. As per client requirement, cross-sectional analysis across all industries or specific geography or 'country-based' analysis can be provided as a part of paid customization. Please place your queries on sales@sheeranalyticsandinsights.com or query@sheeranalyticsandinsights.com