The global allergy diagnostics market was valued at $5.3 billion in 2021 and it is expected to reach $15.5 billion at a CAGR of 7.2% between 2022 and 2032. In the upcoming years, the business is expected to increase as a result of rising rates of allergic disorders and strong demand for in vitro diagnostic blood tests. Additionally, it is anticipated that factors including changing lifestyles, rising levels of indoor and outdoor pollution, unhealthful eating patterns, and the fast urbanization of the world will contribute to the market's growth over the coming years.
By region, North America dominates the allergy diagnostics market across the globe with significant market share.
Allergy testing reveals potential allergens, such as mounds, pet dander, bee stings, and peanuts. An allergen is injected into a patient's skin during a skin prick test to look for a wheal (raised mark), rash, or other symptoms. IgE antibodies can also be examined using blood tests. Typically, the skin test appointment lasts about 60 minutes. Within 15 minutes, a red, raised, itchy bump (produced by histamine release into the skin) will form on your skin if you have a particular allergic sensitivity to one of the allergens. However, a few researchers have recently hypothesized that allergies may have developed as a form of defense. Runny nostrils, coughs and itching rashes keep hazardous substances out of our bodies, scientists claim, and urge us to steer away from dangerous settings. Better allergy reporting can ultimately assist medical professionals in maximizing medication therapy, lowering the risk of adverse drug responses, cutting down on drug costs, shortening hospital stays, and generally improving patient care.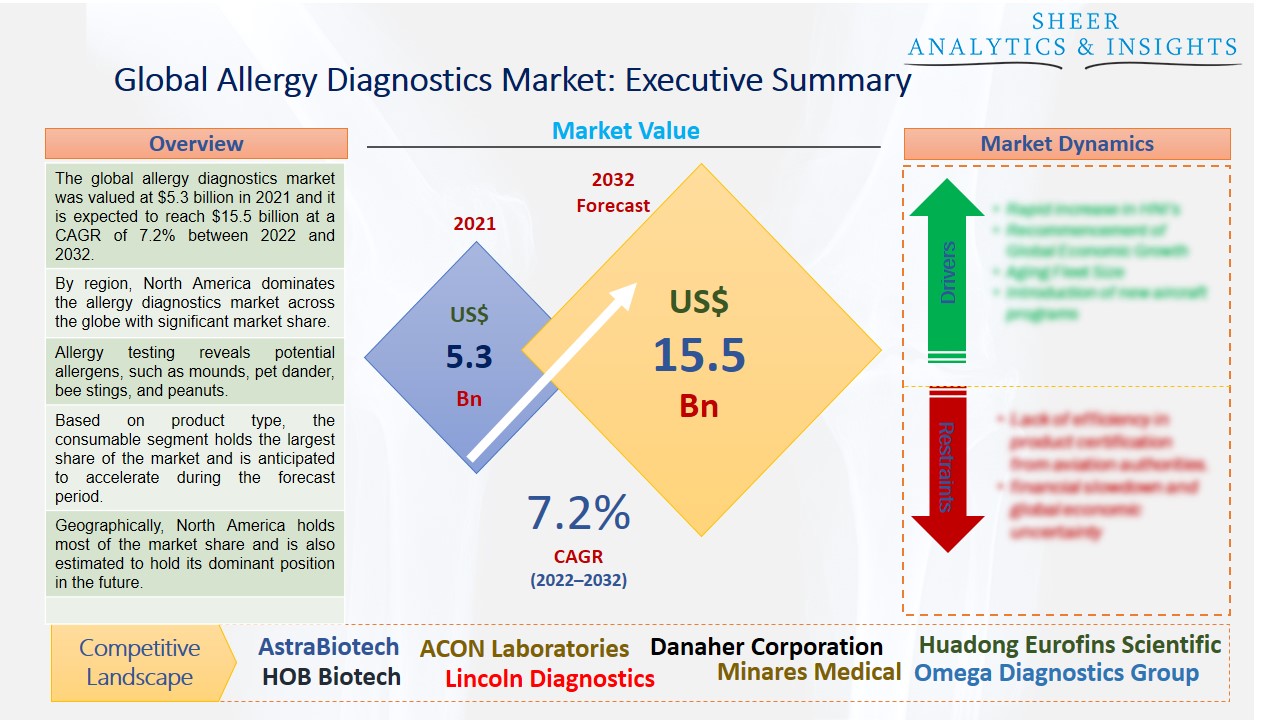 Source: SAI Research
The term "allergy" refers to a medical disorder when the immune system reacts excessively or abnormally to harmless substances or allergens, leading to symptoms including skin rashes, itching, swelling, red eyes, hay fever, anaphylaxis, or asthma attacks. There are numerous sorts of allergies, including sensitivity to drugs, foods, dust, and insect stings. Healthcare professionals can identify an allergy using a variety of blood and skin tests. The diagnosis details the type of allergy illness as well as the recommended course of action. Other allergy diagnostics market trends include an increase in collaborations and partnerships between businesses in the sector to develop new testing techniques or enhance those already in use. Dried blood spot testing, which has been used by doctors and hospitals for decades to discover disease biomarkers with just a few drops of blood, is employed in the diagnostics market for both Lyme disease and food allergies. They were created by PerkinElmer Genomics' board-certified medical geneticists, who then validated them using the EUROIMMUN EUROBlotOne® and EUROIMMUN AnalyzersTM systems.
The extensive use of technology-based interventions in clinical settings, such as mobile health, has made it possible for patients to take an active part in their healthcare. Mobile health (mHealth) makes use of mobile communication tools like computers, tablets, and smartphones to enhance patient education and disease self-management, assist in remote patient monitoring, facilitate the flow of data and information, and manage diseases from initial diagnosis to optimal treatment. Additionally, the introduction of patient-facing mHealth devices is anticipated to positively affect clinical, economic, and process outcomes. In addition to increasing patient knowledge, apps with features like medication reminders, educational content, games-based self-management, symptom diaries, electronic sensors, patient self-tracking dashboards, voice recognition, wearable technology, pollen sensors, and virtual reality also help patients better control their asthma and allergies and live healthier, more fulfilling lives. Hence, these are expected to drive the market over the forecast period.
Furthermore, food allergies are still a major concern for the food production business. Due to the widespread everyday consumption of processed foods and beverages, the food allergen testing sector has experienced significant growth internationally. In the world's food processing sector, allergens are a major source of worry. Food allergies, which involve unusual reactions or hypersensitivity brought on by the immune system of the body, are seen as a significant threat to food safety.
Based on product type, the consumable segment holds the largest share of the market and is anticipated to accelerate during the forecast period. The growing prevalence of allergies and the demand for quick testing to identify allergic diseases might be blamed for the huge share of the consumables segment. During the forecast period, it is also anticipated that the segment will have a significant increase. In addition, this segment is expected to grow as a result of technological developments like allergen microarray kits, which are more sensitive and provide tailored patient profiles and monitoring.
In terms of allergen type, inhaled allergens category is projected to hold a significant market share during the forecast period. Due to increased pollen and environmental pollution levels as well as other variables including mold, fungus, and dust, this category held the highest proportion of the allergy diagnostics market. As they develop a tolerance to their allergens, particularly food allergens like milk, eggs, and cereals, many people outgrow their allergies by their 20s and 30s. However, allergies can manifest themselves at any stage in a person's life. In certain cases, people develop allergies to things they weren't previously allergic to. However, the drug allergies category is also projected to witness several growth opportunities in the future.
By the end-user type, the diagnostic laboratories segment holds most of the market share. Additionally, the demand for an accurate diagnosis from a specialist, growing public knowledge of the management of allergic disorders, and the availability of funding for the development of independent diagnostic laboratories are the main causes of this segment's sizable market share. Besides this, the hospital's category is also estimated to drive market growth over the forecast period due to some funding from government programs and increasing healthcare expenditure.
Geographically, North America holds most of the market share and is also estimated to hold its dominant position in the future. The high prevalence of allergies, the favorable reimbursement scenarios for allergy diagnosis, and the availability of association-led supportive initiatives all contribute to this region's significant market share. In addition, a high frequency of respiratory allergic illnesses together with increased knowledge levels regarding allergy diagnostics and the use of in vitro blood tests are boosting the market expansion.
According to the study, key players such as AstraBiotech (Germany), ACON Laboratories (U.S), Compagnie Merieux Alliance SAS (France), Danaher Corporation (U.S), Eurofins Scientific (France), Hollisterstier Allergy (U.S), HOB Biotech (China), Lincoln Diagnostics (U.S), Minares Medical (U.S), Neogen (U.S), Omega Diagnostics Group (U.K), Romer Labs (Austria), Thermo Fisher Scientific (U.S), Siemens (Germany), among others are leading the global allergy diagnostics market.
Scope of the Report:
Report Coverage
Details
Market Size in 2021

US$ 5.3 Billion

Market Volume Projection by 2032

US$ 15.5 Billion

Forecast Period 2022 to 2032 CAGR
7.2%
Base Year:

2021

Historical Data

2019, 2020 and 2021

Forecast Period

2022 to 2032

Segments covered

By Product Type: Consumables, Instruments, Fungal Allergy Diagnostics, Neutral Lactase & Services

By Allergen Type: Inhaled Allergens, Drug Allergens, Food Allergens & Other Allergens

By End-User: Diagnostic Laboratories, Academic Research Institutes, Hospital Sectors & Others

Geographies covered

North America, Europe, Asia-Pacific, LAMEA

Companies covered
AstraBiotech (Germany), ACON Laboratories (U.S), Compagnie Merieux Alliance SAS (France), Danaher Corporation (U.S), Eurofins Scientific (France), Hollisterstier Allergy (U.S), HOB Biotech (China), Lincoln Diagnostics (U.S), Minares Medical (U.S), Neogen (U.S), Omega Diagnostics Group (U.K), Romer Labs (Austria), Thermo Fisher Scientific (U.S), Siemens (Germany) & Others
The Global Allergy Diagnostics Market Has Been Segmented Into:
The Global Allergy Diagnostics Market – by Product Type:
Consumables
Instruments
Fungal Allergy Diagnostics
Neutral Lactase
Services
The Global Allergy Diagnostics Market – by Allergen Type:
Inhaled Allergens
Drug Allergens
Food Allergens
Other Allergens
The Global Allergy Diagnostics Market – by End-User:
Diagnostic Laboratories
Academic Research Institutes
Hospital Sectors
Others
The Global Allergy Diagnostics Market – by Regions:
North America
Europe

U.K.
France
Germany
Italy
Rest of Europe

Asia Pacific

India
China
Japan
Australia
Rest of Asia Pacific

LAMEA
Middle East
Latin America
Africa

South Africa
Egypt
Others
Note: This table of contents is a content of a published report. As per client requirement, cross-sectional analysis across all industries or specific geography or 'country-based' analysis can be provided as a part of paid customization. Please place your queries on sales@sheeranalyticsandinsights.com or query@sheeranalyticsandinsights.com