The Global Application Programming Interface (API) Management Market was $3.2 Bn in 2020, and it is expected to reach $11.43 Bn by 2031. It is eventually growing at a commendable high compound annual growth rate CAGR of 11.4% between 2021-2031. The need to manage the usage of the application program interface to decode the data system or enterprises is boosting the API management market growth. The rising popularity of web APIs, together with the augmenting demand for private and public, are propelling the API market growth during the forecast period. Apart from that, the mobility of the apps explosion and solution is anticipated to favor this market over the forecast period. Now, moving forward, the robust demand for the Global API Management Market in the application management department is further estimated to create new necessities and augment the market of growth over the forecast period of 2021-2031.
Global API Management Segment Is Estimated to Witness Remarkable Growth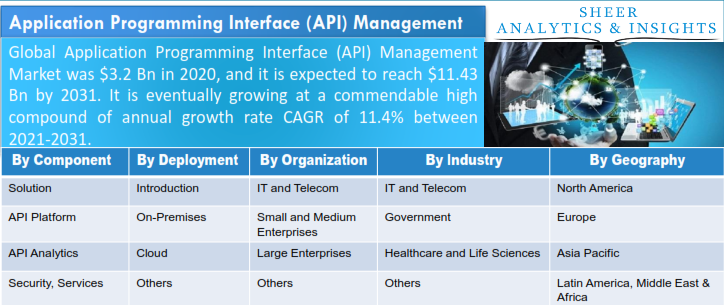 Source: SAI Research
The Application Programming Interface (API) Management Market is segmented into component, deployment type, organization size, and industry. By Component, the global API Management market is divided into Introduction, Solution, API Platform, API Portal, API Gateway, API Administration, API Monetization, Others, API Analytics, Security, Services, Integration, and Implementation, Consulting, Support and Maintenance, and Training and Education. By Deployment Type API Management market is segmented as Introduction, On-Premises, and Cloud. By Organization Size, the global API Management market has been bifurcated into Introduction, Small and Medium Enterprises, and Large Enterprises. By Industry API Management market is divided into Introduction, Banking, Financial Services, and Insurance, IT and Telecom, Government, Healthcare and Life Sciences, Retail and Consumer Goods, Media and Entertainment, Travel and Transportation, Manufacturing, and Others.
By Region, North America is Holding the Major Market Share
The API Management Market has been geographically segmented into North America, Asia Pacific, Latin America, Middle East, and Africa region. In addition to this, North America has a significant share among those regions. The growing demand for the application in the business system and owing to the high adaptability of new technology is driving the market growth in this region. Apart from that, the Asia Pacific and the Rest of the regions are expected to increase the growth rate over the upcoming forecast period of 2021 to 2031.
Major Players in Global API Management Market
The report covers a detailed outlook about the company, and it includes the company or industry profiles and market share of key players operating in the global market. Key players in the report include CA Technologies, Google LLC, IBM Corporation, Microsoft Corporation, MuleSoft, LLC, Oracle Corporation, Red Hat, Inc., SAP SE, Software AG, TIBCO Software, Inc., Amazon Web Services, Inc., Sensedia (Brazil), Torry Harris Business Solutions (US), TYK Technologies (England), WSO2 (US), and Osaango among others.
The Global API Management Market Has Been Segmented into:
Global API Management Market: By Component
Introduction
Solution
API Platform

API Portal
API Gateway
API Administration
API Monetization
Others

API Analytics
Security
Services

Integration and Implementation
Consulting
Support and Maintenance
Training and Education
Global API Management Market: By Deployment Type
Introduction
On-Premises
Cloud
Global API Management Market: By Organization Size
Introduction
Small and Medium Enterprises
Large Enterprises
Global API Management Market: By Industry
Introduction
Banking, Financial Services, and Insurance
IT and Telecom
Government
Healthcare and Life Sciences
Retail and Consumer Goods
Media and Entertainment
Travel and Transportation
Manufacturing
Others
Global API Management Market: By Region
North America

USA
Canada
Mexico
Rest of North America

Europe

UK
Germany
France
Spain
Italy
Russia
Rest of Europe

Asia Pacific

India
China
Japan
South Korea
Rest of Asia Pacific

Latin America, Middle East & Africa

Brazil
South Africa
UAE
Rest of LAMEA
Note: This table of contents is a content of a published report. As per client requirement, cross-sectional analysis across all industries or specific geography or 'country-based' analysis can be provided as a part of paid customization. Please place your queries on sales@sheeranalyticsandinsights.com or query@sheeranalyticsandinsights.com