The Asia sports betting market was valued at $39.8 billion in 2021 and it is expected to reach $260.8 billion at a CAGR of 16.60% between 2022 and 2032. Sports betting can be defined as an agreement between two or more two contestants to deliberately stake a particular amount of money with the intent to profit from the outcome of an event that is determined wholly by chance. Sports betting can be practiced in several sports activities such as cricket, soccer, hockey, baseball, basketball, and others.
In Asia, China holds the largest share in the sports betting market across the region.
Sports betting are a big part of Asian culture in the present day. Due to the rising demand for sports betting, the major bookmakers in Asia offer prices and significant liquidity on almost every sport, no matter how obscure the league or divisions. Additionally, the Asian sports betting market is focusing on opening up more from recreational players to semi-pro and professional groups. However, few laws and restrictions that had previously been an obstacle to some of the betting practices have hampered the market growth in particular. For example, some countries such as East Timor, Bhutan, Mongolia, Nepal, Thailand, and Indonesia, among others have strict governmental regulations for sports betting. However, some countries do not have any governmental regulations regarding online or electronic sports betting or gambling. However, Asia is not a betting-friendly region due to some strict restrictions according to the government's rules. Therefore, it is estimated to hinder the growth of the sports betting market in some of the developing countries across the Asian region. However, there is some sponsorship that deals with the colossal Asian television market that observes and watches any sports team very closely to provide the majority of the liquidity. Moreover, some Asian sports betting websites are getting western interfaces which are benefiting them to open up large liquidity and competitive amounts to the larger customer pool. These are projected to gain significant growth during the forecast period from 2022 to 2032.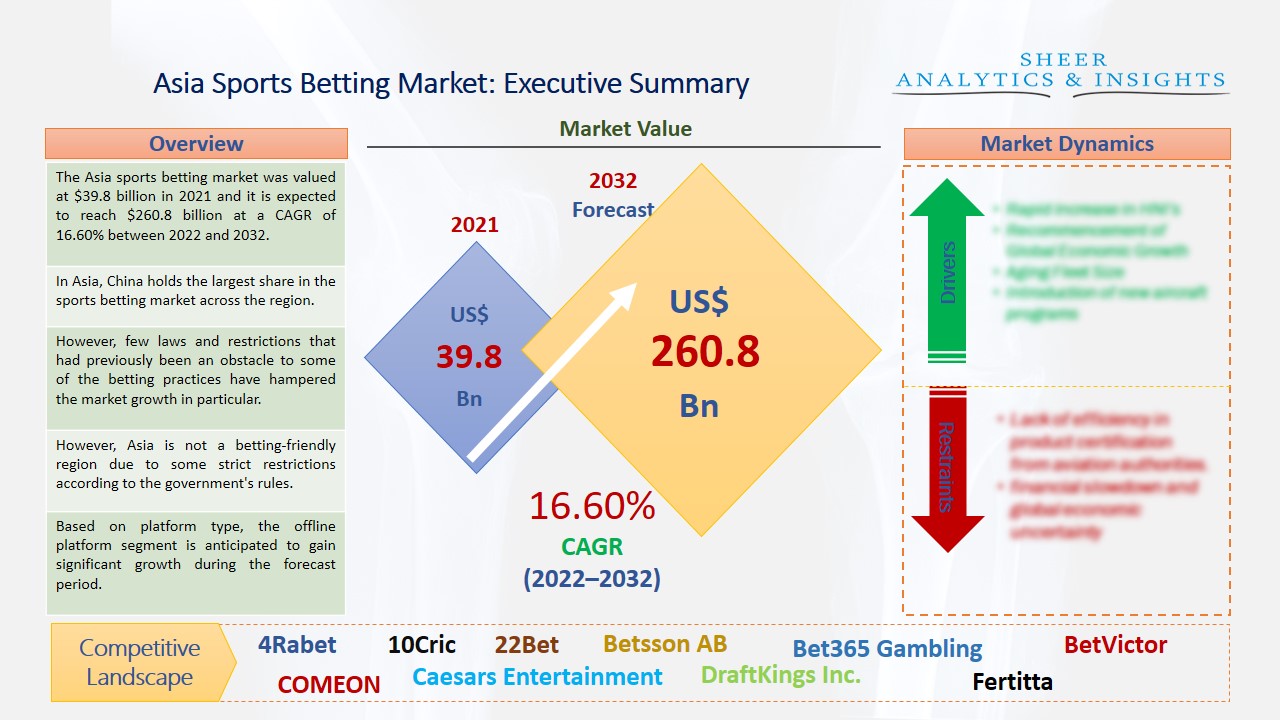 Source: SAI Research
Based on platform type, the offline platform segment is anticipated to gain significant growth during the forecast period due to the increasing sports events such as soccer, and cricket, among others. Based on sports type, the market is segmented into football, cricket, baseball, hockey, horse racing, and others. Among these, the football and horse racing segment is accounted for the largest revenue share and it is expected to drive the sports betting market during the forecast period. Based on betting type, the fixed odds wagering category is anticipated to gain significant growth opportunities for the market. Based on regions the market is segmented into India, China, South Korea, Japan, Singapore, Malaysia, and others. Among these, China is dominating the sports betting market due to the rising sports events and increasing of betters that are participating in several sports including online or electronic sports.
An increasing number of international brands are focusing on joining the ranks of regional betting sites which serve various bettors across the Asian region. Moreover, there are many bookies online to help a customer do the research and bet according to requirements. In sports betting, there are four pillars such as mobile compatibility, reputation, customer care, and money. Additionally, the increasing growth of advanced technologies and usage of mobile phones are helping the overall bettors to bet from anywhere through digital platforms, which is expected to drive market growth soon. In Japan and South Korea, baseball is very popular among a large number of people, while in India cricket is a national obsession. Hence, several betting events regarding these sports are helping the bettors to participate in such events to gain money. However, betting on the internet is fundamentally different from games in land-based gambling establishments. Even the Asians themselves like sports betting very much and they spend money on it quite easily. Therefore, it is estimated to boost the sports betting market in the upcoming years across the region.
In Asia, bookmaker's offices do not restrict professional bettors who place their bets without any risks. They give very high limits and allow the duplication of the selected outcomes and have the lowest margin in the world. In March 2022, MGM Resorts International launched the first-ever NFT-enabled live performance experience, where bettors can bet. In April 2022, the same company announced the launch of its online sports betting and iGaming platform in some of the Asian regions as well as in the international market. This would offer a user-friendly experience by allowing sports fans to bet and make money. Rivalry Corporation has launched online electronic sports and traditional sports betting services in various regions including Asia. However, online sports betting also have found a home in India, even though the country's laws ban almost all forms of gambling. Therefore, placing a bet at an international online sportsbook appears to be perfectly fine.
Key players such as 4Rabet (Cyprus), 10Cric (India), 22Bet (Cyprus), 888 Holdings (Spain), BetVictor (United Kingdom), Betsson AB (Sweden), Bet365 Gambling (U.K), COMEON (Canada), Caesars Entertainment (U.S), Churchill Downs Incorporated (U.S), DraftKings Inc (U.S), Entain (Isle of Man), Flutter Entertainment (Ireland), Fertitta Entertainment LLC (U.S), Kindred Group (Malta), MacAndrews and Forbes Holding (U.S), MGM Resorts International (U.S), Playtech (Estonia), PariMatch (Cyprus), Paddy Power (Ireland), Rivalry Corporation (Canada), SGHC limited (U.S), The Starts Group (Canada), Webis Holdings (Isle of Man), among others are leading the Asia sports betting market.
Scope of the Report:
Report Coverage

Details

Market Size in 2021

US$ 39.8 Billion

Market Volume Projection by 2032

US$ 260.8 Billion

Forecast Period 2022 to 2032 CAGR
16.60%
Base Year:

2021

Historical Data

2019, 2020 and 2021

Forecast Period

2022 to 2032

Segments covered

By Platform Type: Online, Offline

By Sports Type: Football, Basketball, Horse Racing, Baseball, Cricket, Hockey & Others

By Betting Type: Fixed Odds Wagering, Exchange Betting, In Play Betting, Pari-Mutuel, Electronic Sports Betting & Others

Geographies covered

Europe: Germany, France, Italy, U.K., Russia, Rest of Europe Countries

Companies covered

4Rabet (Cyprus), 10Cric (India), 22Bet (Cyprus), 888 Holdings (Spain), BetVictor (United Kingdom), Betsson AB (Sweden), Bet365 Gambling (U.K), COMEON (Canada), Caesars Entertainment (U.S), Churchill Downs Incorporated (U.S), DraftKings Inc (U.S), Entain (Isle of Man), Flutter Entertainment (Ireland), Fertitta Entertainment LLC (U.S), Kindred Group (Malta), MacAndrews and Forbes Holding (U.S), MGM Resorts International (U.S), Playtech (Estonia), PariMatch (Cyprus), Paddy Power (Ireland), Rivalry Corporation (Canada), SGHC limited (U.S), The Starts Group (Canada), Webis Holdings (Isle of Man), among others
The Asia Sports Betting Market Has Been Segmented Into:
The Asia Sports Betting Market – By Platform Type:
The Asia Sports Betting Market – By Sports Type:
Football
Basketball
Horse Racing
Baseball
Cricket
Hockey
And Others
The Asia Sports Betting Market – By Betting Type:
Fixed Odds Wagering
Exchange Betting
In Play Betting
Pari-Mutuel
Electronic Sports Betting
And Others
The Asia Sports Betting Market – By Regional Type:
Europe
Germany
France
Italy
U.K.
Russia
Rest of Europe Countries
Note: This table of contents is a content of a published report. As per client requirement, cross-sectional analysis across all industries or specific geography or 'country-based' analysis can be provided as a part of paid customization. Please place your queries on sales@sheeranalyticsandinsights.com or query@sheeranalyticsandinsights.com