The global Augmented and Virtual Reality (AR & VR) Market in the education sector market was valued at $17.3 billion in 2021 and it is expected to reach $300.8 billion at a CAGR of 28.4% between 2022 and 2032. India's higher education system is about to experience an intriguing inflection point. Digital technology is already increasingly being used in educational settings. Higher education is currently being pushed into the experiential sphere by the forces of augmented reality (AR) and virtual reality (VR).
By region, North America has led the global AR & VR in the education sector market over the last few years.
Modern society has been significantly impacted by technology breakthroughs over the past 15 years, which have also revolutionized education and training in several nations across the globe. India's higher education system is about to experience an intriguing inflection point. Digital technology is already increasingly being used in educational settings. Higher education is currently being pushed into the experiential sphere by the forces of augmented reality (AR) and virtual reality (VR). Technology has been a huge help in transforming education away from the rote memorization and chalk-talk of the past. Teachers are increasingly acting as learning facilitators while students now have access to a great amount of data and learning materials. The demands of the pupils have informed how education has been tailored. Online lessons are being developed by teachers to fill in specific knowledge gaps and to improve comprehension of some subjects that require more intensive learning interventions. To better appreciate the effects of augmented reality and virtual reality on higher education, it is crucial to first make this distinction. Adding bits of text, sound, or imagery to the real world makes it more appealing. Contrarily, virtual reality produces a brand-new, simulated environment that immerses pupils in the subject matter in a fun, interactive, and experiential way. Increased use of AR/VR for improved learning has been seen in higher education institutions as a whole. Schools and universities are investing in infrastructure and resources to incorporate these technologies into their programs.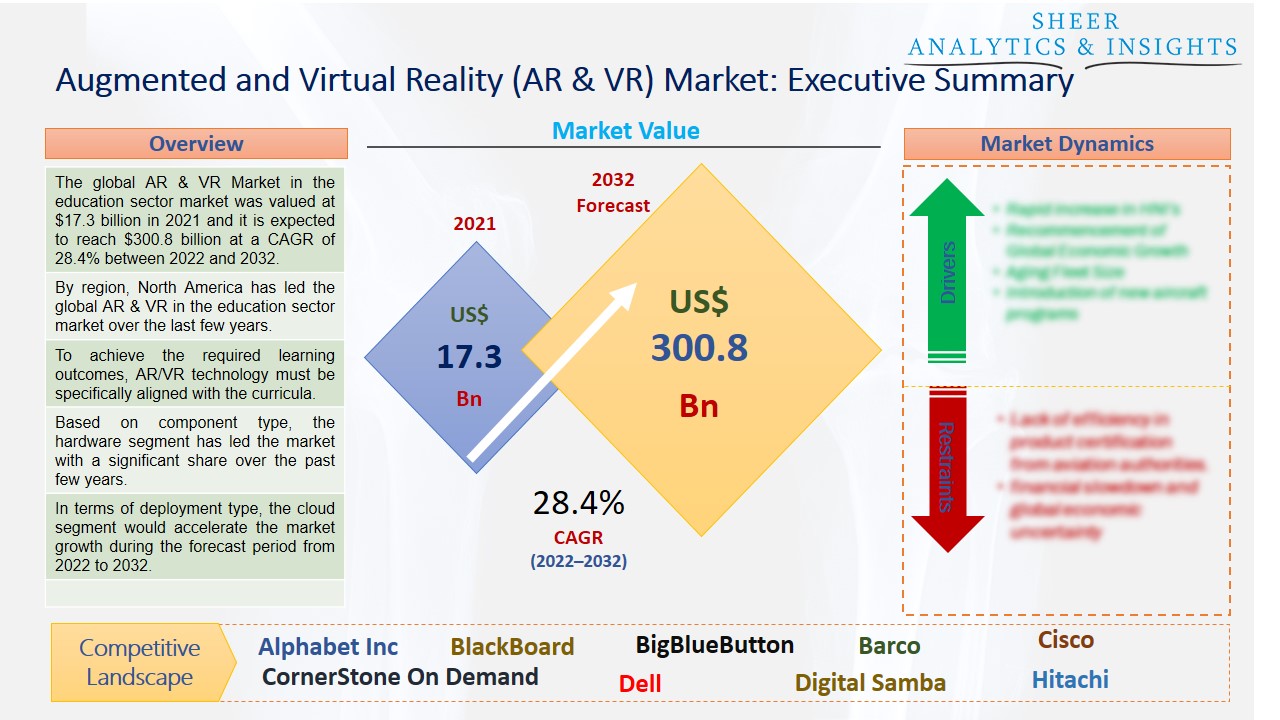 Source: SAI Research
To achieve the required learning outcomes, AR/VR technology must be specifically aligned with the curricula. This might discourage some universities from including AR and VR in their systems for delivering instruction. Virtual reality technology is now being used by a lot of institutions and schools to help students with learning disabilities or issues access education and to make learning less location-dependent. Moreover, the low cost and wide availability of VR goods in the current market have made them a serious threat to AR and MR. The market expansion, particularly in commercial applications, has been constrained by the restrictions of its real-world uses, which has lessened the possibility of market substitution.
Based on component type, the hardware segment has led the market with a significant share over the past few years. The gear for virtual reality in education includes projectors, head-mounted displays, and other tools for displaying virtual reality content. Virtual reality in education can be used in residential, academic, and training institutions, among other settings. It can also be implemented on-premises or in the cloud. Based on such technology, interactive whiteboards are specifically created with features that enhance teaching and learning techniques. These boards frequently have dictation capabilities, speech recognition, symbol and formula recognition, screen recording, remote accessibility, and other features that help educational institutions run more smoothly.
In terms of deployment type, the cloud segment would accelerate the market growth during the forecast period from 2022 to 2032. In addition, children can learn from the comfort of their own homes using robot applications, and they can access cloud-based content more rapidly. These robot applications assist children in resolving learning problems. This section is becoming more and more well-liked as it makes education more accessible to a wider audience. Programs for remote learning and training can be accessed anytime, anywhere, and with greater ease thanks to cloud-based learning.
By application type, the e-learning and student recruitment categories are estimated to boost market growth over the forecast period. While 4G technology struggles with the usage of Virtual or Augmented Reality in educational applications, 5G's high-speed network enables hands-on experience and makes it simple to access apps. These robot applications assist kids in resolving their academic difficulties while enabling them to learn from the convenience of their own homes and have faster access to cloud-based resources. However, it is possible to develop applications that allow teachers to assemble AR and VR educational applications from scratch using open-source toolkits and templates.
Geographically, the North American region holds most of the market share and is anticipated to hold its dominant position over the forecast period. Most of the key players are located in several nations in the North American region. This is a plus point for the market growth as well as for various end-users. Moreover, major factors to the expansion of the entire North American region include the US and Canada. Due to the abundance of renowned educational institutions and the high caliber of education they deliver, North America is a region where the education sector is constantly seeking expansion. Technology improvements have sparked a rise in the use of smart classrooms and other technologically sophisticated learning environments in both corporate and educational settings, which help to focus the learning environment on the needs of the individual or organization.
Demand for virtual field visits to museums is rising, and nations using virtual reality headsets at home or in the classroom are important factors in the market's growth. A deeper comprehension of the subjects is facilitated by the growing use of virtual journeys, which provide pupils the chance to experience historical events firsthand. Several key players are focusing on expanding their business growth by implementing new marketing strategies, which would help them to hold a strong position in this competitive market globally.
According to the study, key players such as Alphabet Inc (U.S), BlackBoard (U.S), BigBlueButton (Canada), Barco (Belgium), Cisco (U.S), CornerStone On Demand (U.S), Dell (U.S), Digital Samba (Spain), Hitachi (Japan), HTC (Taiwan), IBM (U.S), Impero Software (U.K), LG Corp (South Korea), Microsoft (U.S), Oculus VR (U.S), Oracle (U.S), Panasonic (Japan), Sony Corp (Japan), among others are leading the global AR & VR in the education market.
Scope of the Report:
Report Coverage
Details
Market Size in 2021

US$ 17.3 Billion

Market Volume Projection by 2032

US$ 300.8 Billion

Forecast Period 2022 to 2032 CAGR
28.4%
Base Year:

2021

Historical Data

2019, 2020 and 2021

Forecast Period

2022 to 2032

Segments covered

By Component Types: Hardware, Software & Services

By Deployment Type: Cloud-Based & On-Premises

By Application Type: Classroom Learning, E-Learning, Corporate Learning Management, Student Recruitment & Others

Geographies covered

North America, Europe, Asia-Pacific, LAMEA

Companies covered
Alphabet Inc (U.S), BlackBoard (U.S), BigBlueButton (Canada), Barco (Belgium), Cisco (U.S), CornerStone On Demand (U.S), Dell (U.S), Digital Samba (Spain), Hitachi (Japan), HTC (Taiwan), IBM (U.S), Impero Software (U.K), LG Corp (South Korea), Microsoft (U.S), Oculus VR (U.S), Oracle (U.S), Panasonic (Japan), Sony Corp (Japan), among others
The Global AR & VR in the Education Sector Market Has Been Segmented Into:
The Global AR & VR in the Education Sector Market – by Component Types:
Hardware
Software
Services
The Global AR & VR in the Education Sector Market – by Deployment Type:
The Global AR & VR in the Education Sector Market – by Application Type:
Classroom Learning
E-Learning
Corporate Learning Management
Student Recruitment
Others
The Global AR & VR in the Education Sector Market – by Regions:
North America
Europe

U.K.
France
Germany
Italy
Rest of Europe

Asia Pacific

India
China
Japan
Australia
Rest of Asia Pacific

LAMEA
Middle East
Latin America
Africa

South Africa
Egypt
Others
Note: This table of contents is a content of a published report. As per client requirement, cross-sectional analysis across all industries or specific geography or 'country-based' analysis can be provided as a part of paid customization. Please place your queries on sales@sheeranalyticsandinsights.com or query@sheeranalyticsandinsights.com