The global baby food market was valued at $85.6 billion in 2021 and it is expected to reach $170.5 billion at a CAGR of 6.2% between 2022 and 2032. Rising organized retail marketing activities and urbanization rates are driving the infant food market. Additionally, there is a greater demand for baby food as a result of declining infant mortality rates, an increase in the proportion of working women, and consumer awareness of innovative baby food products worldwide.
By region, Asia-Pacific is expected to lead the baby food market globally with highest share.
Baby meals are made to be quickly and easily absorbed by infants. The majority of the nutrients required for a baby's bone and tissue growth are included in the formulas used to make these. Since breast milk is insufficient for an infant's effective development, many customers are willing to add adequate nutrients to their child's diet as a supplement. Additionally, the infant food market is expanding as a result of innovations that increase the products' safety through process improvements and technology breakthroughs.
One of the main drivers propelling the global baby food market is the rise in women's employment across the board. More women are working because there are equal educational and employment options for them, as well as helpful government programs. The industry size is being positively impacted by appropriate maternal health facilities, health infrastructure, and childcare policies adopted across many workplaces and industries. Additionally, the proportion of female workers in the workforce is increasing, which reduces the time available for mothers to breastfeed and prepare food for their infants, increasing the need for high-quality baby food.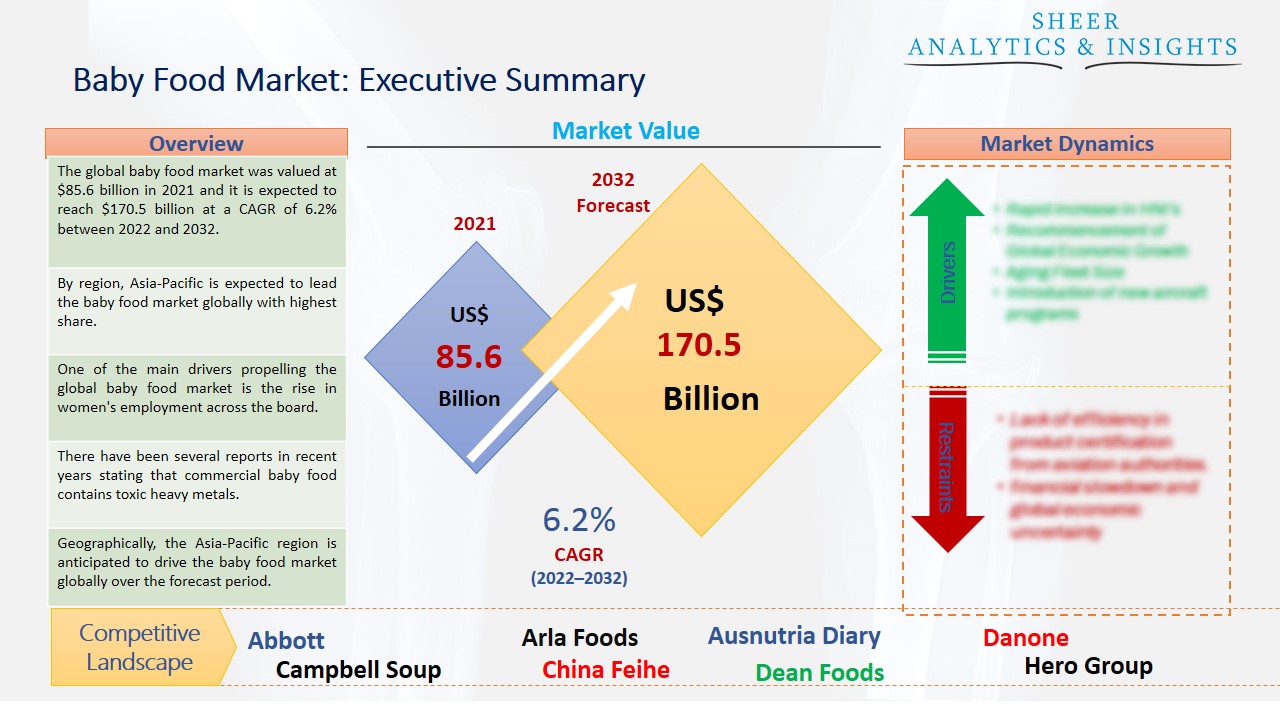 Source: SAI Research
There have been several reports in recent years stating that commercial baby food contains toxic heavy metals. Even though the levels discovered were quite low, exposure should still be kept to a minimum. The FDA is working to improve its oversight and control of the presence of heavy metals in store-bought baby food.
Based on product type, the prepared baby food segment accounted for the largest share of this market and is anticipated to accelerate the market growth during the forecast period from 2022 to 2032. The market is significantly impacted by the rising product demand from working mothers who lead hectic lives and have little time to prepare meals. Additionally, the bulk of infant formula milk products is consumed in the Asia-Pacific region. On the other hand, developed nations are the biggest consumers of packaged baby food. There are a few different varieties of snacks available for infants, including My First Puffs, Sweet Potato, Peach, Banana, Strawberry, Apple, and Blueberry Vanilla. Parents favor baby meal snacks because they are easily edible and include the correct quantity of nutrition. The market is anticipated to be driven by these
In terms of food type, the organic food category has led the market with the highest share over the past few years. Growing numbers of working women and a swift trend toward convenience foods are driving up demand for organic baby food, which is driving the market for it. As a result, many important players are concentrating on creating organic foods for newborn newborns. This would aid in the expansion of those businesses. Additionally, growing consumer preference for organic baby food and beverages along with rapid technological advancements that lead to the introduction of new products will open up new opportunities for the organic baby food market during the forecast period.
Geographically, the Asia-Pacific region is anticipated to drive the baby food market globally over the forecast period due to the rising demand for various kinds of baby foods among a large number of people, especially parents. The demand for infant food and milk formula-based products has greatly expanded in the Asia-Pacific area as a result of the increasing birth rate and rising spending power of the people. The Asia-Pacific baby food market is primarily driven by urbanization, a better standard of living, and active female participation in the workforce.
According to the study, key players such as Abbott (U.S), Arla Foods (Denmark), Ausnutria Diary (Hong Kong), Danone (France), Campbell Soup (U.S), China Feihe (China), Dean Foods (U.S), Hein Celestial (U.S), Hero Group (Switzerland), HiPP (Germany), Kewpie Corporation (Japan), Kraftz Heinz Company (U.S), Mondelez International (U.S), Mengniu Dairy (China), Nestle (Switzerland), Pfizer (U.S), Perrigo (Ireland), Reckitt (U.K), Wittington Investments (U.K), Yili Group (China), among others are leading the global baby food market.
Scope of the Report:
Report Coverage
Details
Market Size in 2021

US$ 85.6 Billion

Market Volume Projection by 2032

US$ 170.5 Billion

Forecast Period 2022 to 2032 CAGR
6.2%
Base Year:

2021

Historical Data

2019, 2020 and 2021

Forecast Period

2022 to 2032

Segments covered

By Product Type: Prepared Baby Food, Dried Baby Food, Baby Formula & Others

By Food Type: Organic Food, Non-Organic Food & Others

Geographies covered

North America, Europe, Asia-Pacific, LAMEA

Companies covered
Abbott (U.S), Arla Foods (Denmark), Ausnutria Diary (Hong Kong), Danone (France), Campbell Soup (U.S), China Feihe (China), Dean Foods (U.S), Hein Celestial (U.S), Hero Group (Switzerland), HiPP (Germany), Kewpie Corporation (Japan), Kraftz Heinz Company (U.S), Mondelez International (U.S), Mengniu Dairy (China), Nestle (Switzerland), Pfizer (U.S), Perrigo (Ireland), Reckitt (U.K), Wittington Investments (U.K), Yili Group (China), among others
The Global Baby Food Market Has Been Segmented Into:
The Global Baby Food Market – by Product Type:
Prepared Baby Food
Dried Baby Food
Baby Formula
Others
The Global Baby Food Market – by Food Type:
Organic Food
Non-Organic Food
Others
The Global Baby Food Market – by Regions:
North America
Europe

The U.K.
France
Germany
Italy
Rest of Europe

Asia Pacific

India
China
Japan
Australia
Rest of Asia Pacific

LAMEA
Middle East
Latin America
Africa

South Africa
Egypt
Others
Note: This table of contents is a content of a published report. As per client requirement, cross-sectional analysis across all industries or specific geography or 'country-based' analysis can be provided as a part of paid customization. Please place your queries on sales@sheeranalyticsandinsights.com or query@sheeranalyticsandinsights.com