The Global Bacteriophages Therapy Market was $620 Mn in 2019, and it is expected to reach $1.3 Bn by 2028. It is eventually growing at a commendable compound annual growth rate (CAGR) of 7.4% between 2020-2028. The current pandemic of COVID-19 is expected for the market of Bacteriophages Therapy to grow. This growth is supported by the fact that one can get treated for deadly bacterial infection without any other medication. However, it can't treat COVID, but it can treat a number of other critical infections caused due to many other factors such as rotten food, and expired dairy. The Bacteriophages Therapy Market is primarily driven by its significant role in molecular and genetics biology. The growing importance of bacteriophage in the bacterial fermentation process is also projected to boost the market growth. Recent investments in Bacteriophages Therapy are expected to drive the market positively. Moreover, the significant role of bacteriophage in manufacturing such as biotechnology and food products is projected to propel the market growth over the forecast period.
Global Bacteriophages Therapy in Ready to Eat Food Segment Is Estimated to Witness Remarkable Growth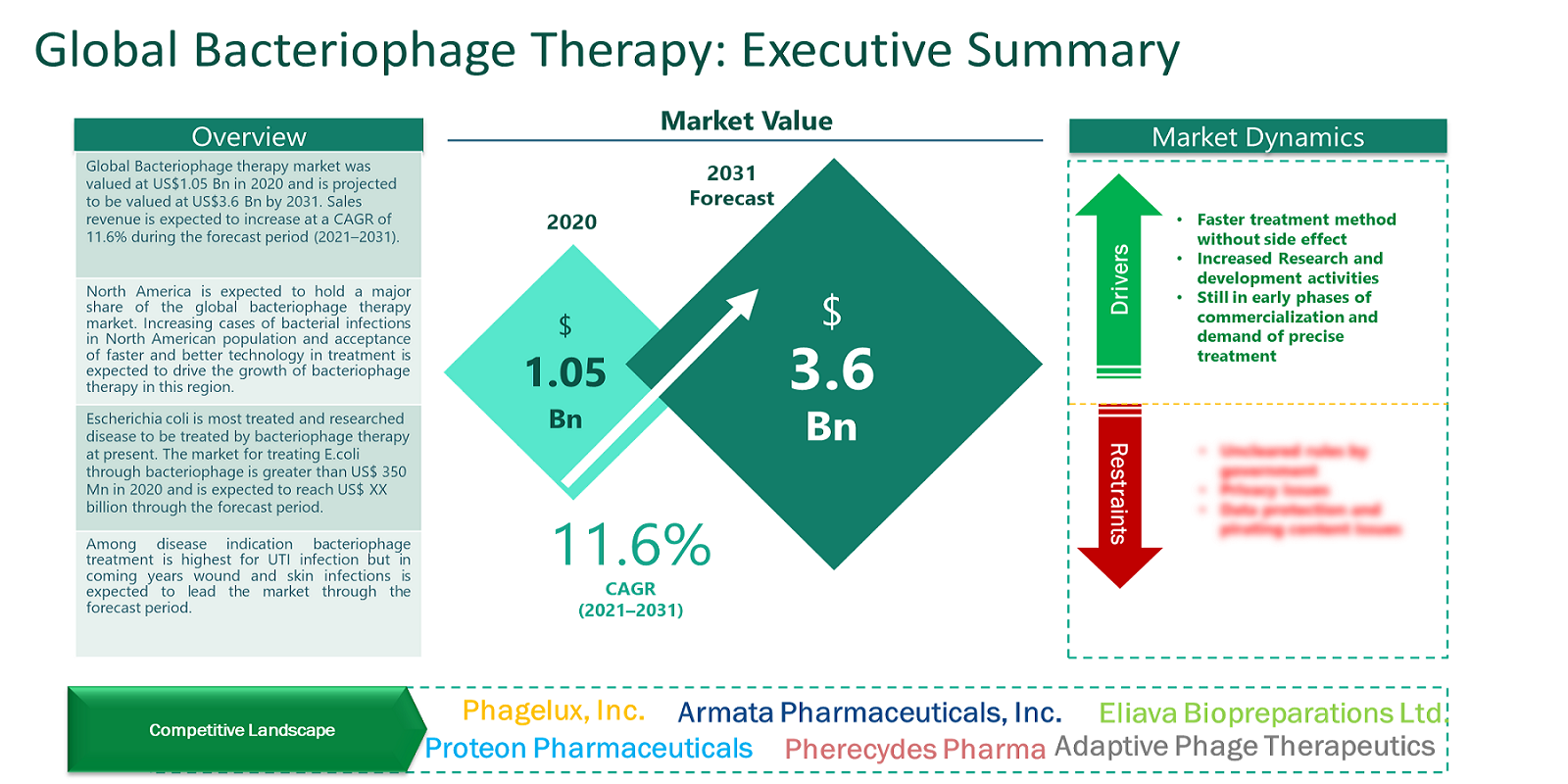 Source: SAI Research
The global Bacteriophages Therapy Market has been segmented into disease type, application, and region. By disease type, the global Bacteriophages Therapy Market is divided into Escherichia coli, Listeria monocytogenes, Shigella, Salmonella, Bedsores, and Others. By applications, the global Bacteriophages Therapy Market is divided into Clinical Application, Ready to Eat Food, Dairy, Phage Display, Veterinary, and Others. Bacteriophages Therapy for Escherichia coli is estimated to witness remarkable growth over the forecast period as it has the majority of cultivated viruses that have the capability to culminate in the widest range of bacteria.
By Region, North America is Holding the Major Market Share
The global Bacteriophages Therapy Market has been geographically segmented into North America, Asia Pacific, Latin America, Middle East, and Africa region. In addition to this, North America Bacteriophages Therapy Market is holding the largest market share currently and is estimated to show a steady compound annual growth rate in the upcoming forecast period due to prominent phage entities in the U.S., faster commercialization process, a large base of patients suffering from bacterial infection, and rising prevalence of antibiotic resistance. Moreover, the use of bacteriophages in the environment and food sector, and evolved research infrastructure with numerous initiatives in introducing new technologies is projected to bolster the market growth in the region. Asia Pacific region is anticipated to show the fastest growth rate in the forecast period due to transforming biotechnology infrastructure, changing agriculture methods, and positive government initiatives. Europe and LAMEA region are also projected to register a decent growth rate over the forecast period from 2020 to 2028.
Major Players in Global Bacteriophages Therapy Market
Some of the key players in the global Bacteriophages Therapy Market include Adaptive Phage Therapeutics, BiomX Ltd., ContraFect Corporation., Eligo Bioscience SA, EnBiotix, Fixed-phage Ltd., InnoPhage, Intodeworld, Locus Biosciences, Micreos BV, Nextbiotics, Phagelux Inc., PhagePro, Phagomed Biopharma GmbH., Phi Therapeutics, and TechnoPhage.
The Global Bacteriophages Therapy Market Has Been Segmented into:
Global Bacteriophages Therapy Market: By Disease type
Escherichia coli
Listeria monocytogenes
Shigella
Salmonella
Bedsores
Others
Global Bacteriophages Therapy Market: By Applications
Clinical Application
Ready to Eat Food
Dairy
Phage Display
Veterinary
Others
Global Bacteriophages Therapy Market: By Region
North America

USA
Canada
Mexico
Rest of North America

Europe

UK
Germany
France
Spain
Italy
Russia
Rest of Europe

Asia Pacific

India
China
Japan
South Korea
Rest of Asia Pacific

Latin America, Middle East & Africa

Brazil
South Africa
UAE
Rest of LAMEA
Note: This table of contents is a content of a published report. As per client requirement, cross-sectional analysis across all industries or specific geography or 'country-based' analysis can be provided as a part of paid customization. Please place your queries on sales@sheeranalyticsandinsights.com or query@sheeranalyticsandinsights.com