The global battery market was valued at $120.3 billion in 2021 and it is expected to reach $390.3 billion at a CAGR of 10.9% between 2022 and 2032. The market is expected to grow as a result of falling lithium-ion battery prices and increased demand from data centers. This rising demand is projected to witness growth opportunities in the upcoming years.
By region, Asia-Pacific has led the global battery market with significant growth over the past few years.
Equipment that stores chemical energy and transforms it into electrical energy is a battery. Electrons move from one substance (electrode) to another through an external circuit during chemical reactions in batteries. An electric current can be created by the electrons flowing and employed to perform tasks. It has been evident over the past 20 years that rising CO2 emissions are too responsible for the earth's warming, along with all the dangers they entail for both people and the environment. Batteries are one of the fundamental enablers of a low-carbon society, according to EU authorities. By effectively storing electricity produced from both traditional and renewable energy sources and serving as a source of power for electric vehicles, batteries also assist in lowering greenhouse gas emissions. For the entire deployment of renewable energy, batteries are essential. They support the development of a society with zero emissions and provide a steady and sustainable energy supply. Due to these rising concerns, the market is anticipated to gain more growth opportunities during the forecast period.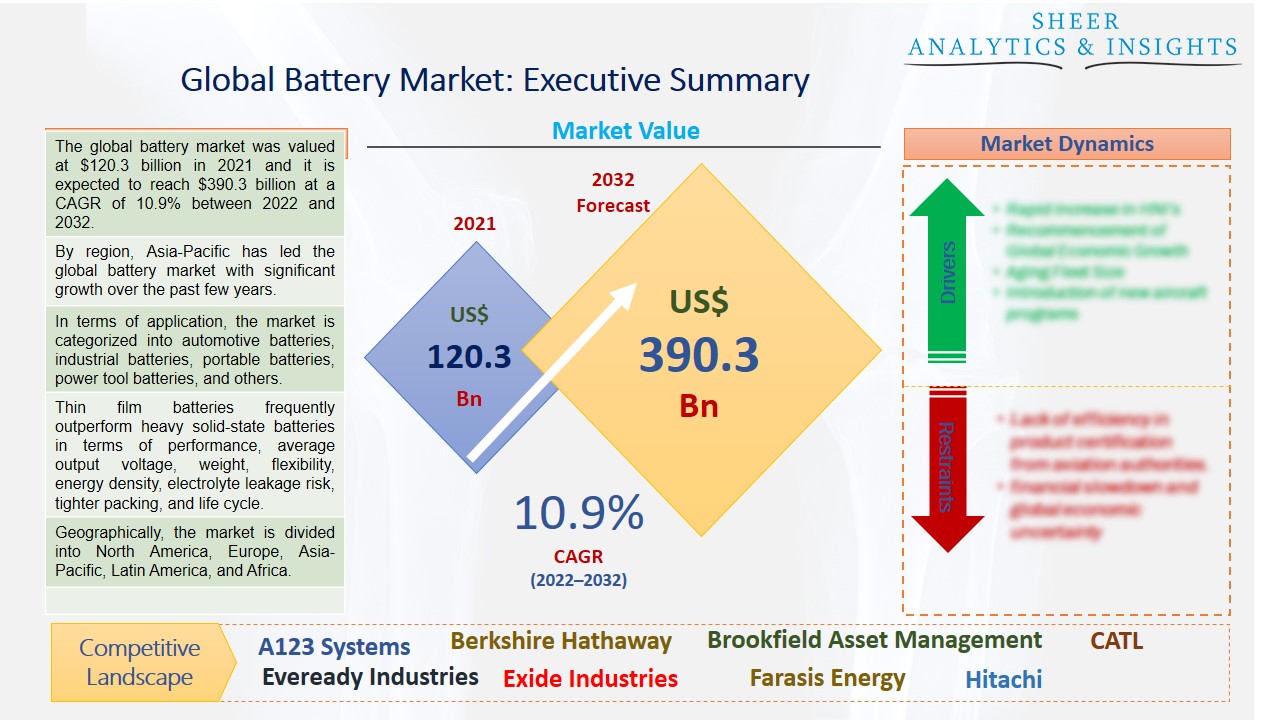 Source: SAI Research
Download Free PDF Sample Request
The production of lithium-ion batteries has benefited from an increase in manufacturing volume, particularly in Asian nations such as India and China. Further decreasing costs at the expense of the manufacturers' advantage, the massive capacity additions also increased competition among producers. Continuing research and development aims to improve battery materials to maintain battery performance. These are driving the market growth with a significant share. Household, business & industrial, and grid are the three main market segments for battery energy storage. Depending on the volume of storage needed and for how longer, project sizes and values might vary greatly in the multiple end-user industries.
Scientists and researchers from North America and European countries have been competing to develop alternative battery chemistries that are more protected and highly effective than the current battery chemistries. The research and development of new battery chemistries also receive a respectable amount of funding. These would gain more opportunities for the battery market across the globe. Moreover, technological advancement is another major factor that is also driving the market and is expected to accelerate the market growth during the upcoming years. However, some restraints are expected to hamper the market in several under-developing nations. For instance, a couple of years ago, COVID-19 negatively impacted the battery market globally due to complete lockdowns. This has prevented all the manufacturing companies from producing innovative batteries and supplying them to other countries. The chemistry of a battery, its operating conditions, and its damage endurance all has a significant impact on a battery's safety characteristics. Additionally, the instability that develops in the electrochemical system is what leads to the internal breakdown of a battery, especially a lithium-ion battery. Therefore, these issues are expected to hinder market growth in the future.
Based on battery type, the global battery market is segmented into the printed battery, and thin film battery. The printed battery segment holds the largest share of the market and is anticipated to lead the market over the upcoming years. Due to its several benefits, it is widely used in various industries. A printed battery could have advantages that go beyond printed electronics, since it could be used to power a variety of devices, from hand-held electronics to small medical equipment and possibly even automotive. However, a thin film battery is also estimated to accelerate the market growth due to its importance. Thin film batteries frequently outperform heavy solid-state batteries in terms of performance, average output voltage, weight, flexibility, energy density, electrolyte leakage risk, tighter packing, and life cycle.
In terms of application, the market is categorized into automotive batteries, industrial batteries, portable batteries, power tool batteries, and others. The automotive category accounted for the largest share of the market. The only forms of automotive batteries used in the former were those with internal combustion engines. However, due to growing environmental concerns, technology has been moving toward autonomous vehicles recently. Furthermore, the automobile industry's use of starting, lighting, and ignition has further increased the need for SLI batteries in cars. On the other hand, the industrial battery segment is also anticipated to boost the market growth during the forecast period due to its demand in terms of small and medium enterprises.
Geographically, the market is segmented into North America, Europe, Asia-Pacific, Latin America, and Africa. Among these, the Asia-Pacific region holds the largest share of the market and is anticipated to gain more growth opportunities in the future. Due to rising vehicle production, rapid industrial expansion, and increasing demand throughout the region, Asia Pacific is a significant consumer of batteries. In addition, owing to their affordable setup and production costs as well as the availability of competent labor, India, China, and Japan are the major producing nations in the consumer electronics sector. These major factors are expected to propel the market during the forecast period. However, North America is also estimated to become the second-fastest market over the upcoming years due to the presence of most of the key players, which is a plus point for the industries as well as for consumers. In North America, smart packaging, wearable technology, and smart cards are the main application areas for thin film and printed batteries. For these technologies to operate, thin and adaptable power sources are needed. Due to these rising concerns and demand, the region is projected to gain more growth opportunities for the battery market. Many key players are also focusing on enhancing their business growth by implementing new strategies such as mergers and acquisitions. Some parent companies are acquiring subsidiary companies which would help them in holding a strong position in the competitive market.
According to the study, key players such as A123 Systems (U.S), Berkshire Hathaway (U.S), BYD Company (China), Brookfield Asset Management (U.S), CATL (China), Eveready Industries (India), Exide Industries (India), Farasis Energy (U.S), GS Yuasa (Japan), Hitachi (Japan), LG Corp (South Korea), Panasonic (Japan), SK Innovations (South Korea), SVOLT (China), Sony Group (Japan), Showa Denko (Japan), Saft (France), Samsung SDI (South Korea), Tianjin Lishen Battery (China), Vehicle Energy Japan (Japan), among others are leading the global battery market.
Scope of the Report:
Report Coverage
Details
Market Size in 2021

US$ 120.3 Billion

Market Volume Projection by 2032

US$ 390.3 Billion

Forecast Period 2022 to 2032 CAGR
10.9%
Base Year:

2021

Historical Data

2019, 2020 and 2021

Forecast Period

2022 to 2032

Segments covered

By Battery Type: Printed Battery, Thin Film Battery

By Application Type: Automotive Battery, Industrial Battery, Portable Battery, Power Tool Battery

Geographies covered

North America, Europe, Asia-Pacific, Latin America, Middle East & Africa

Companies covered
A123 Systems (U.S), Berkshire Hathaway (U.S), BYD Company (China), Brookfield Asset Management (U.S), CATL (China), Eveready Industries (India), Exide Industries (India), Farasis Energy (U.S), GS Yuasa (Japan), Hitachi (Japan), among others
The Global Battery Market Has Been Segmented Into:
The Global Battery Market – by Battery Type:
Printed Battery
Thin Film Battery
The Global Battery Market – by Application Type:
Automotive Battery
Industrial Battery
Portable Battery
Power Tool Battery
Others
The Global Battery Market – by Regions:
North America

USA
Canada
Mexico
Rest of North America

Europe

UK
Germany
France
Spain
Italy
Russia
Rest of Europe

Asia Pacific

India
China
Japan
South Korea
Rest of Asia Pacific

Latin America, Middle East & Africa

Brazil
South Africa
UAE
Rest of LAMEA
Note: This table of contents is a content of a published report. As per client requirement, cross-sectional analysis across all industries or specific geography or 'country-based' analysis can be provided as a part of paid customization. Please place your queries on sales@sheeranalyticsandinsights.com or query@sheeranalyticsandinsights.com