The global blue hydrogen market was valued at $1.1 billion in 2021 and it is expected to reach $3.9 billion at a CAGR of 11.6% between 2022 and 2032. Currently, some processes are utilized to manufacture hydrogen, including steam methane reforming, coal gasification, partial oxidation of oil, and auto-thermal reforming. Today, fertilizer production and petroleum refineries use the majority of the hydrogen produced. Fuel cell cars, energy storage, industrial feedstock, and many other uses are all possible with hydrogen.
By region, North America has led the global blue hydrogen market with significant growth over the past few years.
Natural gas is used to produce blue hydrogen, but it also uses carbon capture technology to reduce emissions. As a result, the fuel has received support from some natural gas firms, while others promote blue hydrogen as a more affordable alternative to both grey and green hydrogen. On the subject of whether blue hydrogen produced from natural gas qualifies as clean, the energy sector is far from united. With a proxy advice firm warning that market and regulatory dynamics could turn blue hydrogen into a stranded asset, its cost-competitiveness is now being questioned. Moreover, blue hydrogen is created from natural gas through the steam methane reforming method (SMR). Natural gas, extremely hot steam, and a catalyst are combined in this steam methane reforming process. In a subsequent chemical reaction, hydrogen and carbon monoxide are produced.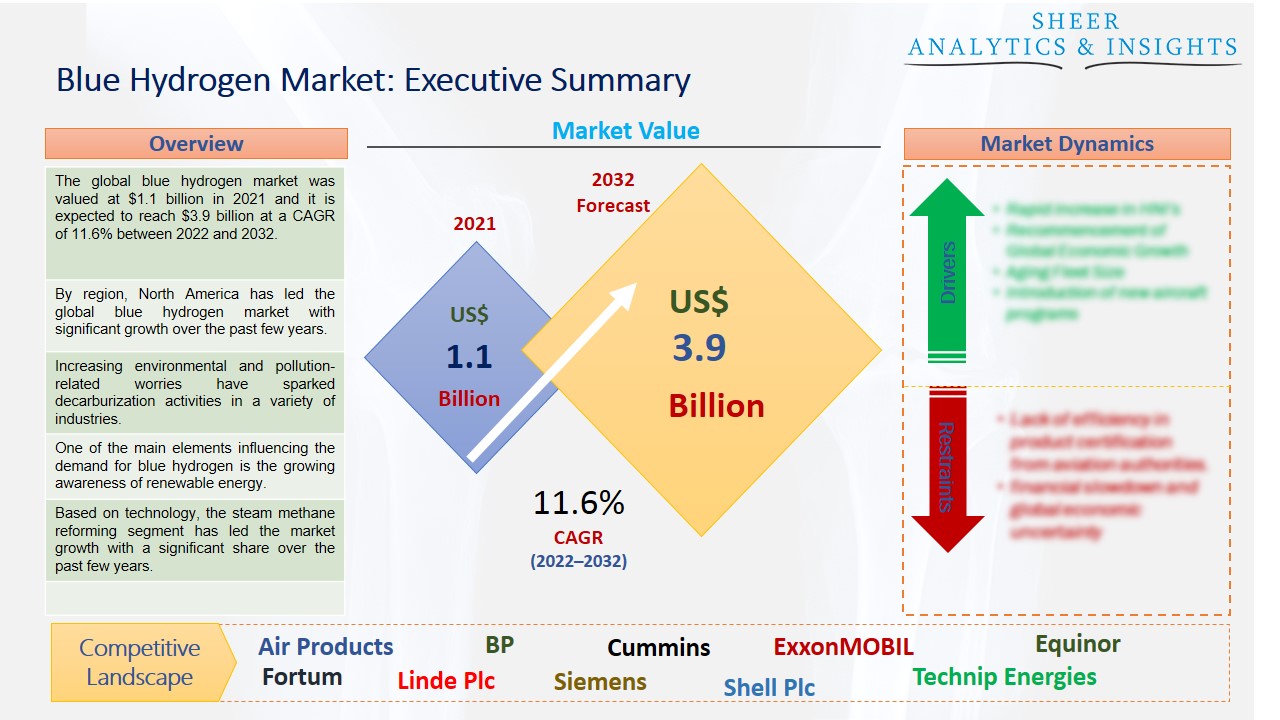 Source: SAI Research
Download Free PDF Sample Request
Increasing environmental and pollution-related worries have sparked decarburization activities in a variety of industries. The usage of blue hydrogen in chemical manufacture, refining, and other heavy industrial processes has been driven by a significant switch from traditional fuels to carbon-neutral substitutes. To facilitate the adoption of carbon capture and storage technology for the production of hydrogen, government authorities are concentrating on the development of new policies and programs. Furthermore, firms are required by stringent government laws to reduce greenhouse gas emissions from various production processes.
One of the main elements influencing the demand for blue hydrogen is the growing awareness of renewable energy. Rising automobile demand is contributing to a sharp rise in air pollution, which harms people's health and quality of life. Additionally, it is causing the emission of greenhouse gases produced as byproducts of the combustion of fossil fuels, which is causing an increase in the temperature of the planet's atmosphere.
Based on technology, the steam methane reforming segment has led the market growth with a significant share over the past few years. Additionally, in the process known as steam methane reforming, methane is combined with steam under pressure and in the presence of a catalyst to produce carbon monoxide, hydrogen, and a negligibly small amount of carbon dioxide as a byproduct. The carbon dioxide and other impurities are then removed, leaving behind essentially pure hydrogen. High operational efficiency and cheap production and operating expenses are this technology's key benefits.
In terms of vertical type, the chemical category accounted for the largest share of this market and is anticipated to drive market growth in the future. The need for blue hydrogen is anticipated to rise throughout the projected period due to the rising demand for hydrogen as a component of numerous chemicals, including hydrochloric acid and ammonia. Additionally, the chemical sector uses more than two-thirds of the world's hydrogen output, mostly for the synthesis of ammonia and methanol. The market for blue hydrogen is anticipated to grow soon as more hydrogen is used in fuel cell-powered automobiles. Fuel cells are an alternative to fossil fuels and provide pollution-free mobility. Hence, these major factors are projected to boost market growth during the forecast period.
Geographically, North America holds most of the market share and is estimated to hold its dominant position throughout the upcoming years. Most of the key players are located in this region which is another plus point for this market, as well as for various end-user industries. The number of businesses producing and distributing clean alternative energies, including blue hydrogen, has greatly expanded. Additionally, the region's governments' increasing investment and technological advancements are anticipated to fuel market profit growth. Moreover, several key players are focusing on expanding their business growth by implementing new marketing strategies to hold a strong position in the global market. For instance, these companies are establishing mergers and acquisitions which would help them to make more innovative productions. This way, they would hold a dominant position across the competitive market.
According to the study, key players such as Air Products (U.S), BP (U.K), Cummins (U.S), ExxonMOBIL Corp (U.S), Equinor (Norway), Fortum (Finland), Linde Plc (Ireland), Siemens (Germany), Shell Plc (U.K), Topsoe (Denmark), Technip Energies (France), Toshiba (Japan), Woodside Energy (Australia), Xebec Adsorption (Canada), among others are leading the global blue hydrogen market.
Scope of the Report:
Report Coverage
Details
Market Size in 2021

US$ 1.1 Billion

Market Volume Projection by 2032

US$ 3.9 Billion

Forecast Period 2022 to 2032 CAGR
11.6%
Base Year:

2021

Historical Data

2019, 2020 and 2021

Forecast Period

2022 to 2032

Segments covered

By Technology Type: Steam Methane Reforming, Auto Thermal Reforming, Gas Partial Oxidation & Others

By Verticals Type: Power Generation, Chemical, Refinery & Others

Geographies covered

North America, Europe, Asia-Pacific, LAMEA

Companies covered
Air Products (U.S), BP (U.K), Cummins (U.S), ExxonMOBIL Corp (U.S), Equinor (Norway), Fortum (Finland), Linde Plc (Ireland), Siemens (Germany), Shell Plc (U.K), Topsoe (Denmark), Technip Energies (France), Toshiba (Japan), Woodside Energy (Australia), Xebec Adsorption (Canada), among others.
The Global Blue Hydrogen Market Has Been Segmented Into:
The Global Blue Hydrogen Market – by Technology Type:
Steam Methane Reforming
Auto Thermal Reforming
Gas Partial Oxidation
Others
The Global Blue Hydrogen Market – by Verticals Type:
Power Generation
Chemical
Refinery
Others
The Global Blue Hydrogen Market – by Regions:
North America
Europe

U.K.
France
Germany
Italy
Rest of Europe

Asia Pacific

India
China
Japan
Australia
Rest of Asia Pacific

LAMEA
Middle East
Latin America
Africa

South Africa
Egypt
Others
Note: This table of contents is a content of a published report. As per client requirement, cross-sectional analysis across all industries or specific geography or 'country-based' analysis can be provided as a part of paid customization. Please place your queries on sales@sheeranalyticsandinsights.com or query@sheeranalyticsandinsights.com