The Global Breast Cancer Brachytherapy Market was $63.10 Mn in 2020, and it is expected to reach $120.50 Mn by 2030. It is eventually growing at a commendable high compound of annual growth rate CAGR of 6.7% between 2020-2030. Breast cancer is the leading cause of global mortality, especially in underdeveloped countries. Growing preference for the brachytherapy due to rising benefits compare to the other anti-cancer therapies are boosting the growth of breast cancer brachytherapy. Quick recovery, low exposure to radiations are the prime factor for the growth of this market. Moreover, in the current pandemic of COVID-19 might make a slight difference in the growth rate in the current year. Now, moving forward, the robust demand for Global Breast Cancer Brachytherapy Market in the healthcare department is further estimated to create new necessities and augment the market of growth over the forecast period of 2020-2030.
Global Breast Cancer Brachytherapy Segment Is Estimated to Witness Remarkable Growth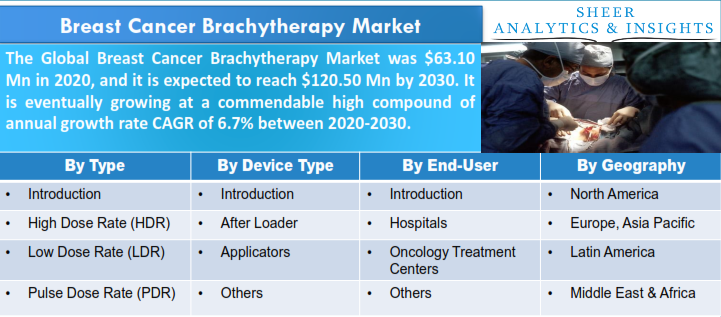 Source: SAI Research
The global Breast Cancer Brachytherapy market is segmented as type, device type, and end-user. By type, the global breast cancer brachytherapy is divided as Introduction, High Dose Rate (HDR), Low Dose Rate (LDR), and Pulse Dose Rate (PDR). By device type, the breast cancer brachytherapy market is bifurcated as Introduction, After Loader, and Applicators. By the end-user, the global breast cancer brachytherapy market has been segmented into Hospitals, Oncology Treatment Centers, and Others.
By Region, North America is Holding the Major Market Share
The global Breast Cancer Brachytherapy Market has been geographically segmented into North America, Asia Pacific, Latin America, Middle East, and Africa region. In addition to this, North America had the largest revenue share of over 50% in 2019. The high healthcare expenditure, healthcare facilities, and increasing prevalence of the disease boosting the growth of the market. Furthermore, the high adoption of brachytherapy and efficient breast cancer treatment is attributed to the highest share of this region. Apart from this, Asia Pacific is expected to grow over the forecast period because of high demand.
Major Players in Global Breast Cancer Brachytherapy Market
The report covers a detailed outlook of the company, and it includes the market share and company or industry profiles of key players operating in the global market. Key players in the report include Olympu, Eckert & Ziegler BEBIG, Elekta AB, Varian Medical Systems, Inc., ICAD, INC., Hologic, Inc., Cianna Medical, Arian Medical Systems, Inc. (US), C. R. Bard, Inc, Argon Medical Devices, Inc., IsoRay Medical, Inc., IsoAid, CIVCO Medical Solutions, Theragenics Corporation, and Arian Medical Systems, Inc. among others.
The Global Breast Cancer Brachytherapy Market Has Been Segmented into:
Global Breast Cancer Brachytherapy Market: By Type
Introduction
High Dose Rate (HDR)
Low Dose Rate (LDR)
Pulse Dose Rate (PDR)
Global Breast Cancer Brachytherapy Market: By Device Type
Introduction
After Loader
Applicators
Global Breast Cancer Brachytherapy Market: By End-User
Hospitals
Oncology Treatment Centers
Others
Global Breast Cancer Brachytherapy Market: By Region
North America

USA
Canada
Mexico
Rest of North America

Europe

UK
Germany
France
Spain
Italy
Russia
Rest of Europe

Asia Pacific

India
China
Japan
South Korea
Rest of Asia Pacific

Latin America, Middle East & Africa

Brazil
South Africa
UAE
Rest of LAMEA
Note: This table of contents is a content of a published report. As per client requirement, cross-sectional analysis across all industries or specific geography or 'country-based' analysis can be provided as a part of paid customization. Please place your queries on sales@sheeranalyticsandinsights.com or query@sheeranalyticsandinsights.com