Global carbon black market was valued $18.1 billion in 2021 and it is expected to reach $26.5 billion at the CAGR of 3.4% between 2022 and 2032. COVID-19 had negatively impacted this market across the globe at the early stage of the pandemic. However, after the epidemic situation of COVID-19, the production of carbon black is driving the market again with initiative business growth.
In Asia-Pacific, China is the largest exporter of carbon black across the global market.
Carbon black is made from heavy petroleum products such as FCC tar, coal tar, ethylene, and tar. Based on process type, the carbon market is segmented into gas black, furnace black, and lamp black and thermal black. Carbon black is useful in coloring industries and it improves color spread and shows high tensile strength. Industrial rubber and tire products are holding the largest application section having nearly 80% of the share in the carbon black market. Carbon black is used to make vehicle tires as filler.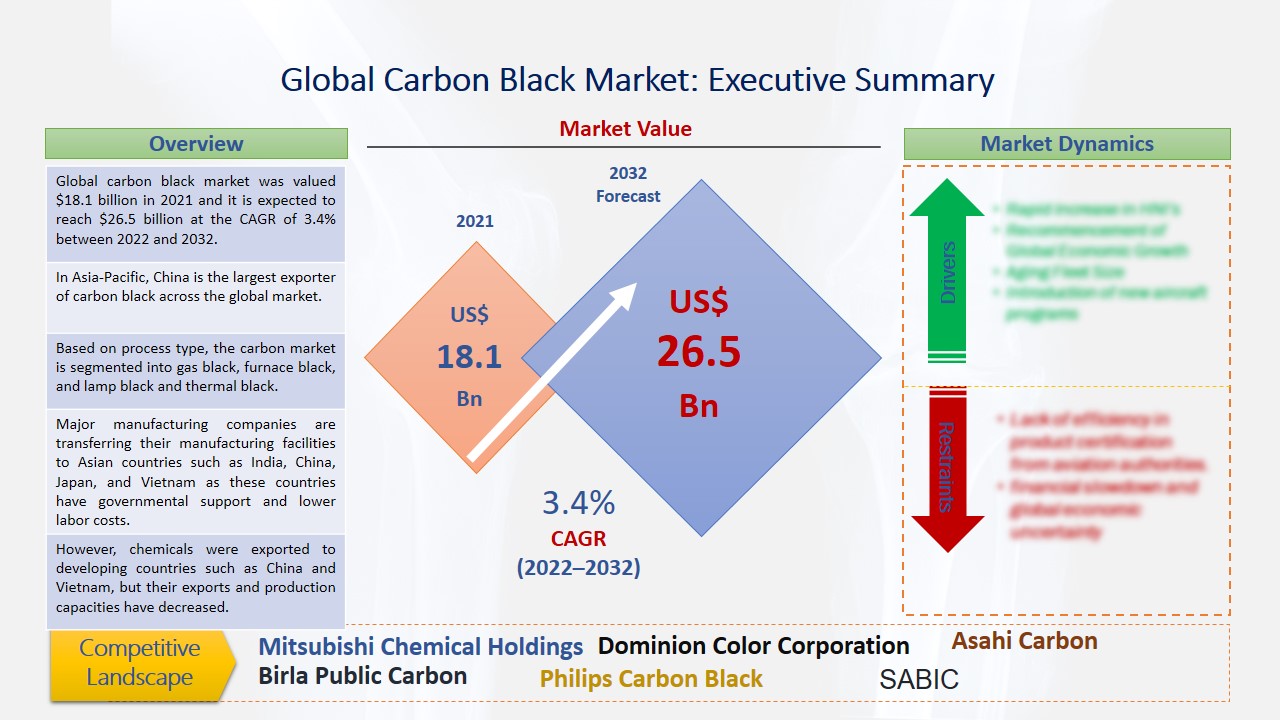 Source: SAI Research
Furnace black is the highest used product owing to the maximum production of carbon black. It is mainly produced by the combustion of heavy petroleum products. Among other regions, North America is the fastest-growing carbon black market across the globe. U.S based tire industries are estimated to witness huge demand for carbon black and it is expected to increase the maximum growth of automotive sales across the region. Refurbishing of automobiles is expected to rise in the U.S country. Demand for rubber, raw materials, electronic compounds, and inks are growing because these are useful for making carbon black productions. Strict environmental regulations might harm Europe and North American carbon black market to grow. However, high demand for tire manufacturing is estimated to support the carbon black market across the region.
Major manufacturing companies are transferring their manufacturing facilities to Asian countries such as India, China, Japan, and Vietnam as these countries have governmental support and lower labor costs. Automotive production is rising and it is hoped to drive the carbon black market over the forecast period. However, chemicals were exported to developing countries such as China and Vietnam, but their exports and production capacities have decreased. Local manufacturers of carbon black are Longxing Chemicals, Shanxi Yongdong Chemicals, Jiangxi Black Cat, Liaobin Carbon Black, and Shandong Jinneng Technology among others. Jiangxi Black Cat is the largest producer among these manufacturers in global carbon black market.
Carbon black manufacturing companies are obtaining significant importance in Asian constructions for their high tensile strength, low weight and high chemical resistance, ability in temperature tolerance, and low thermal expansion.
Key players such as Mitsubishi Chemical Holdings, Dominion Color Corporation, Asahi Carbon Co., Ltd., Birla Public Carbon Public Company, Cabot Corporation, Philips Carbon Black Limited, Orion Engineered Carbons, BASF SE, SABIC, Nouryon and others are dominating the global carbon black market. These key players are implementing new business strategies to stay ahead in the competitive market across the globe. The market dominance of these major companies is segmented by their production of carbon black and high investment in activities such as R&D.
Scope of the Report:
Report Coverage

Details

Base Year:

2021

Market Size in 2021:

USD 18.1 Billion

Historical Data for:

2019, 2020 and 2021

Forecast Period:

2022 to 2032

Forecast Period 2022 to 2032 CAGR:

3.4%

2032 Value Projection:

USD 26.5 Billion

Segments covered:

By Application Type - Tires, Coatings, Plastics, Printing Inks, Toners.

By Grade Type - Specialty, Conductive.

By Process Type - Furnace Black, Channel Black, Lamp Black, Acetylene Black

Geographies covered:

North America - U.S, Canada, Mexico

Europe - Germany, France, Italy, U.K, Russia, Rest of Europe Countries

Asia-Pacific -India, China, Japan, South Korea, North Korea, Rest of Asian Countries

LAMEA - Brazil, Saudi Arabia, Rest of LAMEA

Companies covered:

Mitsubishi Chemical Holdings, Dominion Color Corporation, Asahi Carbon Co., Ltd., Birla Public Carbon Public Company, Cabot Corporation, Philips Carbon Black Limited, Orion Engineered Carbons, BASF SE, SABIC, Nouryon and others
The Carbon Black Market Has Been Segmented Into:
Carbon Black Market – By Application Type
Tires
Coatings
Plastics
Printing Inks
Toners
Carbon Black Market – By Grade Type
Carbon Black Market – By Process Type
Furnace Black
Channel Black
Lamp Black
Acetylene Black
Carbon Black Market – By Region
North America
Europe
Germany
France
Italy
U.K.
Russia
Rest of Europe Countries
Asia-Pacific
India
China
Japan
South Korea
North Korea
Rest of Asian Countries
LAMEA
Brazil
Saudi Arabia
Rest of LAMEA
Note: This table of contents is a content of a published report. As per client requirement, cross-sectional analysis across all industries or specific geography or 'country-based' analysis can be provided as a part of paid customization. Please place your queries on sales@sheeranalyticsandinsights.com or query@sheeranalyticsandinsights.com