The China cashfree payments market was valued at $13.1 billion in 2021 and it is expected to reach $130.9 billion at a CAGR of 21.70% between 2022 and 2032. Cashfree payments are made or accepted without the use of hard cash. People use various smartphone applications or websites on the computer to make safe and secure transactions to transfer or receive money. Hence, cash-free payments are digital methods. This financial conduction is not conducted with physical banknotes or coins.
In China, Shenzhen city holds the largest market share in the cashfree payments market.
China is already leading the rest of the world in building up a cashless society. More than half of the Chinese population uses cash-free payments, which has driven market growth over the last few years. A major driver behind the rapid adoption of mobile payment systems was the lack of credit card infrastructure in China at the time of the smartphone revolution. Thus, as a result of this widespread adoption, Tencent and Ant Financial gained access to vast troves of user data, giving them an advantage in offering loans to retail consumers that commercial banks did not possess. However, China's new payment system is built on digital wallets, and QR codes, and runs through their big tech farms. AliPay running through Alibaba, while WeChat Pay running through Tencent. Additionally, the QR code allows the customer to provide the connection. All the merchant has to produce is a bar code that can be printed on a single piece of paper. Then the customer can leverage the smartphone to go through the online payment option by scanning the QR code and completing the transaction. This way, customers can purchase goods and services, and then in exchange, they make cash-free payments.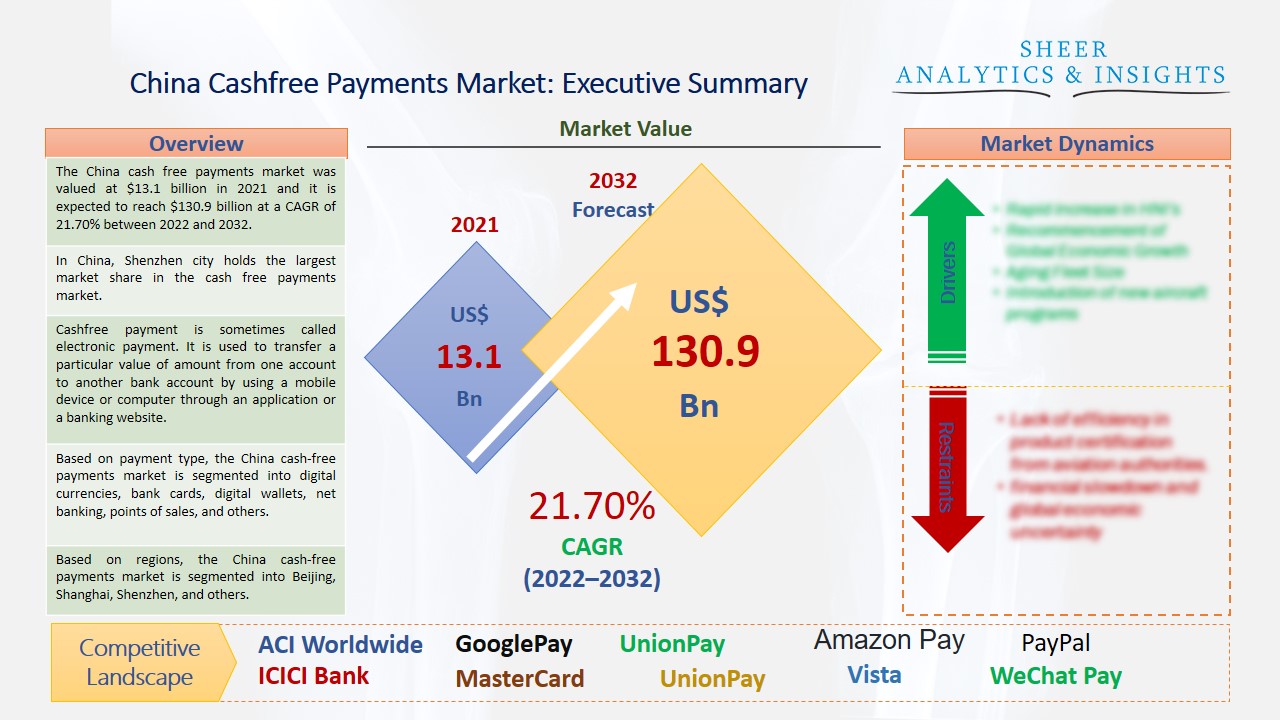 Source: SAI Research
Based on payment type, the China cash-free payments market is segmented into digital currencies, bank cards, digital wallets, net banking, points of sales, and others. The Digital wallet and net banking category holds the largest share and is expected to support the overall market to gain significant growth in upcoming years. Based on enterprise type, the market is segmented into small, medium, and large enterprises. Large enterprises account for the largest share of the market. Due to the rise in online purchases, and increasing adoption and usage of mobile phones and smartphone applications, the market is gaining significant growth opportunities among a large number of consumers in China. Thus, it is supporting large enterprises. Based on end-user, the China cash-free payments market is categorized into BFSI, healthcare, media and entertainment, retail and e-commerce, transportation, and others. Among these, the BFSI, retail, and e-commerce segments are gaining huge growth due to the rising usage of cashless payments and the growing adoption of smartphones among the Chinese population.
Based on regions, the China cash-free payments market is segmented into Beijing, Shanghai, Shenzhen, and others. Among these, Shenzhen city holds the largest market share and is expected to dominate the market in the next upcoming years. Due to the increasing demand for mobile phones and the rising usage of digital payment applications, the city is witnessing significant growth in the overall market. In this city, the most common and popular digital payment applications are WeChat Pay, AliPay, and UnionPay, among other platforms that are benefiting various people across the city; hence boosting the market growth. The facial recognition payment system is the next big platform in China, which would propel the growth of the China cash-free payments market. Hence, these applications and digital payment systems are estimated to become the mainstream mode of the payment transaction in the Chinese city of Shenzhen. The facial recognition payment system is becoming famous in several supermarkets in China. This system is designed to read nodal points in human faces.
Recently, an online payment platform from China named Alipay has launched a new function called Game Lock, which can help parents monitor their children's game payments and gameplay duration. This function has been opened to about seventy major gaming companies across the country and the team is promoting the access of more manufacturers while continuing to optimize its functionality. Moreover, AliPay also uses intelligent technologies such as human-computer interaction to identify if the account is being used by a person or a minor. At the beginning of this year, the company launched the Youth Mode option for parents. Parents can use this option to set a payment limit for their children. Alipay application has added a new button that enables customers to find and download the official e-CNY wallet within its platform. By opening an account using the same phone number customers can make purchases with e-CNY on this application. At the beginning of 2022, the Cyberspace Administration of China has begun advertising blockchain projects in government entities. The major goal of this campaign is to use blockchain in data sharing to make business processes more effective and to ease any frictions across trade finance, equity markets, and cross-border finance. Therefore, these new launches are estimated to drive the growth of the cash-free payments market across China in the upcoming years.
According to the study, key players such as ACI Worldwide (U.S), Aurus Inc (India), Apple Inc (India), Alphabet Inc (U.S), Amazon Pay (U.S), Adyen (Netherlands), Alipay (China), BillDesk (India), BharatPe (India), Global Payments Inc (U.S), Huawei Investment and Holdings (China), ICICI Bank (India), Instamojo (India), JD.Com (China), MasterCard (U.S), Novatti Group (Australia), One97 Communications (India), PayPal Holdings (Inc), Pine Labs (India), RazorPay (India), Stripe (U.S), Sage Pay Europe Limited (U.K), UnionPay (China), Vista Equity Partners (U.S), Visa Inc (U.S), WeChat Pay (China), WEX Inc (U.S), Walmart (U.S), among others are leading the China cashfree payments market.
Scope of the Report:
Report Coverage

Details

Market Size in 2021

US$ 13.1 billion

Market Volume Projection by 2032

US$ 130.9 billion

Forecast Period 2022 to 2032 CAGR

21.70%

Base Year:

2021

Historical Data

2019, 2020 and 2021

Forecast Period

2022 to 2032

Segments covered

By Payment Type: Digital Currencies, Bank Cards, Digital Wallets, Net Banking, Points of Sales & Others

By Enterprise Type: Small and Medium Enterprises, Large Enterprises

By End-User Type:BFSI, Healthcare, Media and Entertainment, Retail and E-Commerce, Transportation & Others

Geographies covered

China: Beijing, Shanghai, Shenzhen & Others

Companies covered
ACI Worldwide (U.S), Aurus Inc (India), Apple Inc (India), Alphabet Inc (U.S), Amazon Pay (U.S), Adyen (Netherlands), Alipay (China), BillDesk (India), BharatPe (India), Global Payments Inc (U.S), Huawei Investment and Holdings (China), ICICI Bank (India), Instamojo (India), JD.Com (China), MasterCard (U.S), Novatti Group (Australia), One97 Communications (India), PayPal Holdings (Inc), Pine Labs (India), RazorPay (India), Stripe (U.S), Sage Pay Europe Limited (U.K), UnionPay (China), Vista Equity Partners (U.S), Visa Inc (U.S), WeChat Pay (China), WEX Inc (U.S), Walmart (U.S), among others
China Cashfree Payments Market Has Been Segmented Into:
China Cashfree Payments Market – by Payment Type:
Digital Currencies
Bank Cards
Digital Wallets
Net Banking
Points of Sales
Others
China Cashfree Payments Market – by Enterprise Type:
Small and Medium Enterprises
Large Enterprises
China Cashfree Payments Market – by End-User Type:
BFSI
Healthcare
Media and Entertainment
Retail and E-Commerce
Transportation
Others
China Cashfree Payments Market – by Regions:
China
Beijing
Shanghai
Shenzhen
Other Cities
Note: This table of contents is a content of a published report. As per client requirement, cross-sectional analysis across all industries or specific geography or 'country-based' analysis can be provided as a part of paid customization. Please place your queries on sales@sheeranalyticsandinsights.com or query@sheeranalyticsandinsights.com