China Cheese Market was valued RMB 48.77 billion in 2021 and it is expected to reach RMB 130.1 billion at the CAGR of 9% during the forecast period between 2022 and 2032. This report analysis focuses on the rising trend of the cheese market in China across the Asian-Pacific region. It also provides the analysis of manufacturing companies, competitive atmosphere in the market, segmentations, industrial growth, cheese products for kids, and benefits of cheese.
In Asia-Pacific region, China holds the maximum market share in producing cheese for both adults and children.
Cheese is a type of dairy product made up of protein and fat from milk, especially from the milk of cows, buffalo, sheep, and goats. It is considered a healthy food in China. According to the Chinese Nutrition Society, more than 32% of Chinese consumers are prone to purchase cheese products for their daily food consumption. The taste and texture of the cheese are determined mainly by the type of milk-producing animal. It helps dairy farms such as Mengniu Dairy Corporation and Sanyuan to produce such quality-based products for their Chinese consumers. As cheese is a source of proteins and calcium, therefore, these natural nutritious ingredients are helpful for a child's height, body, and muscle growth. Consumers from China are fond of consuming high-quality cheese products, especially foods such as burgers, pizza, sandwiches, and others.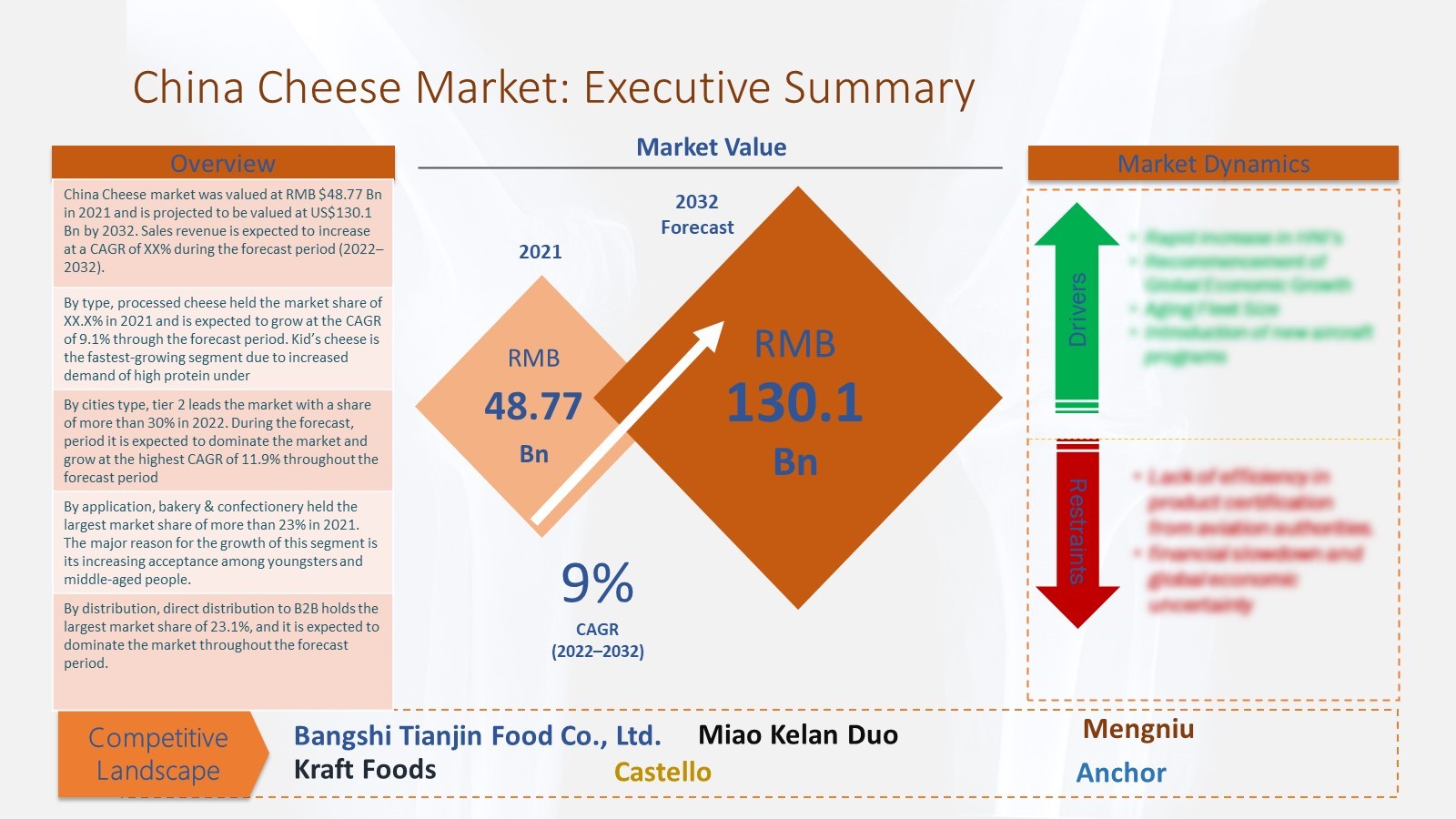 Source: SAI Research
These food products are now easily available in Chinese restaurants. Cheddar, Mozzarella, Stilton, Italian Cheese are the most consumed cheese in the Chinese market. Therefore, this type of cheeses are also used as a major ingredient in fast food, family households, and as well as in restaurants. In China, major cities such as Beijing, Shanghai, and Guangzhou are the leading market in providing cheese products. In addition, these cities are expected to have a high growth rate during the forecast period.
Cheddar cheese is the most demanded cheese product all over China. Chinese retailers are also providing this type of cheese for their customers. The growth of cheddar cheese demand among the children and elderly population would help the companies to grow during the forecast period. Chinese Nutrition Society is doing campaigns for children's health care benefits. The campaign is promoting awareness of daily diet foods including cheese and snacks. In addition, the government of China is supporting dairy farms and manufacturing companies to produce lactose-free cheese for their consumers. China's cheese market is using social media as their new marketing strategy to grow their business easily. Moreover, this new formula is making heavy growth for the leading companies such as Yili Group, Mengniu Dairy Corporation, and Bongrain (Tianjin) Foods in the cheese market across the country. Even customers are also satisfied with this new way.
In 2008, there was a milk scandal in China that became the headlines across the whole region. After that, Chinese consumers could not trust domestic companies anymore. They started to purchase international cheese products. This is the reason why foreign countries are still on the top of the Chinese cheese market. Moreover, in Shanghai, a foreign farm such as Bongrain Food is applying new strategies to enter the China market by introducing new cheese products according to the tastes of Chinese consumers. Even cheese is being added to the lunch menu of the primary schools in Shanghai.
Cheese is available in around two thousand verities of products across the country at present. The growing popularity of cheese products especially for kids is becoming more essential and valuable in the China market.
Therefore, leading companies such as Bongrain (Tianjin) Foods Co Ltd, Tala Eji, Mengniu Dairy Corporation, and Yili Group are eager to invest more money to provide new cheese products such as kiddy cheese, stick cheese, small triangle cheese, and cheese candies to teenage consumers.
The major players in China cheese market are Mengniu Dairy Corporation, SOE- Bright Dairy and Food Corporation, Yili Group, Sanyuan Group, Bongrain (Tianjin) Foods Co Ltd, Tala Eji, Le Fromager de Pekin and Yellow Valley, among other companies. Some of the other key players in the Chinese cheese market are The Laughing Cow, Anchor, Danone, President, and Hochland.
Scope of the Report:
Report Coverage

Details

Base Year:

2021

Market Size in 2021:

48.77 Billion RMB

Historical Data for:

2019, 2020 and 2021

Forecast Period:

2022 to 2032

Forecast Period 2022 to 2032 CAGR:

9.0%

2032 Value Projection:

130.1 Billion RMB

Segments covered:

By Product Type - Kids Cheese, Natural Cheese, Processed Cheese, Others

By Form - Slices, Cubes, Shredded/Powdered, Blocks, Liquid, Spreads, Others

By Application - Bakery & Confectionery, Sweet & Savory Snacks, Sauces, Dressings, Dips and Condiments, Ready Meals, Others

By City Tiers - Tier 1, New Tier 1, Tier 2, Trie 3 & Below

By Distribution Channel - Supermarkets/Hypermarkets, Convenience Stores, Food Specialty Stores, Online Stores, Direct Distribution

Geographies covered:

China

Companies covered:

Bangshi Tianin Food Co. Ltd., Miao Kelan Duo, Mengniu, Kraft Foods, Castello, Anchor, Mengniu Dairy Corporation, SOE- Bright Dairy and Food Corporation, Yili Group, Sanyuan Group, Bongrain (Tianjin) Foods Co Ltd, Tala Eji, Le Fromager de Pekin and Yellow Valley, among other.
China Cheese Market Segmentation is mentioned as below:
China Cheese Market: By Product Type
Introduction
Kids Cheese
Natural Cheese
Processed Cheese
Others
China Cheese Market: By Form
Introduction
Slices
Cubes
Shredded/Powdered
Blocks
Liquid
Spreads
Others
China Cheese Market: By Application
Introduction
Bakery & Confectionery
Sweet & Savory Snacks
Sauces
Dressings
Dips and Condiments
Ready Meals
Others
China Cheese Market: By City Tiers
Tier 1
New Tier 1
Tier 2
Trie 3 & Below
China Cheese Market - By Distribution Channel
Introduction
Supermarkets/Hypermarkets
Convenience Stores
Food Specialty Stores
Online Stores
Direct Distribution
China Cheese Market - By Geography
Note: This table of contents is a content of a published report. As per client requirement, cross-sectional analysis across all industries or specific geography or 'country-based' analysis can be provided as a part of paid customization. Please place your queries on sales@sheeranalyticsandinsights.com or query@sheeranalyticsandinsights.com