The Global Chocolate Market was $92.5 Bn in 2020, and it is expected to reach $125.7 Bn by 2030. It is eventually growing at a commendable high compound annual growth rate CAGR of 3.1% between 2020-2030, as per the latest market research report titled Global Chocolate Market (By Type - Dark Chocolate, Milk Chocolate, White Chocolate. By Product Type – Boxed Chocolate, Chocolate Countlines, Chocolate Straightlines, Molded Bars, Novelties. By Distribution Channel - Cash & Carries & Warehouse Clubs, Dollar Stores, Variety Stores & General Merchandise Retailers, Hypermarkets & Supermarkets, Convenience Stores, Department Stores, Food & drinks specialists, eRetailers or online stores. By Geography - North America, Europe, Asia Pacific, Latin America, Middle East, and Africa) - Global industry analysis, size, share, growth, trends, and forecast, 2020-2030.
Moreover, in the current pandemic of COVID-19 might make a slight difference in the growth rate in the current year. Now, Moving forward, the robust demand for Global Chocolate Market in the educational department is further estimated to create new necessities and augment the market of growth over the forecast period of 2020-2030.
Market Insights
Chocolates as a delicacy is one of the most preferred sweet all over the world. Milk is one of the most consumed chocolate among all other forms till date. But, at the same time dark chocolates are also capturing the market at steady rate. The main barrier for the growth of dark chocolates are its cost and limited range in most of the areas. Whereas, milk chocolates in combination with assorted range is mostly consumed by youngsters in present days and dark chocolates are preferred by people above the age of 40+. Dark chocolates are more beneficial for all age of people when compared for health. In developed nations, dark chocolates are preferred by parents, old age people and also youngsters. But one of the major risk is taking too much any kind of chocolates. This has affected many in terms of dental problems, nervousness, constipation and migraine. Due to this consumption of any type of chocolates has seen a moderate decline from past few years. Market for chocolates is in between consolidation and fragmentation. In most of the countries top five players mostly dominate around 60% of the market in 2020.
Global Chocolate Segment Is Estimated to Witness Remarkable Growth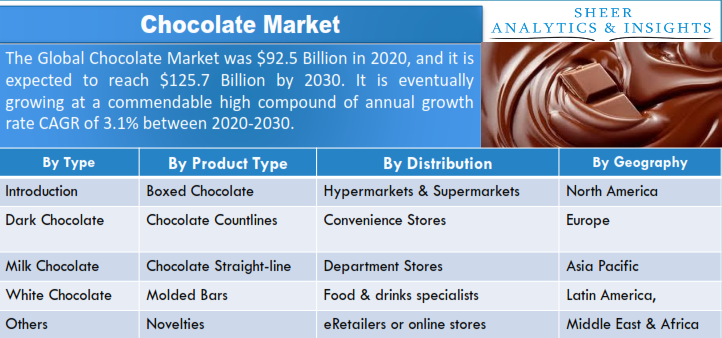 Source: SAI Research
By Region, North America is Holding the Major Market Share
The global Chocolate Market has been geographically segmented into North America, Asia Pacific, Latin America, Middle East, and Africa region. In addition to this, North America has a significant share among those regions. The increasing permeation, presence of leading vendors, and high adoption of the Chocolate market are expected to drive growth in the North America Region. Apart from that, the Asia Pacific and the Rest of the regions are expected to increase the growth rate over the upcoming forecast period of 2020 to 2030.
Major Players in Global Chocolate Market
The report covers a detailed outlook of the company, and it includes the market share and company or industry profiles of key players operating in the global market. Key players in the report include Argentina, Australia, Austria, Belgium, Brazil, Bulgaria , Canada, Chile, China, Colombia, Czech Republic, Denmark, Egypt , Finland, France, Germany, Greece, Hungary, India, Indonesia, Ireland, Israel, Italy, Japan, Malaysia, Mexico, Netherlands, New Zealand, Norway, Peru, Philippines, Poland, Portugal, Romania, Russia, Saudi Arabia, Singapore, Slovakia, South Africa, South Korea, Spain, Sweden, Thailand, Turkey, UAE, UK, Ukraine, US and Venezuela.among others.
The Global Chocolate Market Has Been Segmented into:
Global Chocolate Market: By Type
Introduction
Dark Chocolate
Milk Chocolate
White Chocolate
Others
Global Chocolate Market: By Product Type
Introduction
Boxed Chocolate
Chocolate Countlines
Chocolate Straightlines
Molded Bars
Novelties
Others
Global Chocolate Market: By Distribution Channel
Introduction
Cash & Carries & Warehouse Clubs
"Dollar Stores", Variety Stores & General Merchandise Retailers
Hypermarkets & Supermarkets
Convenience Stores
Department Stores
Food & drinks specialists
eRetailers or online stores
Others
Global Chocolate Market: By Region
North America

USA
Canada
Mexico
Rest of North America

Europe

UK
Germany
France
Spain
Italy
Russia
Rest of Europe

Asia Pacific

India
China
Japan
South Korea
Rest of Asia Pacific

Latin America, Middle East & Africa

Brazil
South Africa
UAE
Rest of LAMEA
Note: This table of contents is a content of a published report. As per client requirement, cross-sectional analysis across all industries or specific geography or 'country-based' analysis can be provided as a part of paid customization. Please place your queries on sales@sheeranalyticsandinsights.com or query@sheeranalyticsandinsights.com