The global chromatography software market was valued at $490.2 million in 2021 and it is expected to reach $1231.1 million at a CAGR of 8.4% between 2022 and 2032. The market expansion of chromatography software is being driven by the rise in demand for chromatography techniques in research and development activities across numerous business verticals. Furthermore, the rising demand for chromatography systems and auxiliary software is further supported by the expansion of food safety standards and the increased emphasis on pharmaceutical R&D.
By region, North America held most of the market share for chromatography software across the globe.
Software that collects and analyses chromatographic findings provided by chromatography detectors is known as chromatography software. Manufacturers offer a wide variety of chromatography software packages, most of which just offer a basic data acquisition interface. They also offer a variety of analytical tools for this data. A common laboratory informatics solution that makes chromatography-based analysis easier is the chromatography data system (CDS). Chromatograms and reports are produced; data from chromatography instruments are controlled, recorded, and processed. A chromatography data system (CDS) will automate data gathering, freeing analysts from the need to handle datasets by hand, lowering user error, and ensuring that the data is as reliable as possible. Furthermore, software that collects and analyses chromatographic findings provided by chromatography detectors is known as chromatography software. Manufacturers offer a wide variety of chromatography software packages, most of which just offer a basic data acquisition interface. They also offer a variety of analytical tools for this data.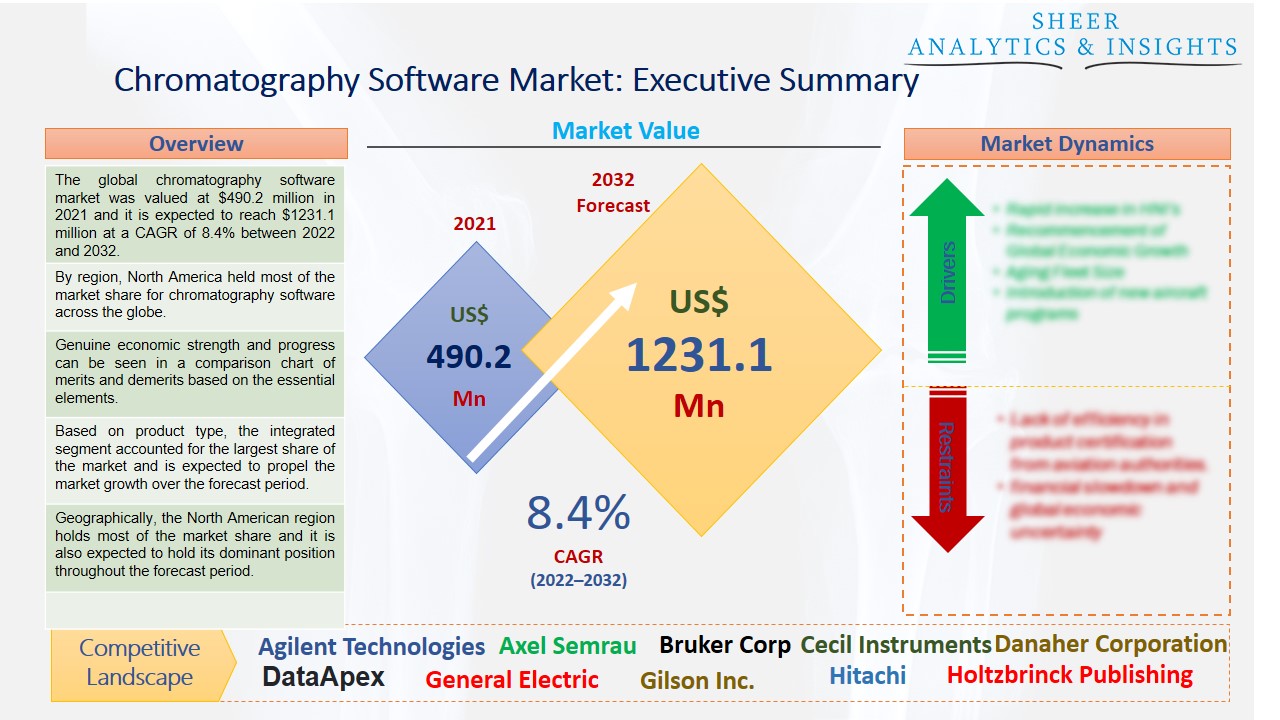 Source: SAI Research
Moreover, the need for chromatography software is being driven by an increase in pharmaceutical research activities, a rise in the prevalence of disorders requiring testing and diagnosis, and growing worries about the safety of food and medications. Additionally, the Covid-19 outbreak helped to raise demand for chromatography equipment due to the increased use of chromatography techniques for drug analysis and treatment efficacy testing. As a result, the market has increased as a result of the pandemic. Chromatography systems and software are used increasingly in industries like pharmaceutical research and development, forensic analysis, and environmental testing to increase productivity and performance. The market is expanding due to the increased use of analytical software for optimizing laboratory automation as well as the creation of intelligible software and flexible user interfaces for high accuracy and productivity.
Genuine economic strength and progress can be seen in a comparison chart of merits and demerits based on the essential elements. By presenting in-depth analyses of the various products and services offered by leading players in the Chromatography Software Market, it also aids in the design of goods and services that stand out from the competition. With the help of competitive benchmarking, it's possible to examine how a company's rivals are doing and compare their strengths and flaws to that of your own business. Our stakeholders can track competitors, find areas for development, boost earnings, and create superior go-to-market strategies with the assistance of MDC research professionals.
However, Government regulation has long been attacked by many business sectors as being an unreasonable barrier to profitability, economic efficiency, and job growth. In order for stakeholders to comply with rules and profit from government activities in their particular industries, MDC research analyses government policies, initiatives, and regulations. Therefore, these rising factors are expected to accelerate the market growth during the forecast period from 2022 to 2032.
Based on product type, the integrated segment accounted for the largest share of the market and is expected to propel the market growth over the forecast period. For market participants looking to grow their company activities, the increased cost of new chromatography software solutions integrated with cutting-edge technology will provide some challenges. Additionally, the integrated software speeds up access to data and analysis while facilitating coordination between one or more labs. The independent qualities enable the transmission of extremely detailed and targeted data and reports, resulting in increased adoption of the chromatography program. The standalone software offers greater in-depth reporting capabilities.
In terms of application type, the pharmaceutical industry category is expected to lead the market with more growth opportunities. To synchronize the management, reporting, and processing of chromatographic data, the chromatography software unifies workflows, operators, and equipment under a single system. Chromatography procedures are used to produce vast amounts of extremely pure materials as well as to evaluate the purified substances for minute impurities. Such a global situation necessitates more advanced liquid chromatography technology than was previously possible. The pharmaceutical industry segment will be primarily driven by HPLC Software Chromatography applications in drug development, molecular biology, and clinical research.
Based on deployment type, the web & cloud-based segments are anticipated to drive the market with significant share. A higher degree of flexibility, quick accessibility, simple data backup, and cheaper handling costs are all factors that have contributed to the market's expansion. Additionally, free huge storage capacity to store enormous amounts of data, real-time tracking and storing of data, and remote access to data from any location and device are likely to help the segment's growth. Web-based mass spectrometry software solutions also have the benefit of remote access, live data monitoring, and easily accessible backup options. However, on-premises segment is also estimated to boost the market with different opportunities. For instance, it includes characteristics like simple data retrieval, data security, and privacy, as well as simple data access. Additionally, there are options for customization, easy installation, and total control over how the software functions. But over time, it will be replaced by the benefits of Web- and cloud-based chromatographic software.
Geographically, the North American region holds most of the market share and it is also expected to hold its dominant position throughout the forecast period. Most of the key players are located in this region which is an advantage for the market. The increased use of technology in laboratory testing and the policies encouraging their deployment to assure reliable findings are responsible for the market expansion. Additionally, the market in the region is being driven by rising digital literacy, the development of technologically advanced infrastructure, and the presence of important industry players like Cytiva and Bruker Corporation. Additionally, North American nations, especially the United States (US), have substantial resources and facilities for research and development activities across the board. Government policies and the need for precise results in these laboratories' operations are driving the adoption of chromatography technologies. Nearly 49% of the total revenue made by the global market for chromatography software systems was earned in North America. On the other hand, Asia-Pacific region is also expected to become the second-fastest market in the future. In addition to the enormous growth in facilities and services for drug, forensic, environmental, and food testing in the upcoming years, this region will enjoy the quickest growth rate during the projected period. As a result, the chromatography software market is projected to increase in response to positive government initiatives regarding lab automation and rising awareness of and acceptance of technology in the laboratories.
According to the study, key players such as Agilent Technologies (U.S), Axel Semrau (Germany), Bruker Corp (U.S), Cecil Instruments (U.K), Danaher Corporation (U.S), DataApex (Czech Republic), General Electric (U.S), Gilson Inc (U.S), Hitachi (Japan), Holtzbrinck Publishing Group (Germany), Jasco (Japan), Restek (U.S), Shinadzu (Japan), Scion Instruments (U.K), Waters Corp (U.S), among others are leading the global chromatography software market.
Scope of the Report:
Report Coverage
Details
Market Size in 2021

US$ 490.2 Million

Market Volume Projection by 2032

US$ 1231.1 Million

Forecast Period 2022 to 2032 CAGR
8.4%
Base Year:

2021

Historical Data

2019, 2020 and 2021

Forecast Period

2022 to 2032

Segments covered

By Product Type: Integrated, Standalone & Others

By Application Type: Food Industry, Environmental Testing, Pharmaceutical Industry, Forensic Testing & Others

By Deployment Type: Web and Cloud-Based & On-Premises

Geographies covered

North America, Europe, Asia-Pacific, LAMEA

Companies covered
Agilent Technologies (U.S), Axel Semrau (Germany), Bruker Corp (U.S), Cecil Instruments (U.K), Danaher Corporation (U.S), DataApex (Czech Republic), General Electric (U.S), Gilson Inc (U.S), Hitachi (Japan), Holtzbrinck Publishing Group (Germany), Jasco (Japan), Restek (U.S), Shinadzu (Japan), Scion Instruments (U.K), Waters Corp (U.S), among others
The Global Chromatography Software Market Has Been Segmented Into:
The Global Chromatography Software Market – by Product Type:
Integrated
Standalone
Others
The Global Chromatography Software Market – by Application Type:
Food Industry
Environmental Testing
Pharmaceutical Industry
Forensic Testing
Others
The Global Chromatography Software Market – by Deployment Type:
Web and Cloud-Based
On-Premises
The Global Chromatography Software Market – by Regions:
North America
Europe

U.K.
France
Germany
Italy
Rest of Europe

Asia Pacific

India
China
Japan
Australia
Rest of Asia Pacific

LAMEA
Middle East
Latin America
Africa

South Africa
Egypt
Others
Note: This table of contents is a content of a published report. As per client requirement, cross-sectional analysis across all industries or specific geography or 'country-based' analysis can be provided as a part of paid customization. Please place your queries on sales@sheeranalyticsandinsights.com or query@sheeranalyticsandinsights.com