The global compliance services market was valued at $2.8 billion in 2021 and it is expected to reach $8.1 billion at a CAGR of 9.60% between 2022 and 2032. Compliance services are created to help companies assure they are compliant with various frameworks. They provide security to their customer's information and protect this data and information. Various end-users want their data protected and safe. Hence, they use compliance services and solutions. Therefore, the major purpose of the compliance services is to help various organizations remain up-to-date with governmental and industry standards.
By region, North America holds the largest market size in the global compliance services market.
With increased regulatory pressure and operational complexity, and a widening gap between external demands and internal capabilities, traditional approaches to compliance are no longer fit for the future. As regulations are becoming tougher, budgets are tighter and the price of compliance is also rising. Furthermore, compliance leaders are identifying new risks. Hence, they are focusing on supporting the business to have sustainable growth. Therefore, by moving compliance-related tasks to an intelligent operating model end-user would be able to cost-effectively keep pace with regulatory demand and provide strategic rules and guidance to drive the market growth. For example, cloud compliance problems occur as any cloud consumer makes use of cloud storage and backup services. Therefore, compliance services are built inside a private cloud in which the data and information are under the control of a single entity; hence confirming that the data is under secure control and the transaction is audited. Several services are provided by compliance services and solutions. These services are separation of duties, database access control, annual risk assessment, application management, change control, data discovery, data masking, incident response, policy creation, and enforcement, real-time data protection, repair of some vulnerabilities, personnel training, and service configuration. Therefore, these are helping the compliance services market to have significant growth shortly and it is expected to drive the market during the forecast period.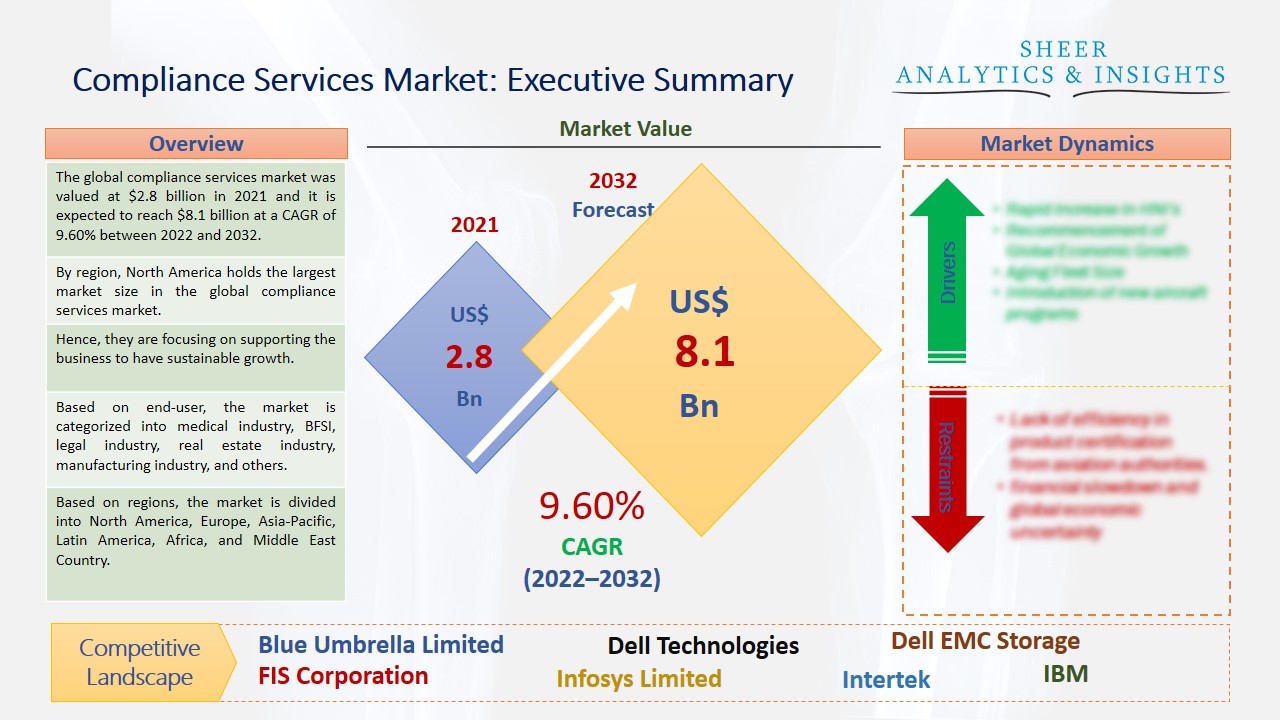 Source: SAI Research
Download Free PDF Sample
Based on type, the compliance services market is segmented into regulatory compliance solutions, HIPPA compliance solutions, website accessibility services, and WCAG compliance. The regulatory compliance solution is expected to boost the market due to the increasing demand in various sectors across the globe. Based on application type, the market is segmented into mobile applications and websites. The mobile application segment accounts for the largest share and it is estimated to boost the market growth due to the increasing usage of mobile phones and various applications which store personal data and information. Based on storage, the global compliance services market is categorized into policy and procedure management, third party management, product and service product management, governance, and risk and compliance management. Among these, government, risk, and compliance management segment hold the largest share in the compliance services market across the globe. Due to the rising demand for internal audit features in various organizations that are facing highly regulatory requirements; hence enhancing the need for compliance services. Thus, it is expected to drive market growth in upcoming years. Based on end-user, the market is categorized into medical industry, BFSI, legal industry, real estate industry, manufacturing industry, and others. BFSI, the real estate industry, and the legal industry are expected to boost the growth of the compliance services market due to the rising demand in these end-user segments.
Based on regions, the market is divided into North America, Europe, Asia-Pacific, Latin America, Africa, and Middle East Country. North America has been dominating the global compliance service market and the region is expected to hold its dominant position during the upcoming years due to the increasing number of major companies across this region. The rising demand for automation in various organizations and enterprises is resulting in the development of risk related to cyber security. Hence, it is leading to the growing demand for compliance services and solutions. Moreover, the presence of several key players in countries such as the U.S, Canada, and Mexico is expected to propel market growth during the forecast period from 2022 to 2032.
India-based Company Infosys Limited has announced a launch of Cobalt financial services cloud, for enterprises to accelerate business value and innovation in the cloud across the financial services industry. This would offer security and regulatory compliances which are designed and built into the platform. It would further help financial sectors by offering service-specific assets, use case solutions, and micro services, along with reusable frameworks, blueprints, and patterns. A U.S-based Company named Dell Technologies has launched cyber recovery services offering to help various end-user customers recover from cyber-attacks. Hence, Dell Apex Cyber Recovery Services is the first in a series of new Apex full-stack solutions, which deliver a cloud experience to simply recover from cyber-attacks. FIS Corporation launched the first in a new series of AI-enabled risk solutions with C3 artificial intelligence for the financial services industry. This new solution uses AI technology to aggregate and analyze data and information of clients across financial crime detection systems such as KYC (know your customer), and AML (anti-money launching) to improve outcomes. Hence, these new launches are expected to drive the growth of the global compliance services market during the forecast period and will provide solutions to various small, medium, and large industries across the globe.
According to the study, key players such as BWise B.V (Netherlands), Blue Umbrella Limited (China), Dell Technologies (U.S), Dell EMC Storage (U.S), Future Shield Inc (Canada), FIS Corporation (U.S), Infosys Limited (India), Intertek (U.K), IBM Technology (U.S), LogicManager (U.S), Microsoft Corporation (U.S), MetricStream (U.S), Maclear (U.S.), Newport Consulting Group LLC (U.S), OneTrust LLC (U.S), Oracle Corporation (U.S), Origami Risk (U.S), Riskonnect Inc (U.S), Software AG (Germany), SAP SE (Germany), SAS Institute (U.S), Tevora (U.S), Thomas Reuters Corporation (Canada), Wolters Kluwer (Netherlands), among others are leading the global compliance services market.
Scope of the Report:
Report Coverage
Details
Market Size in 2021

US$ 2.8 Billion

Market Volume Projection by 2032

US$ 8.1 Billion

Forecast Period 2022 to 2032 CAGR

9.60

Base Year:

2021

Historical Data

2019, 2020 and 2021

Forecast Period

2022 to 2032

Segments covered

By Type: Regulatory Compliance Solution, HIPPA Compliance Solution, Website Accessibilities Services, WCAG Compliance

By Application Type: Mobile Application, Website

By Storage Type: Policy and Procedure Management, Third Party Management, Product and Service Product Management, Governance, Risk and Compliance Management

By End-User Type: Medical Industry, BFSI, Legal Industry, Real Estate Industry, Manufacturing Industry & Others

Geographies covered

North America, Europe , Asia-Pacific , LAMEA

Companies covered
BWise B.V (Netherlands), Blue Umbrella Limited (China), Dell Technologies (U.S), Dell EMC Storage (U.S), Future Shield Inc (Canada), FIS Corporation (U.S), Infosys Limited (India), Intertek (U.K), IBM Technology (U.S), LogicManager (U.S), Microsoft Corporation (U.S), MetricStream (U.S), Maclear (U.S.), Newport Consulting Group LLC (U.S), OneTrust LLC (U.S), Oracle Corporation (U.S), Origami Risk (U.S), Riskonnect Inc (U.S), Software AG (Germany), SAP SE (Germany), SAS Institute (U.S), Tevora (U.S), Thomas Reuters Corporation (Canada), Wolters Kluwer (Netherlands), among others
The Global Compliance Services Market Has Been Segmented Into:
The Global Compliance Services Market – by Type:
Regulatory Compliance Solution
HIPPA Compliance Solution
Website Accessibilities Services
WCAG Compliance
The Global Compliance Services Market – by Application Type:
Mobile Application
Website
The Global Compliance Services Market – by Storage Type:
Policy and Procedure Management
Third Party Management
Product and Service Product Management
Governance
Risk and Compliance Management
The Global Compliance Services Market – by End-User Type:
Medical Industry
BFSI
Legal Industry
Real Estate Industry
Manufacturing Industry
And Others
The Global Compliance Services Market – by Regions:

North America
Europe
Germany
France
Italy
U.K.
Russia
Rest of Europe Countries
Asia-Pacific
India
China
Japan
South Korea
North Korea
Rest of Asian Countries
LAMEA
Brazil
Saudi Arabia
Rest of LAMEA
Note: This table of contents is a content of a published report. As per client requirement, cross-sectional analysis across all industries or specific geography or 'country-based' analysis can be provided as a part of paid customization. Please place your queries on sales@sheeranalyticsandinsights.com or query@sheeranalyticsandinsights.com