The global corneal cross-linking devices market was valued at $124.1 million in 2021 and it is expected to reach $450.3 million at a CAGR of 11.6% between 2022 and 2032. The global corneal cross-linking devices market is anticipated to develop throughout the forecast period due to the rising cases of eye surgeries and corneal problems, as well as the increasing geriatric population who are facing some issues related to their eyes. Advanced technologies are also driving the market with significant growth opportunities.
By region, North America has led the corneal cross-linking devices market over the past few years.
UV radiation and eye drops are used in the minimally invasive process known as corneal cross-linking to fortify the collagen fibers in the cornea. Patients with keratoconus, a disorder in which the cornea weakens and becomes brittle, are candidates for surgery. A minimally invasive technique called corneal collagen crosslinking (CXL) is also used to stop the progression of corneal ecstasies like keratoconus and post-LASIK ecstasies. Through the quick capacity of collagen fibrils, the structural protein, to create powerful links with neighboring fibrils, cross-linking reinforces fragile corneas. Your cornea is stabilized as a result, preventing additional vision-impairing degenerative changes. Moreover, cross-linking therapy can: Slow down or stop the condition's progression by strengthening your cornea to aid in avoiding eyesight alterations or loss. Make wearing contacts more bearable. The oxidative damage caused by UV radiation is also thought to be one of the primary causes of keratoconus. As a result of the high ultraviolet exposure, keratoconus prevalence is higher in Saudi Arabia, Iran, New Zealand, Israel, and various Pacific Islands.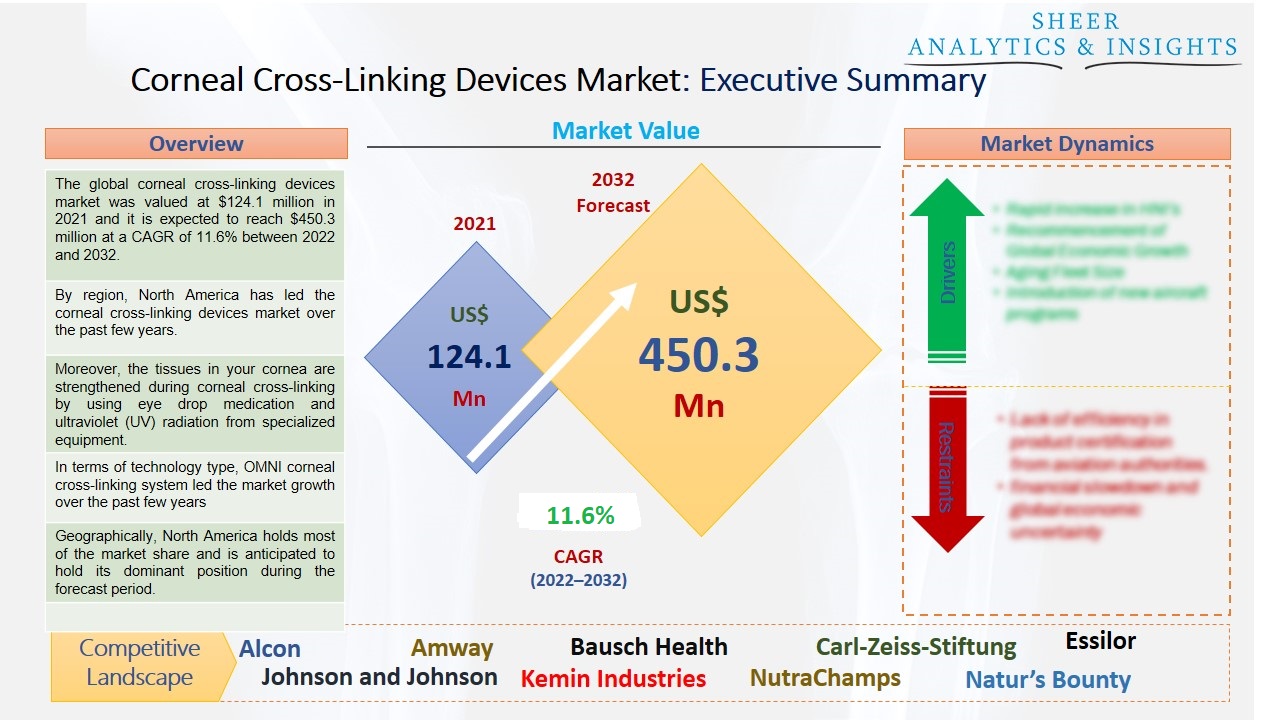 Source: SAI Research
Moreover, the tissues in your cornea are strengthened during corneal cross-linking by using eye drop medication and ultraviolet (UV) radiation from specialized equipment. The objective is to prevent the cornea from dilating more. Because it adds linkages between the collagen fibers in your eye, it's termed "cross-linking." To keep the cornea steady, they function as support beams. The only treatment that can halt progressive keratoconus from getting worse is corneal cross-linking. Additionally, it might save you from needing a corneal transplant, a serious procedure. Furthermore, the technique only prevents corneal alterations from escalating; it does not reverse already-occurring changes. If you have keratoconus, it is advisable to talk to your doctor as soon as possible because it can help halt the progression. The transition from operations that demand the removal of the epithelium to those that don't is the major evolutionary change occurring right now. However, several versions are also being tested. Cross-linking can be used to alter refractive properties, maximize the patient's advantages from other operations, miniaturize the delivery system, start the cross-linking reaction chemically without UV light, and induce cross-linking using oral riboflavin and sunlight. These primary factors are expected to drive the growth of the market across the globe.
However, many eye-related issues arise slowly and are the result of negligence. Some of these issues are mild, while others need pricey, specialized therapies. Many people in impoverished countries lack the resources to receive treatment for these illnesses. Additionally, a lot of people lack appropriate awareness regarding these illnesses, which makes them more severe.
Based on type, the epi-on segment accounted for the largest share of the market. The CXL epi-on approach is preferred to the CXL epi-off technique because it retains corneal thickness, enhances visual acuity, and lessens postoperative ocular discomfort. The market is expanding as a result of several benefits of epi-on, including its quicker recovery to baseline vision and entry into contact lenses, a shorter period of discomfort, and lower risk of corneal infections and haze. However, epi-off is also estimated to accelerate market growth. To ensure that the riboflavin eye drops penetrate deeply into the cornea during epi-off cross-linking, the epithelium, the cornea's outermost layer, must be removed. The US Food and Drug Administration have only approved this cross-linking process, which has undergone extensive testing (FDA).
In terms of technology type, OMNI corneal cross-linking system led the market growth over the past few years due to its rising demand in various eye clinics and hospitals. Special eye drops are used in this treatment before shining ultraviolet A (UVA) light into the eyes. This strengthens the links between corneal collagen fibers, successfully preventing the thinning that causes keratoconus and other problems of a similar nature.
Geographically, North America holds most of the market share and is anticipated to hold its dominant position during the forecast period. In addition, due to a well-developed healthcare sector, well-developed medical facilities, and ongoing technical improvements in the US, this area is projected to own the greatest market share. Additionally, there have been several mergers & acquisitions, product launches, and cataract procedures in this area. Several key players are focusing on developing new business strategies such as mergers and acquisitions. This would help them to hold a strong position in the competitive market.
According to the study, key players such as Alcon (U.S), Amway (U.S), Bausch Health (Canada), Carl-Zeiss-Stiftung (Germany), Essilor (France), Johnson and Johnson (U.S), Kemin Industries (U.S), NutraChamps (Canada), Natur's Bounty (U.S), Pfizer (U.S), Rodenstock GmbH (Germany), Seiko Group (Japan), Safilo Group (Italy), The Cooper Companies (U.S), VitaBiotics (U.K), among others are leading the global corneal cross-linking devices market.
Scope of the Report:
Report Coverage
Details
Market Size in 2021

US$ 124.1 Million

Market Volume Projection by 2032

US$ 450.3 Million

Forecast Period 2022 to 2032 CAGR
11.6%
Base Year:

2021

Historical Data

2019, 2020 and 2021

Forecast Period

2022 to 2032

Segments covered

By Type: Epi-Off Experimental Epi-On & Others

By Technology Type: OMNI Corneal Cross-Linking System, Ultraviolet A (UVA) & Others

Geographies covered

North America, Europe, Asia-Pacific, LAMEA

Companies covered
Alcon (U.S), Amway (U.S), Bausch Health (Canada), Carl-Zeiss-Stiftung (Germany), Essilor (France), Johnson and Johnson (U.S), Kemin Industries (U.S), NutraChamps (Canada), Natur's Bounty (U.S), Pfizer (U.S), Rodenstock GmbH (Germany), Seiko Group (Japan), Safilo Group (Italy), The Cooper Companies (U.S), VitaBiotics (U.K) & Others
The Global Corneal Cross-Linking Devices Market Has Been Segmented Into:
The Global Corneal Cross-Linking Devices Market – by Type:
Epi-Off
Experimental Epi-On
Others
The Global Corneal Cross-Linking Devices Market – by Technology Type:
OMNI Corneal Cross-Linking System
Ultraviolet A (UVA)
Others
The Global Corneal Cross-Linking Devices Market – by Regions:
North America
Europe

U.K.
France
Germany
Italy
Rest of Europe

Asia Pacific

India
China
Japan
Australia
Rest of Asia Pacific

LAMEA
Middle East
Latin America
Africa

South Africa
Egypt
Others
Note: This table of contents is a content of a published report. As per client requirement, cross-sectional analysis across all industries or specific geography or 'country-based' analysis can be provided as a part of paid customization. Please place your queries on sales@sheeranalyticsandinsights.com or query@sheeranalyticsandinsights.com