The Global Craft Rum Market Market was $3.4 Bn in 2019, and it is expected to reach $7.1 Bn by 2031. It is eventually growing at a commendable high compound of annual growth rate CAGR of 4.5% between 2021-2031. But, the current pandemic of COVID-19 might make a slight difference in the current year's growth rate. Rum is a type of alcohol made from sugarcane or sugarcane by-products such as sugarcane syrup or molasses. Just like with agave in tequila, this sugar is later distilled into liquid alcohol. The increasing demand for authentic alcoholic beverages among the younger generation drives craft rum and other spirits. Now, moving forward, the significant demand for the global Craft Rum market in the beverages industry is further estimated to create new necessities and augment the market of growth over the forecast period of 2021-2031.
Global Craft Rum Segment Is Estimated to Witness Remarkable Growth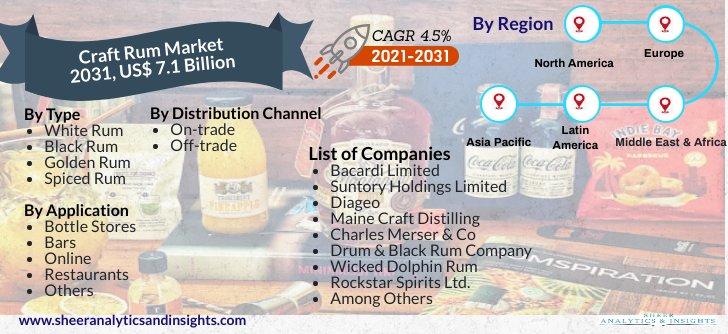 Source: SAI Research
The Craft Rum market is segmented as type, application, and distribution channel. Based on type, the global craft rum market has been bifurcated as White Rum, Black Rum, Golden Rum, and Spiced Rum. Based on application, the global craft rum market has been divided into Bottle Stores, Bars, Online, Restaurants, and Others. Based on distribution channels, the global craft rum market has been segmented as On-trade and Off-trade.
By Region, Europe is Holding the Major Market Share
The Craft Rum Market has been geographically segmented into North America, Asia Pacific, Latin America, Middle East, Europe, and Africa region. In addition to this, Europe has a significant share among those regions. Shifting production bases from developed regions to emerging economics of this region is expected to propel the market. Rapid industrialization and growing demand for authentic drinks are the factors in the development of the market. Increasing disposal incomes and other potential factors drive the market over the forecast period. Apart from that, the Asia Pacific and the Rest of the regions are expected to increase the growth rate in the upcoming forecast period of 2021 to 2031.
Major Players in the Global Craft Rum Market
The report covers a detailed outlook about the company, and it includes the company or industry profiles and market share of key players operating in the global market. Key players in the report include Bacardi Limited; Suntory Holdings Limited; Diageo; Maine Craft Distilling, LLC; Charles Merser & Co.; Drum & Black Rum Company; Wicked Dolphin Rum; Domaines Ellam and Arizona Craft Beverage; Rockstar Spirits Ltd.; Belize Spirits Marketing, Inc. Pernod Ricard, Anchor Distilling Company, House Spirits Distillery, Tuthilltown Spirits, and Woodinville Whiskey Co., among others.
The Global Craft Rum Market Has Been Segmented into:
Global Craft Rum Market: By Type
White Rum
Black Rum
Golden Rum
Spiced Rum
Global Craft Rum Market: By Application
Bottle Stores
Bars
Online
Restaurants
Others
Global Craft Rum Market: By Distribution Channel
Global Craft Rum Market: By Region
North America

USA
Canada
Mexico
Rest of North America

Europe

UK
Germany
France
Spain
Italy
Russia
Rest of Europe

Asia Pacific

India
China
Japan
South Korea
Rest of Asia Pacific

Latin America, Middle East & Africa

Brazil
South Africa
UAE
Rest of LAMEA
Note: This table of contents is a content of a published report. As per client requirement, cross-sectional analysis across all industries or specific geography or 'country-based' analysis can be provided as a part of paid customization. Please place your queries on sales@sheeranalyticsandinsights.com or query@sheeranalyticsandinsights.com