The global cyber security market was valued at $220.2 billion in 2021 and it is expected to reach $791.2 billion at a CAGR of 11.9% between 2022 and 2032. Demand for cyber security is increasing due to its usage in defending computers, servers, mobile services, electronic systems, and data from malicious attacks. Additionally, it can also protect internet-connected systems such as software, hardware, and data from any kinds of cyber threats. This solution is also known as information technology security services.
By region, North America holds the maximum share of the cyber security market across the globe.
Cyber security protects the network, system data, and various kinds of programs from digital cyber threats or attacks. The primary target of these cyber-attacks is to access, change, and destroy all essential and sensitive information. Many cyber-attacks aim to extort money from customers. Thus, cyber-security helps in defending all these digital issues by providing genuine solutions to IT and Telecom sectors as well as BFSI sectors. Governments from various nations such as India, China, South Korea, Japan, Germany France, the U.S, and others are focusing on making large investments in providing internet security solutions. These solutions are definitely for securing a wide volume of confidential data and information. This would help a lot of end-user organizations as well as many customers from facing cyber threats.
At present days, cyber threats continue to grow at a rapid speed across the globe. A lot of people are experiencing several breaches at office work. There are several sectors such as medical services, retailers, and public entities which are also experiencing the most breaches, with malicious threats that are creating some major issues. Therefore, these are anticipated to propel the growth of the cyber security market. Furthermore, there are several types of cyber threats such as cybercrime, cyber terrorism or cyber-attack, and various kinds of viruses, which could destroy a large system of a particular corporate office.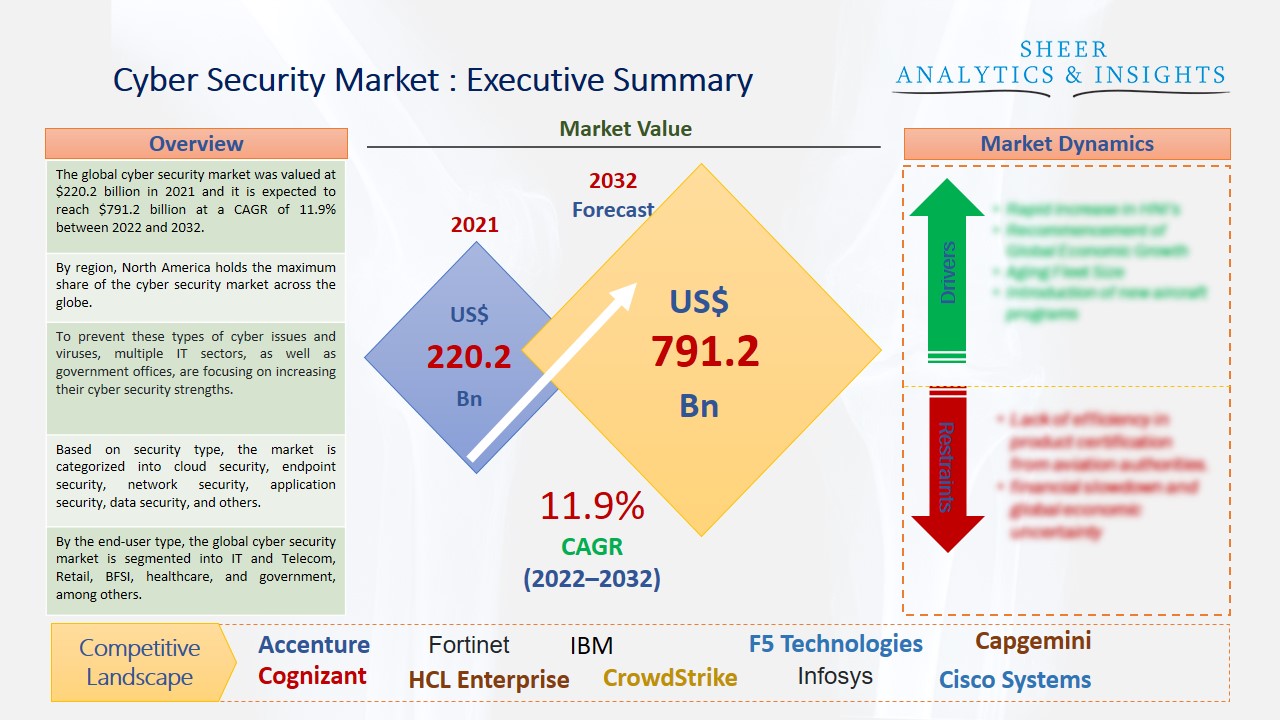 Source: SAI Research
Download Free PDF Sample Request
To prevent these types of cyber issues and viruses, multiple IT sectors, as well as government offices, are focusing on increasing their cyber security strengths. Cyber security is getting more sophisticated in present days and it is evolving accordingly. There are some common cyber security services such as penetrating testing, bug bounty, and Managed Detection Response. Hence, demand for these services is growing across various sectors in the global market. Moreover, there are other major factors such as the rising number of cyber-attacks with the emergence of the online commerce field, deployment of cloud solutions, and increasing usage of smart devices that are driving the market over the last few years.
Moreover, various major software companies are focusing on developing and creating advanced security solutions for their wide number of customers. These key players are adopting modern technologies such as artificial technologies, and IoT services to help many end-user organizations as well as other sectors to help them upgrade their security system. This would protect them from new cyber-attacks and other powerful online threats such as malicious viruses and activities. However, the major threat to the market is supply chain attacks. It has been growing after 2020 and is expected to be continued after 2022. This is estimated to restrain market growth at some point.
By the components, the global cyber security market is segmented into software, hardware, and other services. The service category holds the largest share in the market and it is anticipated to have more revenue share in the upcoming years. Due to the rising demand for consultation services and maintenance and upgrade services from all kinds of enterprises such as small, medium, and large enterprises. Along with this, the hardware segment is also estimated to drive the market growth due to its increasing demand in several organizations which are engaged in cyber security platforms, and they are also upgrading their existing ones.
Based on security type, the market is categorized into cloud security, endpoint security, network security, application security, data security, and others. Among these, the infrastructure protection system holds the largest share of the market and is projected to propel market growth due to the increasing number of data center constructions and the adoption of connected and IoT devices. Government from various countries is using different cyber programs such as the Critical Infrastructure Protection Program in several regions is estimated to contribute to growth opportunities in the market.
In terms of security solution types, the global cyber security market is divided into UTM, IDS, IAM, SIEM, DDoS, and Risk and Compliance Management, among others. Among these, the IAM category accounted for the largest share of the market and is estimated to have several growth opportunities due to the increasing number of smartphone usage and endpoint devices, increasing usage of IAM in multiple organizations so they can stop various kinds of data breaches, and other cyber-crimes. Apart from this, IDS is also projected to hold the largest share of the market over the upcoming years.
By the end-user type, the global cyber security market is segmented into IT and Telecom, Retail, BFSI, healthcare, and government, among others. The government category is expected to drive the market in near future due to constant security threats under which they try to prevent hackers from getting through to their websites and do harm essential and confidential documents and other data. Hence, multiple governments across several regions are focusing on investing more to strengthen their cyber security service and solutions. This is usually expected to boost the growth of the cyber security market during the forecast period from 2022 to 2032.
Geographically, the global cyber security market is segmented into North America, Europe, Asia-Pacific, and LAMEA. Among these regions, North America is dominating the cyber security market across the globe. First of all, most of the key players are located in this region which is creating lots of opportunities for IT and Telecom and the government sectors. In addition, the adoption of advanced technologies such as computers, smartphones, and other devices are contributing to the cyber security market. These devices need cyber security, hence, people are using various kinds of software and tools which can prevent cyber threats and help consumers from having security breaches. However, the Asia-Pacific region also holds the largest share of the cyber security market and is projected to boost the market growth over the upcoming years due to the increasing deployment of cloud technologies, IoT services and devices, and the rising number of data centers constructions.
According to the study, key players such as Accenture (Ireland), Broadcom Inc. (U.S), Capgemini (France), Cognizant (U.S), CheckPoint Software Technologies (Israel), CrowdStrike (U.S), Cisco Systems (U.S), Fortinet (U.S), F5 Technologies (U.S), HCL Enterprise (India), Infosys (India), IBM (U.S), Larsen and Toubro (India), Mahindra Group (India), McAFee (U.S), Microsoft Corporation (U.S), PwC International (U.K), Palo Alto Networks (U.S), Sophos (U.K), TCS (India), Thoma Bravo (U.S), Trellix (U.S), Trend Micro (Japan), Wipro (India), Zscaler (U.S), among others are leading the global cyber security market.
Scope of the Report:
Report Coverage
Details
Market Size in 2021

US$ 220.2 Billion

Market Volume Projection by 2032

US$ 791.2 Billion

Forecast Period 2022 to 2032 CAGR
11.9%
Base Year:

2021

Historical Data

2019, 2020 and 2021

Forecast Period

2022 to 2032

Segments covered

By Component Type: Software, Hardware, Solutions

By Deployment Type: On-Premises, Cloud, Hybrid

By Organization Type: Large, Medium, Small

By Security Solutions: Unified threat management (UTM), Intrusion detection system (IDS), Identify and Access Management (IAM), Security Information and Event Management (SIEM), Distributed Denial of Service (DDoS), Risk and Compliance Management, Others

By Technology: Critical Infrastructure Security, Application Security, Network Security, Cloud Security, Internet Of Things (IoT) Security, New Emerging Technologies

By End-User Type: Banking, Financial Services & Insurance (BFSI), Mobile and Entertainment, Healthcare, Retail, Telecom and IT, Heavy industries

Geographies covered

North America, Europe , Asia-Pacific , LAMEA

Companies covered
Accenture (Ireland), Broadcom Inc. (U.S), Capgemini (France), Cognizant (U.S), CheckPoint Software Technologies (Israel), CrowdStrike (U.S), Cisco Systems (U.S), Fortinet (U.S), F5 Technologies (U.S), HCL Enterprise (India), among others
The Global Cyber Security Market Has Been Segmented Into:
The Global Cyber Security Market – by Component Type:
Software
Hardware
Solutions
The Global Cyber Security Market – by Deployment Type:
The Global Cyber Security Market – by Organization Type:
The Global Cyber Security Market – by Security Solutions:
Unified threat management (UTM)
Intrusion detection system (IDS)
Identify and Access Management (IAM)
Security Information and Event Management (SIEM)
Distributed Denial of Service (DDoS)
Risk and Compliance Management
Others
The Global Cyber Security Market – by Technology:
Critical Infrastructure Security
Application Security
Network Security
Cloud Security
Internet Of Things (IoT) Security
New Emerging Technologies
The Global Cyber Security Market – by End-User Type:
Banking, Financial Services & Insurance (BFSI)
Mobile and Entertainment
Healthcare
Retail
Telecom and IT
Heavy industries
The Global Cyber Security Market – by Regions:
North America
Europe
Germany
France
Italy
The U.K.
Russia
Israel
Rest of Europe Countries
Asia-Pacific
India
China
Japan
South Korea
Australia
Rest of Asia-Pacific
LAMEA
Latin America
Middle East

UAE
Saudi Arabia
Other Countries

Africa

South Africa
Kenya
Others
Note: This table of contents is a content of a published report. As per client requirement, cross-sectional analysis across all industries or specific geography or 'country-based' analysis can be provided as a part of paid customization. Please place your queries on sales@sheeranalyticsandinsights.com or query@sheeranalyticsandinsights.com