The Global Data Science Platform Market was $45.5 Bn in 2020, and it is expected to reach $260.4 Bn by 2031. It is eventually growing at a commendable high compound of annual growth rate CAGR of 15.6% between 2021-2031. The data science platform is used to find and analyze the work, which was done in the past, and make the job much easier for data scientists. The platform helps to explore data available in large machines without requiring any infrastructure DevOps or setup. The increasing machine learning, public cloud, Internet of things (IoT) applications, utilization of artificial intelligence, etc., has increased the demand of the data science platform market during the forecast period. Now, moving forward, the robust demand for the global Data Science Platform market in the data security department is further estimated to create new necessities and augment the market of growth over the forecast period of 2021-2031.
Global Data Science Platform Segment Is Estimated to Witness Remarkable Growth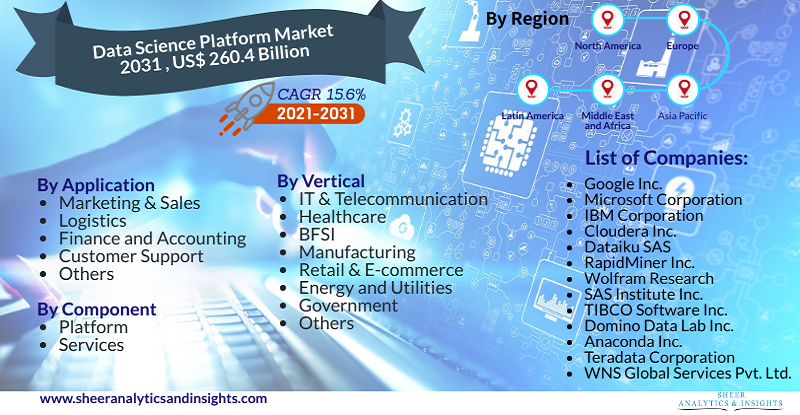 Source: SAI Research
The Data Science Platform Market is segmented as application, component, and vertical. Based on Application, the global Data Science Platform market has been bifurcated as Marketing & Sales, Logistics, Finance and Accounting, Customer Support, and Others. Based on Component, the global Data Science Platform market has been divided into Platform and Services. Based on Vertical, the global Data Science Platform market has been bifurcated as IT & Telecommunication, Healthcare, BFSI, Manufacturing, Retail & E-commerce, Energy and Utilities, Government, and Others.
By Region, North America is Holding the Major Market Share
The Data Science Platform Market has been geographically segmented into North America, Asia Pacific, Latin America, Middle East, and Africa region. In addition to this, North America has a significant share among those regions. Increasing awareness for data security is the major factor for the growth of the market over the region. The growing adoption of data science in the new business platform is another factor in the development of the market. Increasing disposal incomes and other potential factors drive the market over the forecast period. Apart from that, the Asia Pacific and the Rest of the regions are expected to increase the growth rate in the upcoming forecast period of 2021 to 2031.
Major Players in the Global Data Science Platform Market
The report covers a detailed outlook about the company, and it includes the company or industry profiles and market share of key players operating in the global market. Key players in the report include Google, Inc., Microsoft Corporation, IBM Corporation, Cloudera, Inc., Dataiku SAS, RapidMiner, Inc, Wolfram Research, SAS Institute, Inc., H2O.ai, TIBCO Software Inc., Domino Data Lab, Inc., Anaconda Inc, Alteryx Inc. Teradata Corporation, and WNS Global Services Pvt. Ltd. among others.
The Global Data Science Platform Market Has Been Segmented into:
Global Data Science Platform Market: By Application
Marketing & Sales
Logistics
Finance and Accounting
Customer Support
Others
Global Data Science Platform Market: By Component
Global Data Science Platform Market: By Vertical
IT & Telecommunication
Healthcare
BFSI
Manufacturing
Retail & E-commerce
Energy and Utilities
Government
Others
Global Data Science Platform Market: By Region
North America

USA
Canada
Mexico
Rest of North America

Europe

UK
Germany
France
Spain
Italy
Russia
Rest of Europe

Asia Pacific

India
China
Japan
South Korea
Rest of Asia Pacific

Latin America, Middle East & Africa

Brazil
South Africa
UAE
Rest of LAMEA
Note: This table of contents is a content of a published report. As per client requirement, cross-sectional analysis across all industries or specific geography or 'country-based' analysis can be provided as a part of paid customization. Please place your queries on sales@sheeranalyticsandinsights.com or query@sheeranalyticsandinsights.com