The global demand planning solutions market was valued at $3.7 billion in 2021 and it is expected to reach $12.4 billion at a CAGR of 11.4% between 2022 and 2032. The market is expanding as a result of rising consumer awareness of the advantages provided by these solutions, such as enhanced customer experience, decreased inventory costs, unnecessary storage expenses, and improved production efficiency.
By region, North America is the largest market for demand planning solutions software and services across the globe.
By examining consumer demands, demand forecasting, a step in the supply chain management process, helps a company to tailor its output, whether of goods or services. Demand management aims to effectively develop and maintain a lean supply equilibrium in which shop inventories are limited to the number of items necessary to meet demand. It can be particularly challenging to strike the ideal balance between surplus and sufficiency. Enterprise analytics tools are also being adopted by businesses to improve the effectiveness of the supply chain management procedure. By examining historical data and manufacturing capabilities, demand planning solutions assist in understanding the shifting market demands and challenges with the distribution network. Additionally, these systems include forecasting employing clustering algorithms, ML technologies, statistical and mathematical functions, and automated data forecasting methodologies. To automate planning, shorten cycle times, improve precision, enhance operating performance, destroy organizational silos, and provide improved visibility, the system also integrates AI and sophisticated analytics.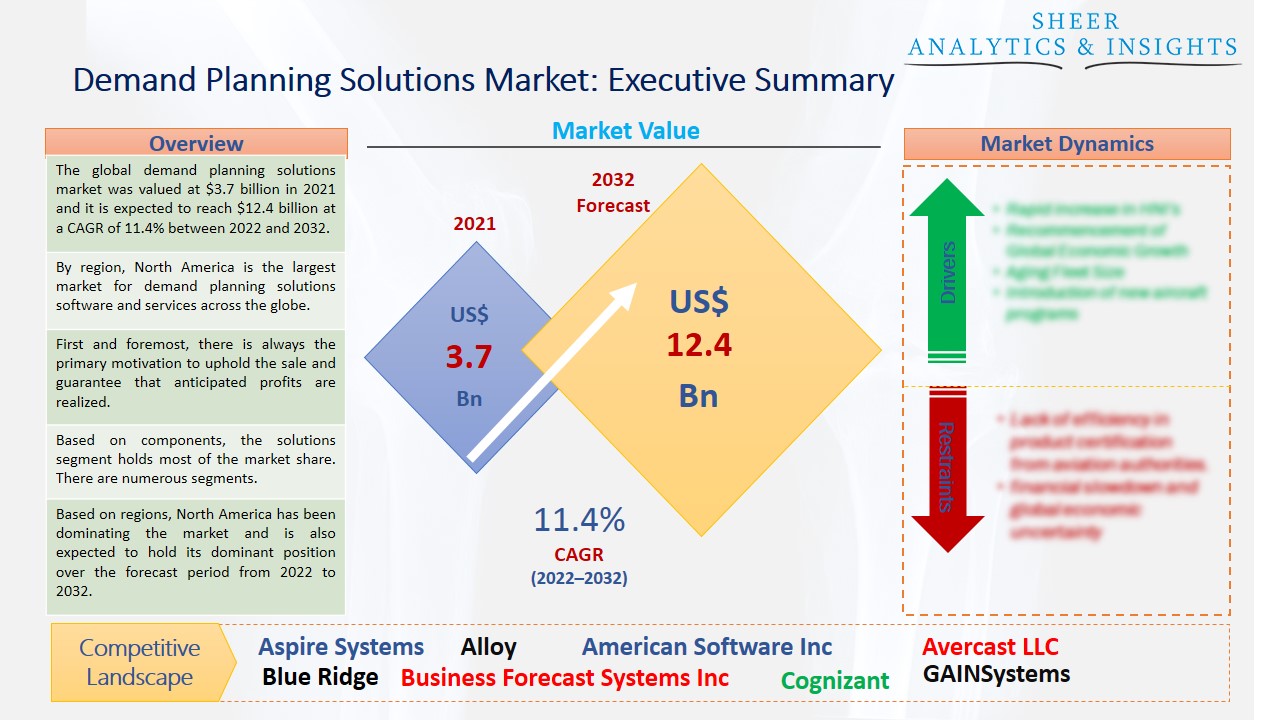 Source: SAI Research
First and foremost, there is always the primary motivation to uphold the sale and guarantee that anticipated profits are realized. However, shops cannot sell items that are not in stock. And it doesn't take long for today's consumers to form an opinion about a business and whether it can satisfy demand and supply. Effective demand planning also often calls for the use of demand forecasting methodologies to precisely predict demand trends, and it comes with additional advantages like better business efficiency and more customer satisfaction.
Furthermore, demand planning tools are incredibly helpful for managing a variety of supply chain issues, which has significantly improved customer interactions. This feature is anticipated to encourage the growth of the worldwide demand planning solutions market in the ensuing years. These are the key growth drivers predicted to fuel the increase of the global market share for demand planning solutions in the foreseeable future.
By assisting companies in finding the ideal balance between adequate inventory levels and consumer demand, effective demand planning generates profit and increases customer happiness. That's not a simple objective, especially given that it calls for cooperation throughout your entire firm. However, the effects on business are important. Executives in charge of managing the company's product range and overall business strategy also play significant roles by taking into account component and production lead times.
Based on components, the solutions segment holds most of the market share. There are numerous segments. Demand sensing and forecasting took up a sizeable portion of the market among these in 2021. Real-time improvements to the supply chain pipeline and manufacturing can be made in response to changing consumer demand and market trends. To forecast future requests, demand forecasting analyses previous data, such as sales data, trends, and seasonal data.
In terms of deployment type, the on-premises category has been growing with a huge share, which would boost the market growth in the future. However, the cloud-based segment is also expected to propel market growth. The continually shifting supply chain serves as a good example of why adaptability and agility are crucial elements of any planning system. Additionally, cloud-based systems are thought to be more economical. Furthermore, because of the expanding internet, cloud-based solutions have developed and now outpace on-premises solutions.
By the end-user type, the BFSI segment accounted for the larger share of the market and is also estimated to drive market growth in the future. On the other side, the manufacturing industries are expected to have more growth opportunities throughout the upcoming years. Demand planning and business analytics platforms are being adopted by manufacturing sectors to boost the efficiency of the supply chain management procedure.
Based on regions, North America has been dominating the market and is also expected to hold its dominant position over the forecast period from 2022 to 2032. Early adopters and a large number of top players are essential to the regional market's growth prospects. Due to the numerous advantages of demand planning solutions, including bettering product prediction accuracy and increasing supply chain scheduling, the market outlook in this area is expected to continue to improve. Furthermore, some key players are focusing on expanding their business growth by implementing new strategies such as mergers and acquisitions. These would also drive market growth in the future.
According to the study, key players such as Aspire Systems (India), Alloy (India), American Software Inc (U.S), Avercast LLC (U.S), Blue Ridge (U.S), Business Forecast Systems Inc (U.S), Cognizant (U.S), Electronics for Imaging (U.S), GAINSystems (U.S), GMDH (U.S), IBM (U.S), John Galt Solutions (U.S), Kinaxis (Canada), Koch Industries (U.S), Oracle Corporation (U.S), Panasonic (Japan), Palo Alto Networks (U.S), Syncron (Sweden), Relex Solutions (Finland), SAP (Germany), among others are leading the global demand planning solutions market.
Scope of the Report:
Report Coverage
Details
Market Size in 2021

US$ 3.7 Billion

Market Volume Projection by 2032

US$ 12.4 Billion

Forecast Period 2022 to 2032 CAGR
11.4%
Base Year:

2021

Historical Data

2019, 2020 and 2021

Forecast Period

2022 to 2032

Segments covered

By Component Types: Solutions, Demand Planning and Optimization, Demand Sensing and Forecasting, Services & Others

By Deployment Type: Cloud-Based & On-Premises

By End-User Type: BFSI, IT and Telecom, Healthcare, Retail and E-Commerce, Automotive, Food and Beverages, Manufacturing & Others

Geographies covered

North America, Europe, Asia-Pacific, LAMEA

Companies covered
Aspire Systems (India), Alloy (India), American Software Inc (U.S), Avercast LLC (U.S), Blue Ridge (U.S), Business Forecast Systems Inc (U.S), Cognizant (U.S), Electronics for Imaging (U.S), GAINSystems (U.S), GMDH (U.S), IBM (U.S), John Galt Solutions (U.S), Kinaxis (Canada), Koch Industries (U.S), Oracle Corporation (U.S), Panasonic (Japan), Palo Alto Networks (U.S), Syncron (Sweden), Relex Solutions (Finland), SAP (Germany), among others
The Global Demand Planning Solutions Market Has Been Segmented Into:
The Global Demand Planning Solutions Market – by Component Types:
Solutions
Demand Planning and Optimization
Demand Sensing and Forecasting
Services
Others
The Global Demand Planning Solutions Market – by Deployment Type:
The Global Demand Planning Solutions Market – by End-User Type:
BFSI
IT and Telecom
Healthcare
Retail and E-Commerce
Automotive
Food and Beverages
Manufacturing
Others
The Global Demand Planning Solutions Market – by Regions:
North America
Europe

The U.K.
France
Germany
Italy
Rest of Europe

Asia Pacific

India
China
Japan
Australia
Rest of Asia Pacific

LAMEA
Middle East
Latin America
Africa

South Africa
Egypt
Others
Note: This table of contents is a content of a published report. As per client requirement, cross-sectional analysis across all industries or specific geography or 'country-based' analysis can be provided as a part of paid customization. Please place your queries on sales@sheeranalyticsandinsights.com or query@sheeranalyticsandinsights.com