The global digital signage market was valued at $20.3 billion in 2021 and it is expected to reach $67.3 billion at a CAGR of 11.3% between 2022 and 2032. Digital signage is a sub-segment of signage, which uses technologies such as LED, LCD, and projection to show high-quality content such as images, videos, streaming media, and information. Furthermore, digital signage can be found in various sectors such as museums, stadiums, public places, and more. It consists of small, medium, and large-sized screens that can display any type of content.
By region, North America holds the highest market share in the digital signage market across the globe.
Digital signage is a kind of fragmented industry, along with more than hundreds of vendors. These vendors are rapidly competing to sell their solutions across the globe. The increasing demand for digital signage in public data and information, internal communication, or product information, and in promoting brand recognition is expected to drive growth opportunities in the market. Various enterprises are developing strategies to promote and distribute their innovative products of digital signage to reach out to a large number of customers. Thus, it would boost the market growth with significant opportunities to stay ahead in the competitive market. Additionally, digital signage hardware has become more affordable in present days, which is expected to increase the demand for digital signage products across several regions.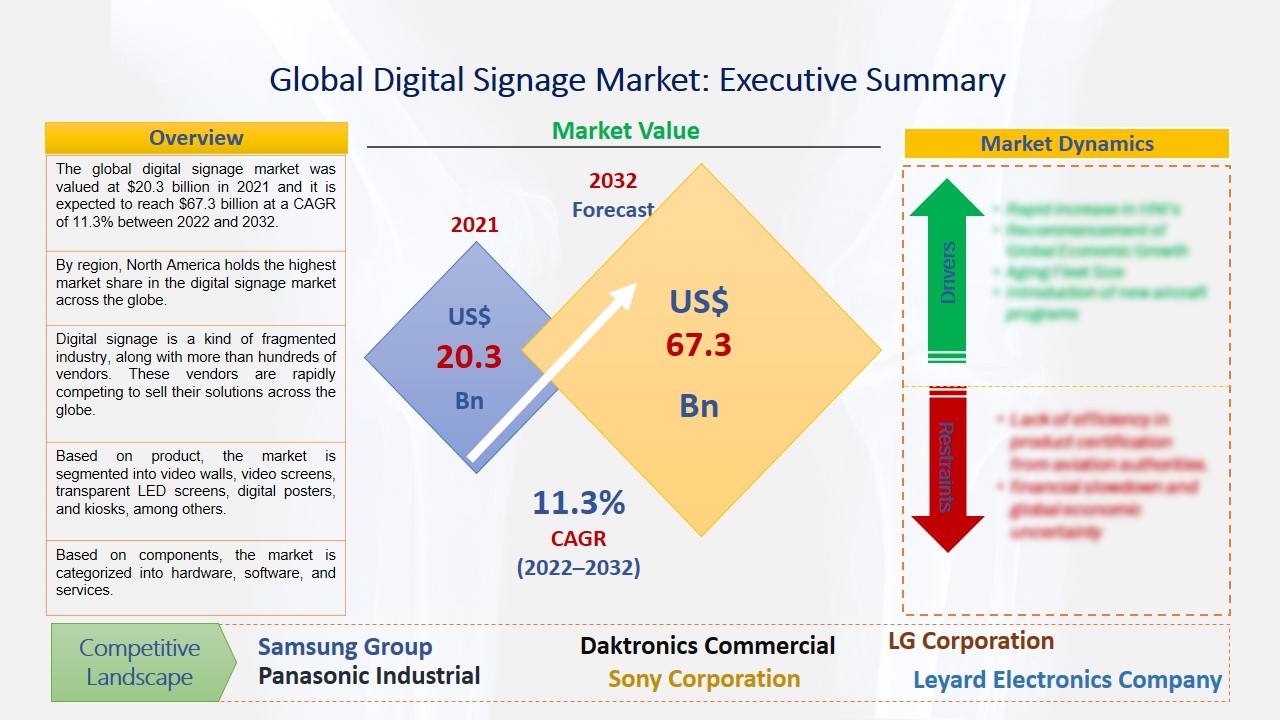 Source: SAI Research
Based on product, the market is segmented into video walls, video screens, transparent LED screens, digital posters, and kiosks, among others. The video walls category holds the largest share market over the last two years due to the increasing demand in shopping malls and other public places. The kiosks category is also expected to hold the largest share market during the upcoming years due to its increasing demand for advertising in the institute and retail sectors. Along with these, the transparent LED screens are also estimated to propel the growth due to their rising demand in the manufacturing industries of smartphones and television. It is widely used in making television and other devices screens, which is less power consumption. However, these major factors are expected to fuel the market growth of the digital signage market during the forecast period.
Based on components, the market is categorized into hardware, software, and services. The hardware category is estimated to hold the maximum market share in the upcoming years. Demand for hardware is growing due to its usage in displays, banners, and digital panel manufacturers. Based on technology, the LED category is expected to hold the maximum share during the forecast period due to its advanced technological usage in the advertisement and marketing industries. Based on end-user, the retail segment is anticipated to gain the largest share throughout the upcoming years. The retail segment has gained more popularity than other end-user segments due to its huge demand in digital advertisements for making and campaigning products and services. Geographically, the global digital signage market is segmented into North America, Europe, Asia-Pacific, Latin America, Africa, and Middle Eastern Countries. Among these, North America is dominating the market and it is anticipated to hold a similar position during the forecast period.
According to the study, key players such as Samsung Group Multinational Conglomerate Company (South Korea), Daktronics Commercial Company (U.S), LG Corporation Multinational Conglomerate Company (South Korea), Panasonic Industrial Conglomerate Company (Japan), Sony Corporation Corporate Group Company (Japan), Leyard Electronics Company (China), Stratacache Software Company (U.S), YFY Inc Company (Taiwan), Deepsky Corporation limited (Hong Kong), Omnivex Corporation (Canada), Sharp Corporation (Japan), NEC Display Solutions Limited (Japan), Microsoft Corporation Technology Company (U.S), Qisda Corporation (Taiwan), Texas Instruments Semiconductor Manufacturing Company (U.S), Infenion Semiconductor Manufacturing Company (Germany), Microship Technology Corporation (U.S), Freescale Semiconductor Holdings Limited Company (Bermuda), Honeywell Multinational Conglomerate Company (U.S), SAS Institute Software Company (U.S), AU Optronics Company (Taiwan), Renesas Electronics Semiconductor Manufacturing Company (Japan), TOSHIBA GULF FZE (UAE), 3M Multinational Conglomerate Corporation (U.S), Winmate Computer Manufacturing Company (Taiwan), among others are leading the global digital signage market.
Scope of the Report:
Report Coverage
Details
Market Size in 2021
US$

20.3

Billion
Market Volume Projection by 2023
US$

67.3

Billion
Forecast Period 2022 to 2032 CAGR
11.3%
Base Year:
2021
Historical Data
2019, 2020 and 2021
Forecast Period
2022 to 2032
Segments covered

By Product Type: Video Walls, Video Screens, Transparent LED Screen, Digital Poster, Kiosks, & Others

By Components: Hardware, Software And Services

By Technology: , LCD, LED, Projection

By End-Users: , Retail, Hospitality, Entertainment, Stadiums, BFSI, Healthcare, Education, Transpiration & Others

Geographies covered

North America, Europe , Asia-Pacific , LAMEA

Companies covered
Samsung Group Multinational Conglomerate Company (South Korea), Daktronics Commercial Company (U.S), LG Corporation Multinational Conglomerate Company (South Korea), Panasonic Industrial Conglomerate Company (Japan), Sony Corporation Corporate Group Company (Japan), Leyard Electronics Company (China), Stratacache Software Company (U.S), YFY Inc Company (Taiwan), Deepsky Corporation limited (Hong Kong), Omnivex Corporation (Canada), Sharp Corporation (Japan), NEC Display Solutions Limited (Japan), Microsoft Corporation Technology Company (U.S), TOSHIBA GULF FZE (UAE), 3M Multinational Conglomerate Corporation (U.S), Winmate Computer Manufacturing Company (Taiwan), among others
The Global Digital Signage Market Has Been Segmented Into:
The Global Digital Signage Market – By Product Type:
Video Walls
Video Screens
Transparent LED Screen
Digital Poster
Kiosks
And Others
The Global Digital Signage Market – By Components:
Hardware
Software
And Services
The Global Digital Signage Market – By Technology:
The Global Digital Signage Market – By End-Users:
Retail
Hospitality
Entertainment
Stadiums
BFSI
Healthcare
Education
Transpiration
And Others
The Global Digital Signage Market – By Regions:
North America
Europe
Germany
France
Italy
U.K.
Russia
Rest of Europe Countries
Asia-Pacific
India
China
Japan
South Korea
North Korea
Rest of Asian Countries
LAMEA
Brazil
Saudi Arabia
Rest of LAMEA
Note: This table of contents is a content of a published report. As per client requirement, cross-sectional analysis across all industries or specific geography or 'country-based' analysis can be provided as a part of paid customization. Please place your queries on sales@sheeranalyticsandinsights.com or query@sheeranalyticsandinsights.com