The global digital workplace market was valued at $28.8 billion in 2021 and it is expected to reach $238.4 billion at a CAGR of 20.8% between 2022 and 2032. A cloud- or on-premises-based work platform known as a "digital workplace" enables enterprises to migrate work to the virtual world. Increased digitalization, rising interest in desktop-as-a-service, and rising employee desire for more flexibility in terms of work-life balance are all contributing factors to the current boom.
By region, North America has led the digital workplace market with significant growth over the past few years.
The virtual, contemporary equivalent of traditional workplaces today is known as a "digital workplace." Employees may work from anywhere, on any device, at any time with the help of the data, applications, and collaboration capabilities offered by the Digital Workplace experience. Digital workplaces leverage mobility services and digital technologies to adapt to user actions to do this and help boost employee engagement. Additionally, a digital workplace transformation must be specifically adapted to each organization's needs while maintaining a sharp focus on the entire user or employee experience. No matter where they are, what device they are using, or what time of day it is, employees should be able to execute business operations and communicate with one another more easily in a digital office environment.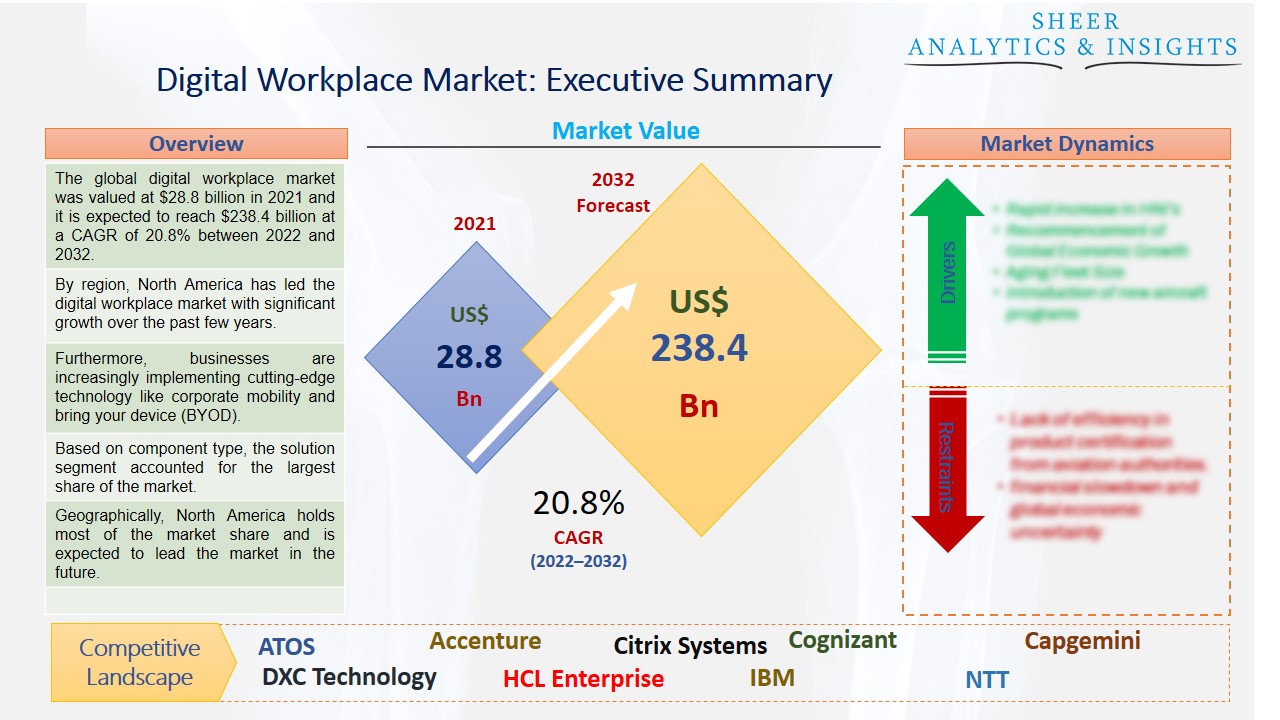 Source: SAI Research
There are several benefits of digital workplaces. For instance, digital workplace tools promote and facilitate horizontal and vertical communication among employees as well as between employees and management. Ideas that might not have been heard otherwise may flourish as a result. Employee input through messaging tools can boost morale and increase job satisfaction. Messaging solutions allow employees to act swiftly. Additionally, the user experience for both external users and workers utilizing digital workplace technologies can be improved with the use of new technological solutions that can help discover critical performance indicators. Employees who have flexible work settings and schedules report higher levels of job satisfaction, better work-life balance, and the ability to time-shift their workload to when they are most capable. This enables people who are morning people or night owls to make the most of their workdays.
Furthermore, businesses are increasingly implementing cutting-edge technology like corporate mobility and bring your device (BYOD). It improves flexibility and mobility while reducing time spent on device management for business-owned devices and licensing for hardware and software. With the help of organizational restructuring, it modifies the nature of workplaces and procedures while lowering operational costs for businesses. Moreover, the Internet of Things (IoT), Virtual Reality (VR), and Artificial Intelligence (AI) are also anticipated to help organizations deploy more cloud-based, flexibility-enhancing accessibility solutions. During the projection period, the expansion of the industry will be fueled by these benefits and advancements. The sector for digital workplace transformation services is driven by the development of mobile technologies, shifting workforce demographics, and the trend toward linked workplaces. To meet their business demands and efficiently complete the task, several future workspaces are gradually implementing cloud services including Infrastructure as a Service (IaaS), Backend as a Service (BaaS), Platform as a Service (PaaS), and Software as a Service (SaaS). These would propel the market growth in the future.
Based on component type, the solution segment accounted for the largest share of the market. The use of workplace solutions by end users to improve resource utilization and productivity, such as social and collaborative tools, cloud storage tools, and content management systems, can be credited with segment growth. It enables a social network for the office, encourages collaboration and teamwork throughout the company, and gives users access to social media for posting official messages. Numerous sizable organizations have embraced the cloud and are presently putting new technologies into use that are cloud-ready, easy to use, contextually and insights-enabled, and powered by artificial intelligence (AI) and other automation technologies and software. On the other hand, the services category is also expected to accelerate market growth over the forecast period. These services assist businesses in successfully and efficiently aligning their digital workspaces. Furthermore, by offering several advantages like stable operational environments and a reduction in governance and compliance concerns, it aids firms in maintaining a competitive edge in the market.
In terms of end-user type, the IT and Telecommunication segments are anticipated to propel the market growth during the forecast period from 2022 to 2032 due to the rising demand and adoption of the digital workplace across several organizations and companies. The acceptance of digital workplace solutions in the IT and telecom industries has increased as a result of developing trends such as remote working, rising Software as a Service (SaaS) service adoption, and Bring Your Device (BYOD) in nations including the U.S., Canada, India, China, and Australia. The market has been fueled by the global spread of the IT and telecom sectors as well as the demand for efficient communication across all departments. Digital communication technologies are also essential for enhancing team productivity and collaboration.
Geographically, North America holds most of the market share and is expected to lead the market in the future. The region is also estimated to hold its dominant position during the forecast period due to the presence of major key players across several emerging nations. The region uses digital workplace solutions and services to assist businesses in having cutting-edge IT infrastructures because it is home to a sizable number of businesses and has a wealth of technical talent. Numerous small, new, medium-sized, and large businesses are concentrated in this area. Additionally, it's anticipated that advances in robotic process automation (RPA), augmented reality, and artificial intelligence (AI) will spur commercial expansion in the area. This will likely be coupled with a rise in social collaboration outside of business. However, due to the rapid acceptance of digitization by many industry sectors and the increasing use of cloud platforms by businesses, the Asia-Pacific region is also anticipated to develop to be the second-largest market.
Key players such as ATOS (France), Accenture (Ireland), Citrix Systems (U.S), Cognizant (U.S), Capgemini (France), DXC Technology (U.S), HCL Enterprise (India), IBM (U.S), NTT (Japan), Stefanini Group (Brazil), The ODP Corporation (U.S), TCS (India), Unisys (U.S), Wipro (India), among others are leading the global digital workplace market.
Scope of the Report:
Report Coverage
Details
Market Size in 2021

US$ 28.8 Billion

Market Volume Projection by 2032

US$ 238.4 Billion

Forecast Period 2022 to 2032 CAGR
20.8%
Base Year:

2021

Historical Data

2019, 2020 and 2021

Forecast Period

2022 to 2032

Segments covered

By Component Types: Services & Solutions

By End-User Type: BFSI, IT and Telecommunications, Healthcare and Pharmaceuticals, Government, Manufacturing, Retail and Consumer & Others

Geographies covered

North America, Europe, Asia-Pacific, LAMEA

Companies covered
ATOS (France), Accenture (Ireland), Citrix Systems (U.S), Cognizant (U.S), Capgemini (France), DXC Technology (U.S), HCL Enterprise (India), IBM (U.S), NTT (Japan), Stefanini Group (Brazil), The ODP Corporation (U.S), TCS (India), Unisys (U.S), Wipro (India), among others
The Global Digital Workplace Market Has Been Segmented Into:
The Global Digital Workplace Market – by Component Types:
The Global Digital Workplace Market – by End-User Type:
BFSI
IT and Telecommunications
Healthcare and Pharmaceuticals
Government
Manufacturing
Retail and Consumer
Others
The Global Digital Workplace Market – by Regions:
North America
Europe

U.K.
France
Germany
Italy
Rest of Europe

Asia Pacific

India
China
Japan
Australia
Rest of Asia Pacific

LAMEA
Middle East
Latin America
Africa

South Africa
Egypt
Others
Note: This table of contents is a content of a published report. As per client requirement, cross-sectional analysis across all industries or specific geography or 'country-based' analysis can be provided as a part of paid customization. Please place your queries on sales@sheeranalyticsandinsights.com or query@sheeranalyticsandinsights.com