The Global Dimethyl Carbonate Market was $710.0 Mn in 2020, and it is expected to reach $1156.30 Mn by 2028. It is eventually growing at a commendable high compound annual growth rate CAGR of 6.3% between 2020-2028. However, the current pandemic of COVID-19 might make a slight difference in the growth rate in the present year. The Dimethyl Carbonate Market is primarily driven by the increasing demand for polycarbonates, and lithium-ion batteries from electronics and automotive industries. Dimethyl Carbonate is used in the production of polycarbonate. Moreover, increasing concerns for eco-friendly production of thermoplastics and stringent regulations to protect environmental health is also contributes towards the growth of the dimethyl carbonate market over the forecast period.
Global Polycarbonate Segment Is Estimated to Witness Remarkable Growth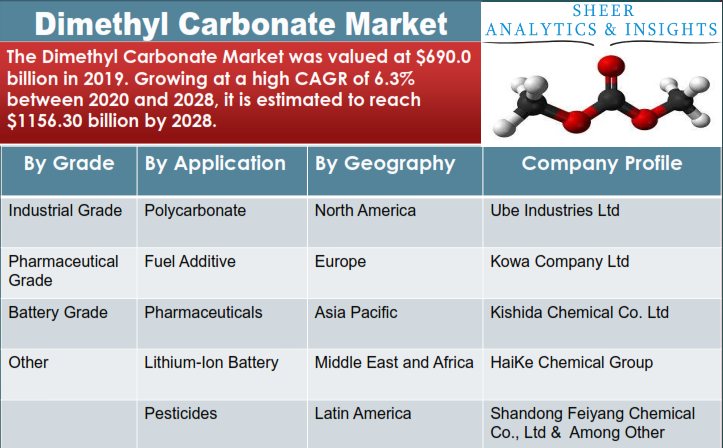 Source: SAI Research
The global Dimethyl Carbonate Market has been segmented into Grade, Applications, and End-User. By Grade, the global Dimethyl Carbonate Market is divided into – Industrial Grade, Pharmaceutical Grade, and Battery Grade. By Applications, the global Dimethyl Carbonate Market is divided into - Polycarbonate, Fuel Additive, Solvent, Pharmaceuticals, Lithium-Ion Battery, Pesticides, and Others. The global Polycarbonate segment is estimated to witness remarkable growth during the forecast period. The growth is attributed to its high uses in the production of polycarbonate materials.
By Region, Asia Pacific is Holding the Major Market Share
The global Dimethyl Carbonate Market has been geographically segmented into North America, Asia Pacific, Latin America, Middle East, and Africa region. In addition to this, the Asia Pacific Dimethyl Carbonate Market is holding the largest market share currently and is estimated to show a leading compound annual growth rate in the forecast period. The Asia Pacific market is estimated to witness rapid growth due to the rising demand for polycarbonate across the growing electronics and automotive industry. Moreover, the large production of polycarbonates in emerging economies such as China and India are also expected to fuel regional market growth. North America and Europe market are estimated to register a significant growth rate owing to the quick adoption of eco-friendly chemicals. The region is also experiencing high consumption of Dimethyl Carbonate in the pharmaceutical industry, which is projected to further accelerate the regional market growth over the years. The LAMEA region is projected to witness a steady growth rate over the forecast timeline. This growth is attributed to the rising demand for paints and coatings from the building and construction sector. These factors are expected to boost the market of the Dimethyl Carbonate Market throughout the forecast period from 2020 to 2028
Major Players in Global Dimethyl Carbonate Market
Some of the key players in the global Dimethyl Carbonate Market include Ube Industries Ltd, Merck KGaA, Kowa Company Ltd., Kishida Chemical Co. Ltd., BASF SE, Akzo Nobel N.V., Alfa Aesar, Dongying City Longxing Chemical Co., Ltd., HaiKe Chemical Group, Tokyo Chemical Industry Co., Ltd, and Shandong Feiyang Chemical Co., Ltd.
The Global Dimethyl Carbonate Market Has Been Segmented into:
Global Dimethyl Carbonate Market: By Grade
Industrial Grade
Pharmaceutical Grade
Battery Grade
Global Dimethyl Carbonate Market: By Applications
Polycarbonate
Fuel Additive
Solvents (Paints, Adhesives, Cleaning Agents and Others)
Pharmaceuticals
Lithium-Ion Battery
Pesticides
Others
Global Dimethyl Carbonate Market: By Region
North America

USA
Canada
Mexico
Rest of North America

Europe

UK
Germany
France
Spain
Italy
Russia
Rest of Europe

Asia Pacific

India
China
Japan
South Korea
Rest of Asia Pacific

Latin America, Middle East & Africa

Brazil
South Africa
UAE
Rest of LAMEA
Note: This table of contents is a content of a published report. As per client requirement, cross-sectional analysis across all industries or specific geography or 'country-based' analysis can be provided as a part of paid customization. Please place your queries on sales@sheeranalyticsandinsights.com or query@sheeranalyticsandinsights.com