The global dual cure adhesive market was valued at $230.2 billion in 2021 and it is expected to reach $469.8 billion at a CAGR of 6.3% between 2022 and 2032. The market includes important elements like market share values and the overall size of the worldwide dual-curing adhesives market, both in terms of regions and countries. Future market expansion is anticipated to be fueled by the combination of higher working speeds and the usage of medical adhesives rather than traditional wound closure techniques such as stitches.
By region, Asia-Pacific is estimated to become the fastest market for hand tool sets over the forecast period.
The advantages of light-curing systems are provided by dual-curing adhesives without sacrificing dependability, bond strength, or processing quality. Additionally, they guarantee that the end product's glue is fully cured and enable the most precise bonding possible in intricate modules. They provide a high level of manufacturing flexibility and give users more freedom to design their production processes. Additionally, surgical adhesives that are both environmentally friendly and biocompatible have been developed because of technological developments. Medical adhesives are increasingly used in a variety of internal and external medical functions, as well as the assembly of medical devices. Today, for instance, cyanoacrylates are utilized to treat skin wounds rather than stitches. These products have the advantage of being able to completely cover the wound.
The World Health Organization claims that an epidemic of unhealthy lifestyles is affecting people all over the world. According to the organization, leading an unhealthy lifestyle is a direct cause of cardiovascular diseases. As a result, there are increasingly more people suffering from cardiovascular problems. Additionally, the product's potential for use in inside medical procedures like heart surgery is expanding.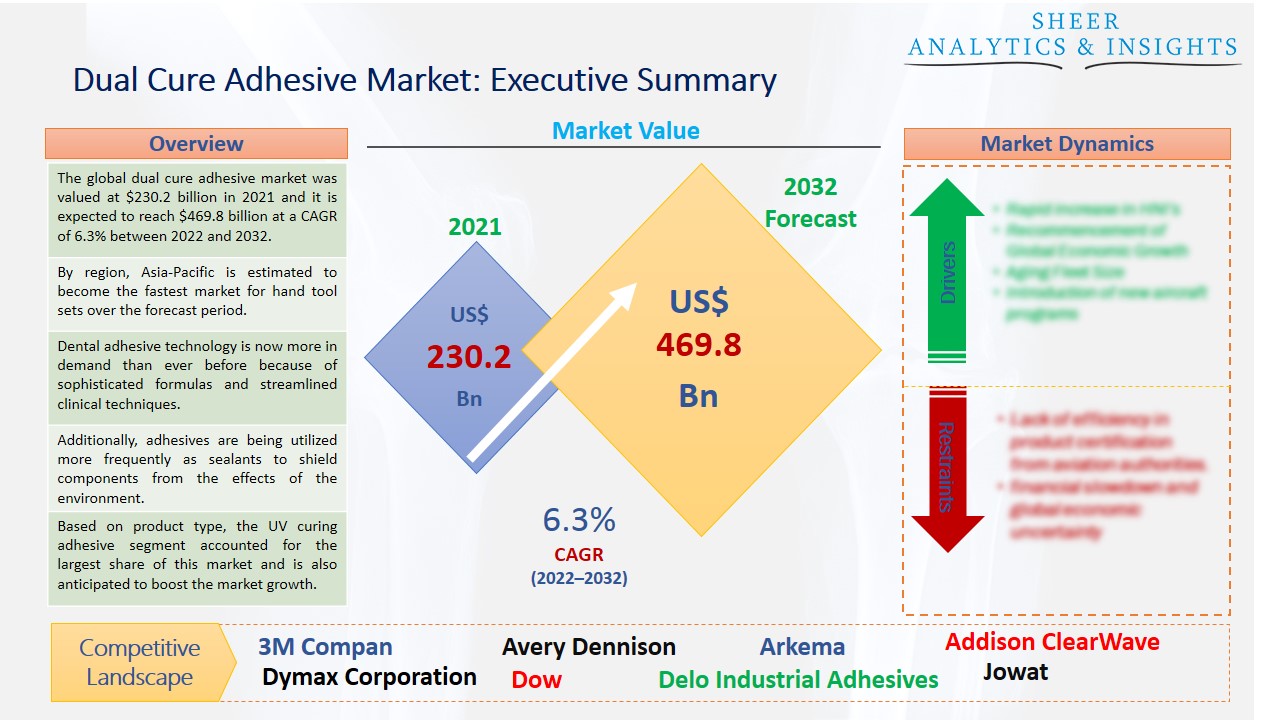 Source: SAI Research
Download Free PDF Sample Request
Dental adhesive technology is now more in demand than ever before because of sophisticated formulas and streamlined clinical techniques. Self-etch adhesive systems are a viable alternative to other etch adhesive systems due to the rising desire for reduced method sensitivity, quicker clinical application, and fewer instances of postoperative sensitivity. Additionally, in recent years, adhesive producers have concentrated on expanding these boundaries by creating several dual-curing adhesives. The advantages of light-curing systems are provided by dual-curing adhesives without sacrificing dependability, bond strength, or processing quality. They guarantee that the end product's glue is properly cured and also enable the most precise bonding possible in intricate modules.
Additionally, adhesives are being utilized more frequently as sealants to shield components from the effects of the environment. Due to lightweight construction, downsizing, and other factors, bonding has become more significant across a wide range of industries, including automotive, electronics, and mechanical engineering. These benefits would accelerate the market growth over the forecast period from 2022 to 2032.
Based on product type, the UV curing adhesive segment accounted for the largest share of this market and is also anticipated to boost the market growth over the forecast period from 2022 to 2032. One of the best techniques for swiftly curing adhesives, UV adhesive curing is known for its potent advantages and seemingly limitless uses. Ultraviolet wavelengths' electromagnetic characteristics are so potent that they can immediately cure a wide range of materials, including polymer resins, adhesive coatings, inks, and varnishes. Additionally, employing UV radiation to cure adhesives, inks, glues, and binds has several benefits for both large and small manufacturers and OEMs. The use of solvents is worse for the environment than UV curing.
In terms of application type, the construction segment has been rising with a significant market share. Construction continues to be the sector with the biggest demand for moisture-curing adhesives, making up around one-fourth of global market sales. Polyurethane will continue to be used most frequently in the building industry because of its excellent moisture resistance and high strength characteristics. Manufacturers and suppliers are anticipated to move to various regions as a result of the construction industry's rapid growth and government investments in infrastructure development.
Geographically, the Asia-Pacific region has been dominating the market and is also expected to hold its dominant position during the forecast period due to rising demand for various kinds of dual-cure adhesive equipment. Due to the growing health consciousness, nations like China, India, and Japan are anticipated to offer improved chances. The expanding automotive and construction sectors are developing in nations such as South Korea, China, and India. Launches of new products are anticipated to assist the market growth for conductive polymers. As a result, these would increase demand in the area for medical adhesive items such as transdermal insulin patches and others.
According to the study, key players such as 3M Company (U.S), Avery Dennison (U.S), Arkema (France), Addison ClearWave (U.S), Dymax Corporation (U.S), Dow (U.S), Delo Industrial Adhesives (Germany), Franklin International (U.S), Hernon (U.S), H.B Fuller (U.S), Henkel (Germany), Illinois Tool Works (U.S), Jowat (Germany), Permabond (U.K), Pancol-Eloson (Germany), Sika AG (Switzerland), Silicone Solutions (U.S), Tosoh (Japan), among others are leading the global dual cure adhesive market.
Scope of the Report:
Report Coverage
Details
Market Size in 2021

US$ 230.2 Billion

Market Volume Projection by 2032

US$ 469.8 Billion

Forecast Period 2022 to 2032 CAGR
6.3%
Base Year:

2021

Historical Data

2019, 2020 and 2021

Forecast Period

2022 to 2032

Segments covered

By Product Type: UV Curing Adhesives, Moisture Curing Adhesives, Thermal Curing Adhesives & Others

By Application Type: Automotive, Construction, Electrical and Electronics & Others

Geographies covered

North America, Europe, Asia-Pacific, LAMEA

Companies covered
3M Company (U.S), Avery Dennison (U.S), Arkema (France), Addison ClearWave (U.S), Dymax Corporation (U.S), Dow (U.S), Delo Industrial Adhesives (Germany), Franklin International (U.S), Hernon (U.S), H.B Fuller (U.S), Henkel (Germany), Illinois Tool Works (U.S), Jowat (Germany), Permabond (U.K), Pancol-Eloson (Germany), Sika AG (Switzerland), Silicone Solutions (U.S), Tosoh (Japan), among others
The Global Dual Cure Adhesive Market Has Been Segmented Into:
The Global Dual Cure Adhesive Market – by Product Type:
UV Curing Adhesives
Moisture Curing Adhesives
Thermal Curing Adhesives
Others
The Global Dual Cure Adhesive Market – by Application Type:
Automotive
Construction
Electrical and Electronics
Others
The Global Dual Cure Adhesive Market – by Regions:
North America
Europe

The U.K.
France
Germany
Italy
Rest of Europe

Asia Pacific

India
China
Japan
Australia
Rest of Asia Pacific

LAMEA
Middle East
Latin America
Africa
Note: This table of contents is a content of a published report. As per client requirement, cross-sectional analysis across all industries or specific geography or 'country-based' analysis can be provided as a part of paid customization. Please place your queries on sales@sheeranalyticsandinsights.com or query@sheeranalyticsandinsights.com