The global electric car reusable battery market market was valued at $0.24 billion in 2021 and it is expected to reach $30.6 billion at a CAGR of 50.9%% between 2022 and 2032. Growing demand for electric cars, battery technologies improvement, and supporting government regulations are the major factors that are expected to drive the market during the forecast period.
In 2020, Asia-Pacific held the largest market share in producing electric car reusable battery across the globe.
Several countries' government is encouraging consumers to adopt vehicles attached with reusable batteries to reduce environmental pollution. As electric cars are emission-free vehicles, therefore, these cars are increasing in demand across several regions. In modern days, consumers have started to prefer electric vehicles and this rising demand has driven the market with a success. Various national governments have provided financial support such as tax rebates, decreased parking fees for electric cars, and free charging, to motivate the consumers so they could purchase and use electric vehicles. Therefore, the demand for electric car reusable batteries is expected to witness a high market growth over the forecast period from 2022 to 2032.
Source: SAI Research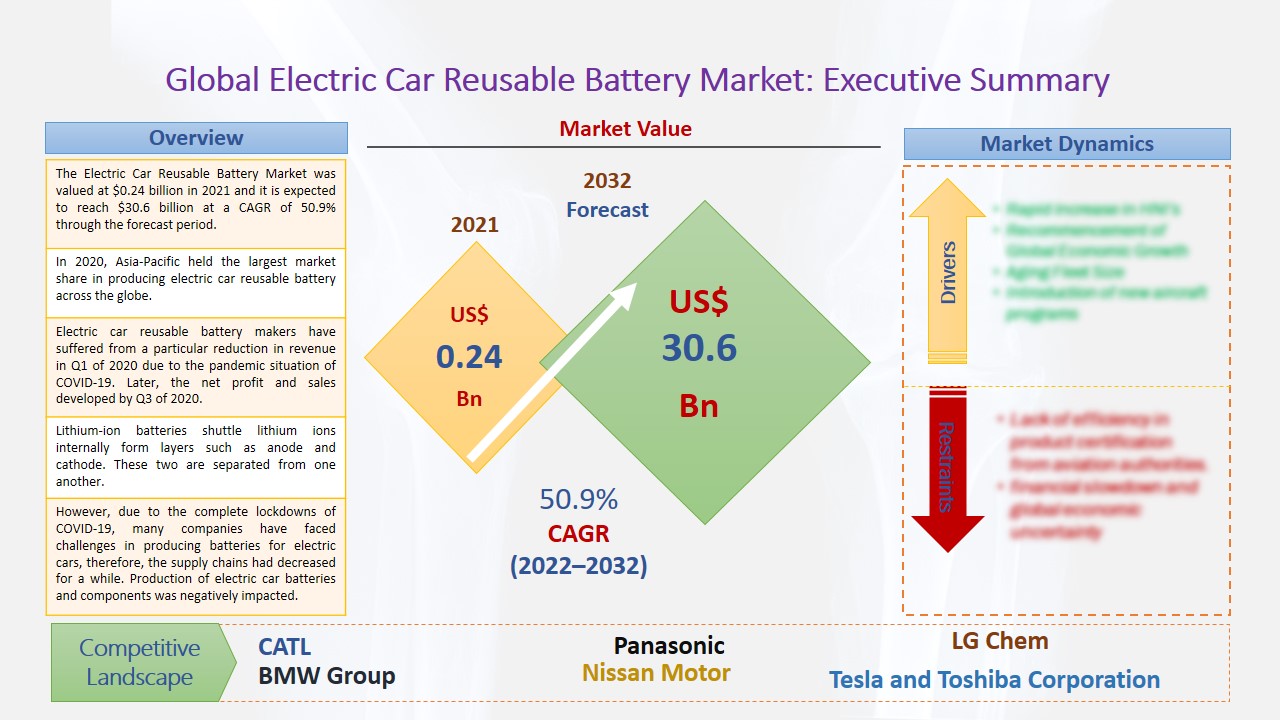 The growing demand for lithium-ion utility-scale storage for low and high-cycle applications would constitute market growth across the globe. However, sometimes costs of manufacturing companies fall when new batteries arrive on the market. As it becomes cheaper, therefore, manufacturing companies have to provide or sell electric car reusable batteries at a low cost to catch the attention of customers which is expected to lag the rate of decline in new manufacturing costs. Electric car reusable battery makers have suffered from a particular reduction in revenue in Q1 of 2020 due to the pandemic situation of COVID-19. Later, the net profit and sales developed by Q3 of 2020. The impact of COVID-19 on Chinese companies such as Panasonic and CATL was significant due to a reduction in demand across the country.
Lithium-ion batteries shuttle lithium ions internally form layers such as anode and cathode. These two are separated from one another. Cathodes are the most limiting factor in battery performance. Therefore, the demand for lithium-ion battery cells is expected to witness a profitable growth through the forecast period. However, due to the complete lockdowns of COVID-19, many companies have faced challenges in producing batteries for electric cars, therefore, the supply chains had decreased for a while. Production of electric car batteries and components was negatively impacted.
Key players such as CATL (China), Panasonic (Japan), LG Chem (South Korea), BYD (China), Samsung SDI (South Korea), BMW Group, China Lithium Battery Technology, Nissan Motor, Tesla and Toshiba Corporation are leading the electric car reusable battery market across the globe. Few strategies adopted by these major players to support their market position, are launching new products, partnerships, and agreements, merges, and acquisitions, business expansions, and collaborations.
Scope of the Report:
Report Coverage

Details

Base Year:

2021

Market Size in 2021:

USD 0.24 Billion

Historical Data for:

2019, 2020 and 2021

Forecast Period:

2022 to 2032

Forecast Period 2022 to 2032 CAGR:

50.9%

2032 Value Projection:

USD 30.6 Billion

Segments covered:

By Type - Lithium-ion, Solid-State, Lead-Acid, Nickel-Metal Hybrid.

By Propulsion - BEV, HEV, PHEV, FCEV.

By Vehicle Type - Passenger Cars, Light Trucks, Medium and Heavy Trucks, Off-Highway Vehicles.

By Method - Wire-Bonding, Laser-Bonding.

By Form - Prismatic, Cylindrical, Pouch

Geographies covered:

North America - U.S, Canada, Mexico

Europe - Germany, France, Italy, U.K, Russia, Rest of Europe Countries

Asia-Pacific -India, China, Japan, South Korea, North Korea, Rest of Asian Countries

LAMEA - Brazil, Saudi Arabia, Rest of LAMEA

Companies covered:

CATL (China), Panasonic (Japan), LG Chem (South Korea), BYD (China), Samsung SDI (South Korea), BMW Group, China Lithium Battery Technology, Nissan Motor, Tesla and Toshiba Corporation and other
The Electric Car Reusable Battery Market Has Been Segmented Into:
The Electric Car Reusable Battery Market – by Type
Lithium-ion
Solid-State
Lead-Acid
Nickel-Metal Hybrid
The Electric Car Reusable Battery Market – by Propulsion
The Electric Car Reusable Battery Market – by Vehicle Type
Passenger Cars
Light Trucks
Medium and Heavy Trucks
Off-Highway Vehicles
The Electric Car Reusable Battery Market – by Method
Wire-Bonding
Laser-Bonding
The Electric Car Reusable Battery Market – by Form
Prismatic
Cylindrical
Pouch
The Electric Car Reusable Battery Market – by Material
Lithium
Cobalt
Manganese
Graphite
The Electric Car Reusable Battery Market – by Region
North America
Europe
Germany
France
Italy
U.K.
Russia
Rest of Europe Countries
Asia-Pacific
India
China
Japan
South Korea
North Korea
Rest of Asian Countries
LAMEA
Brazil
Saudi Arabia
Rest of LAMEA
Note: This table of contents is a content of a published report. As per client requirement, cross-sectional analysis across all industries or specific geography or 'country-based' analysis can be provided as a part of paid customization. Please place your queries on sales@sheeranalyticsandinsights.com or query@sheeranalyticsandinsights.com