The global electric vehicle battery market was valued at $40.9 billion in 2021 and it is expected to reach $500.2 billion at a CAGR of 24.2% between 2022 and 2032. The market expansion is anticipated to be fueled by the top manufacturers' increasing focus on releasing electric vehicles, including Bayerische Motoren Werke AG, General Motors, and Ford Motor. Additionally encouraging for the market's expansion is the ongoing rollout of Electric Car Supply Equipment (EVSE) and the resulting rise in electric vehicle sales.
By region, the Asia-Pacific region has been leading the electric vehicle battery market globally with significant growth.
The need for fuel-efficient automobiles has grown as a result of climate change and the worrisome pollution levels in major cities. Consumer demand for electric vehicles has changed as a result of rising gasoline and diesel prices. People are choosing to travel in electric vehicles, which have resulted in massive order and supply growth. During the projected period, these factors will in turn fuel the EV battery market's expansion. In addition, the development of less expensive, lighter, and denser batteries is receiving funding from both battery manufacturers and automobiles. Compared to heavier or larger engines, electric vehicle battery systems produce less pollution at a lower cost. Lithium-ion batteries, for instance, are small and offer greater energy densities. With quick charging technology, a full charge takes less than two to three hours. In the upcoming years, this will fuel the EV battery market's expansion.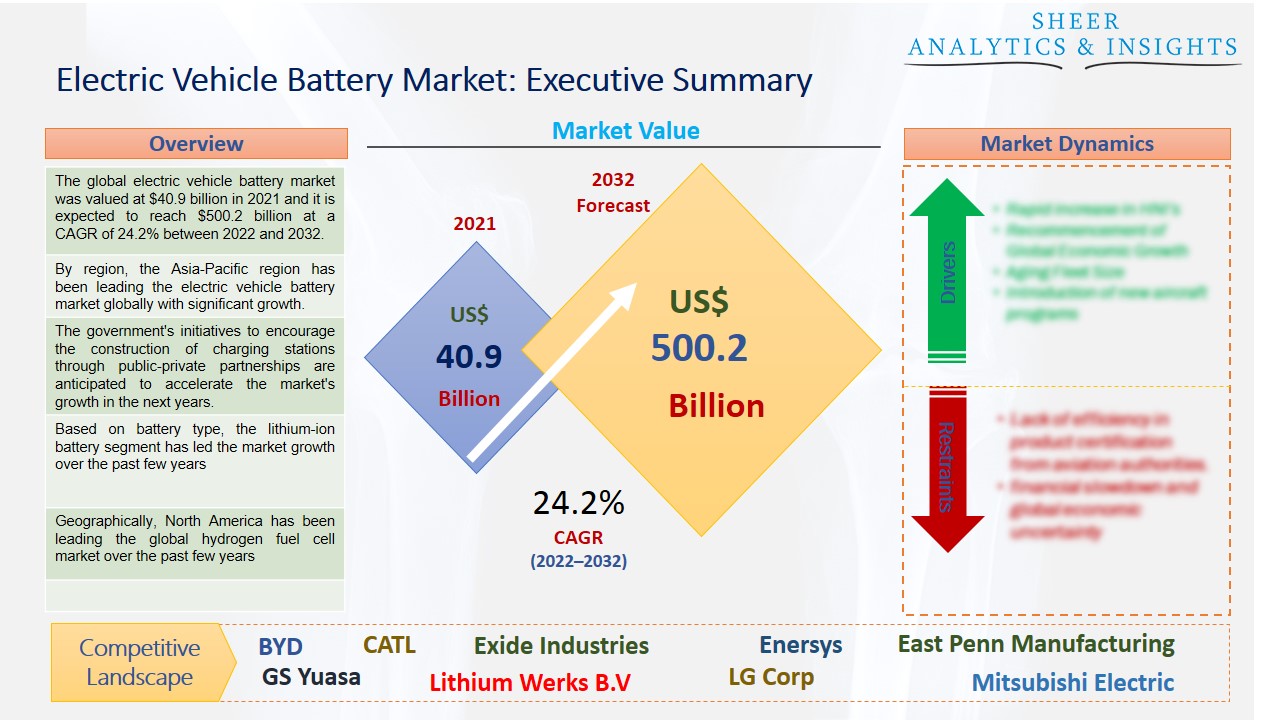 Source: SAI Research
Download Free PDF Sample Request
The government's initiatives to encourage the construction of charging stations through public-private partnerships are anticipated to accelerate the market's growth in the next years. The expansion of the EV battery market is anticipated to be supported shortly by rising investments in urbanization and rising government investments in the construction of infrastructure. Moreover, the increased efforts to reduce car emissions are anticipated to increase demand for electric vehicles, which will in turn increase demand for EV batteries. Furthermore, since deep-cycle batteries are made to provide power for extended periods, they set themselves apart from starting, lights, and ignition (SLI) batteries. Smaller, lighter batteries are preferable since they reduce the weight of the vehicle and hence increase its performance. Electric vehicle batteries are distinguished by their relatively high power-to-weight ratio, specific energy, and energy density. The majority of today's battery technologies have substantially lower specific energies than liquid fuels, which frequently affects the cars' maximum all-electric range.
Due to their high energy density concerning their weight, lithium-ion, and lithium polymer batteries are the most popular battery types in contemporary electric vehicles. Lead-acid ("flooded", "deep-cycle," and "valve-regulated lead acid"), nickel-cadmium, nickel-metal hydride, and, less frequently, zinc-air and sodium nickel chloride batteries are other types of rechargeable batteries used in electric vehicles. Additionally, the e-mobility trend is projected to gain ground over the forecast period as electric car sales rise. The market's potential for growth would be increased by the continued deployment of integrated charging stations and the development of green power generation capacities.
Based on battery type, the lithium-ion battery segment has led the market growth over the past few years due to rising demand in several automotive industries across the globe. Due to their high energy density per weight, these batteries are frequently employed in automotive applications, particularly those for electric and hybrid vehicles. For the implementation of e-mobility, adequate infrastructure for EV charging is still essential, and this is good news for the expansion of lithium-ion battery sales. Lithium-ion batteries typically cost more than other batteries. However, leading market participants have been making investments to increase their economies of scale and engage in R&D activities to improve their performance, which has increased competition and led to a decline in lithium-ion battery prices. However, the lead-acid battery segment also has been growing in demand among a large number of vehicle industries across the globe. Additionally, these batteries are among the most cost-effective battery options and are frequently used for higher-power applications when weight is not a concern. Lead-acid batteries may also be a preferable replacement for lithium-ion batteries due to the high costs involved in mining and refining lithium as well as the dwindling resources of lithium.
In terms of vehicle type, the passenger vehicle segment accounted for the largest share of the market and is anticipated to propel the market growth during the forecast period. Governments in several nations, including Canada, India, and Japan, are providing subsidies to consumers to promote the use of electric passenger vehicles. Additionally, due to increased consumer awareness of the advantages of EVs, rising disposable income, a better standard of life, and rising demand for personal computing solutions, the market for passenger vehicles is anticipated to stay strong during the projected period. Throughout the forecast period, government measures to promote the use of electric passenger and commercial cars as part of the endeavor to minimize air pollution resulting from vehicular emissions are anticipated to fuel market expansion for electric vehicle batteries.
Geographically, the Asia-Pacific region holds most of the market share due to the rising demand for electric vehicle batteries in several emerging nations. Additionally, most of the key players are located in several countries of Asia-Pacific which is another advantage for the market. Over the past several years, countries in the Asia Pacific, particularly China, India, and South Korea, have seen an increase in the demand for electric car batteries in line with the desire for electric vehicles. Due to the low labor and maintenance costs, China has a high concentration of batteries. China has a large concentration of electric and conventional vehicle battery producers due to low labor costs and low maintenance costs. On the other side, regions such as North America and Europe are also anticipated to hold their dominant position during the forecast period. The United States now holds a privileged position in the world of electric vehicle batteries. The ongoing development of electric vehicles is escalating industry competition, which is resulting in a frenzy of product introductions. The most well-known producers of electric vehicles in the US are Bayerische Motoren Werke AG, Ford Motor Company, and Tesla Motor Inc.
According to the study, key players such as BYD (China), CATL (China), Exide Industries (India), Enersys (U.S), East Penn Manufacturing (U.S), GS Yuasa (Japan), Lithium Werks B.V (China), LG Corp (South Korea), Mitsubishi Electric (Japan), Panasonic (Japan), SK Group (south Korea), StoreDot Ltd (Israel), Showa Denko (Japan), Samsung SDI (South Korea), Wanxiang Group Corporation (China), among others are leading the global electric vehicle battery market.
Scope of the Report:
Report Coverage
Details
Market Size in 2021

US$ 40.9 Billion

Market Volume Projection by 2032

US$ 500.2 Billion

Forecast Period 2022 to 2032 CAGR
24.2%
Base Year:

2021

Historical Data

2019, 2020 and 2021

Forecast Period

2022 to 2032

Segments covered

By Battery Type: Lithium-Ion, Lead-Acid, Sodium-Ion, Nickel-Metal Hydride & Others

By Vehicle Type: Commercial Vehicles, Passenger Vehicles & Others

Geographies covered

North America, Europe, Asia-Pacific, LAMEA

Companies covered
BYD (China), CATL (China), Exide Industries (India), Enersys (U.S), East Penn Manufacturing (U.S), GS Yuasa (Japan), Lithium Werks B.V (China), LG Corp (South Korea), Mitsubishi Electric (Japan), Panasonic (Japan), SK Group (south Korea), StoreDot Ltd (Israel), Showa Denko (Japan), Samsung SDI (South Korea), Wanxiang Group Corporation (China), among others.
The Global Electric Vehicle Battery Market Has Been Segmented Into:
The Global Electric Vehicle Battery Market – by Battery Type:
Lithium-Ion
Lead-Acid
Sodium-Ion
Nickel-Metal Hydride
Others
The Global Electric Vehicle Battery Market – by Vehicle Type:
Commercial Vehicles
Passenger Vehicles
Others
The Global Electric Vehicle Battery Market – by Regions:
North America
Europe

U.K.
France
Germany
Italy
Rest of Europe

Asia Pacific

India
China
Japan
Australia
Rest of Asia Pacific

LAMEA
Middle East
Latin America
Africa

South Africa
Egypt
Others
Note: This table of contents is a content of a published report. As per client requirement, cross-sectional analysis across all industries or specific geography or 'country-based' analysis can be provided as a part of paid customization. Please place your queries on sales@sheeranalyticsandinsights.com or query@sheeranalyticsandinsights.com