The global electric vehicle charges market was valued at $7.9 billion in 2021 and it is expected to reach $120.2 billion at a CAGR of 26.1% between 2022 and 2032. The requirement for the use of electric vehicles has been prompted by the rising levels of carbon emissions and other dangerous substances resulting from transportation. As a result, there is a growing need for an electric vehicle (EV) charging infrastructure in both business and residential settings. Additionally, expanding collaborations between automakers to provide charging stations using a subscription model is anticipated to fuel industry expansion.
By region, Asia-Pacific region is expected to dominate the electric vehicle charges market across the globe.
Knowing when and how to charge an electric vehicle (EV) is one of the major worries for EV owners. It makes sense because most people in the United States have spent their whole lives in gas-powered vehicles, filling up at one of the hundreds of thousands of gas stations when the gauge approaches empty. Although charging an EV requires a little more preparation, more public EV charging stations are starting to appear due to the increasing demand and incentives for alternatives to gas-powered vehicles. Moreover, EVs require charging to have enough power to function, just like a cell phone. EV charging is the process of supplying power to the vehicle's battery using EV charging equipment. To charge an EV, a charging station connects to the power grid. Electric vehicle supply equipment is what EV charging stations are known as technically (EVSE).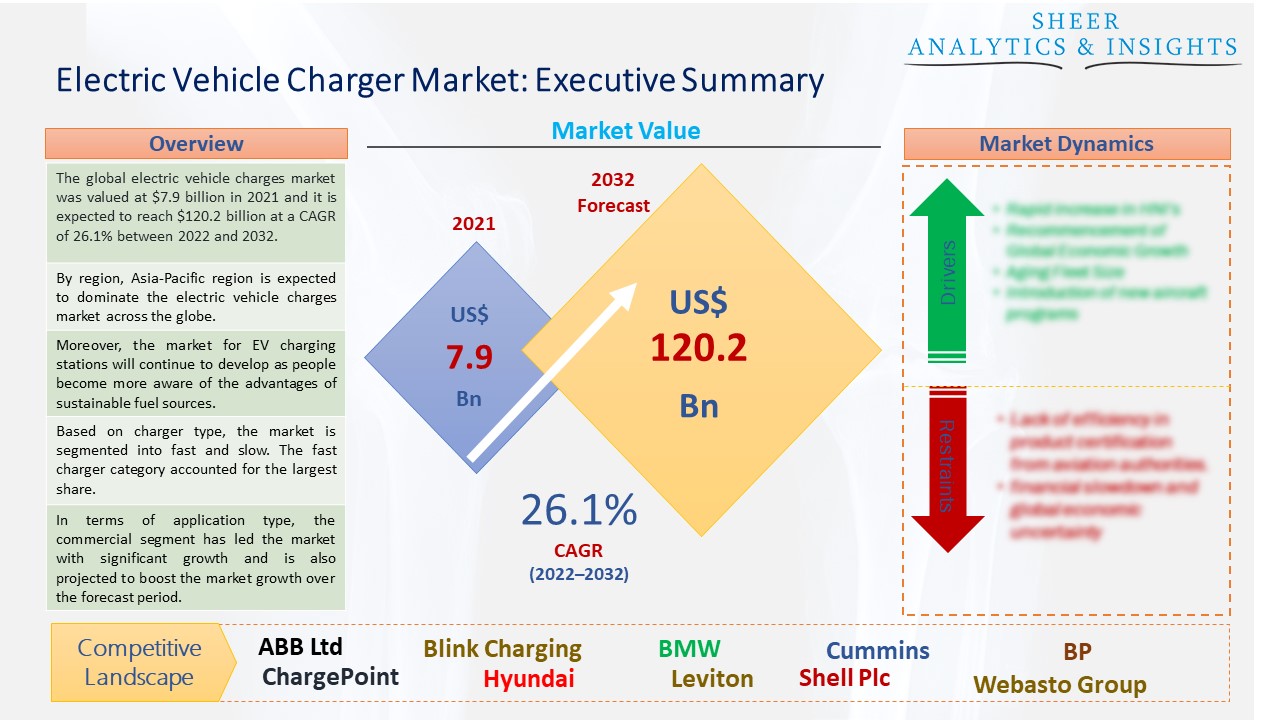 Source: SAI Research
Download Free PDF Sample Request
The way EV owners use and profit from electric car charging applications is anticipated to alter as a result of technology advancements in both electric vehicle charging hardware and software. Even before the driver plugs an electric vehicle into a charging station, technologies like the Smartcar API and charging networks accurately predict how long it will take to fully charge the vehicle. Green energy is also anticipated to be a major factor in both public and private electric vehicle charging stations. Carbon emissions are the main issue for EV owners. Companies are quickly developing their electric vehicle charging networks' charging technologies to solve these worries.
Moreover, the market for EV charging stations will continue to develop as people become more aware of the advantages of sustainable fuel sources. Residential buildings close to transportation hubs are more likely to be exposed to automobile emissions, which are linked to heart and respiratory conditions including asthma. Since these symptoms are considered to be long-term chronic illnesses, the popularity of low-emission vehicles and electric car charging stations is expected to increase throughout the forecasted time. Furthermore, the leading EV producers, including Ford, BMW, Volkswagen, Tesla, and General Motors, are increasing their investments in the creation and expansion of production facilities. As a result, during the projection period, it is anticipated that increasing EV sales would fuel EV charger demand globally.
Based on charger type, the market is segmented into fast and slow. The fast charger category accounted for the largest share of the market and is anticipated to accelerate the market growth during the forecast period. The rapid growth of this market is primarily attributable to the expansion of government initiatives to install fast-charging stations, rebates on the purchase of DC fast-charging stations, and rising automaker investments in the development of the infrastructure for DC fast-charging stations to support their long-range battery-electric vehicles. Since an EV can be fully charged in 4-6 hours, the majority of organizations have installed Level 1 DC fast chargers or Level 2 AC charging stations. However, the slow charger segment is also expected to propel the market growth in the future. Additionally, home applications that use slow chargers for overnight charging are the most common.
In terms of application type, the commercial segment has led the market with significant growth and is also projected to boost the market growth over the forecast period. As overnight charging or charging at home would not be sufficient for long-distance travel, the construction of supporting infrastructure in public locations is required. The primary factors anticipated to propel the expansion of this market shortly are the expanding government efforts and the expanding corporate investments in the construction of EV charging infrastructure around the world. The increase is also being fueled by partnerships between several public transportation organizations and automakers for the construction of electric bus charging stations.
Geographically, the Asia-Pacific region holds most of the market share. Many key players are located in several emerging nations of this region which is an advantage for various end-user industries across the region. The market for EV chargers is expanding thanks to the rapid use of EVs for public transportation in developing and densely populated nations like China and India. The electric car industry is centered in nations like China, Japan, and South Korea, which are spending extensively on the construction of charging infrastructure.
According to the study, key players such as ABB Ltd (Switzerland), Blink Charging (U.S), BMW (Germany), BP (U.K), BYD (China), ChargePoint (U.S), ENGIE (France), Eaton (Ireland), Groupe Renault (France), Hyundai (South Korea), Leviton (U.S), Shell Plc (U.K), Schneider Electric (France), Siemens (Germany), Tesla (U.S), Volta Charging (U.S), Webasto Group (Germany), among others are leading the global electric vehicle charges market.
Scope of the Report:
Report Coverage
Details
Market Size in 2021

US$ 7.9 Billion

Market Volume Projection by 2032

US$ 120.2 Billion

Forecast Period 2022 to 2032 CAGR
26.1%
Base Year:

2021

Historical Data

2019, 2020 and 2021

Forecast Period

2022 to 2032

Segments covered

By Charger Type: Fast & Slow

By Application Type: Residential, Commercial & Others

Geographies covered

North America, Europe, Asia-Pacific, LAMEA

Companies covered
ABB Ltd (Switzerland), Blink Charging (U.S), BMW (Germany), BP (U.K), BYD (China), ChargePoint (U.S), ENGIE (France), Eaton (Ireland), Groupe Renault (France), Hyundai (South Korea), Leviton (U.S), Shell Plc (U.K), Schneider Electric (France), Siemens (Germany), Tesla (U.S), Volta Charging (U.S), Webasto Group (Germany), among others
The Global Electric Vehicle Charges Market Has Been Segmented Into:
The Global Electric Vehicle Charges Market – by Charger Type:
The Global Electric Vehicle Charges Market – by Application Type:
Residential
Commercial
Others
The Global Electric Vehicle Charges Market – by Regions:
North America
Europe

U.K.
France
Germany
Italy
Rest of Europe

Asia Pacific

India
China
Japan
Australia
Rest of Asia Pacific

LAMEA
Middle East
Latin America
Africa

South Africa
Egypt
Others
Note: This table of contents is a content of a published report. As per client requirement, cross-sectional analysis across all industries or specific geography or 'country-based' analysis can be provided as a part of paid customization. Please place your queries on sales@sheeranalyticsandinsights.com or query@sheeranalyticsandinsights.com