The global embedded analytics market was valued at $4.4 billion in 2021 and it is expected to reach $19.8 billion at a CAGR of 14.2% between 2022 and 2032. The demand for embedded analytics solutions is growing in the healthcare system over the past few years. Therefore, this significant growth is expected to drive the overall market through the upcoming periods. The Healthcare industry generates a huge amount of data owing to increase the demand for embedded analytics solutions across the global market.
North America is expected to dominate the global market due to the increasing awareness regarding embedded analytics solutions.
There are several companies that are adopting embedded analytics solutions for various applications. Therefore, the adoption of this embedded analytics has surged the market. It is important to combine such data management systems with better legacy and proven systems. However, legacy systems might have major problems, as these systems do not have better interfaces and the documentation is rare. Furthermore, old applications might not be compatible with third-party software that is used for embedded analytics, hence it causes errors. Although, there are few benefits to adopting embedded analytics such as the cost of changing the old systems with compatible embedded analytics software, maintaining and educating the employees on using this technological solution remain very high.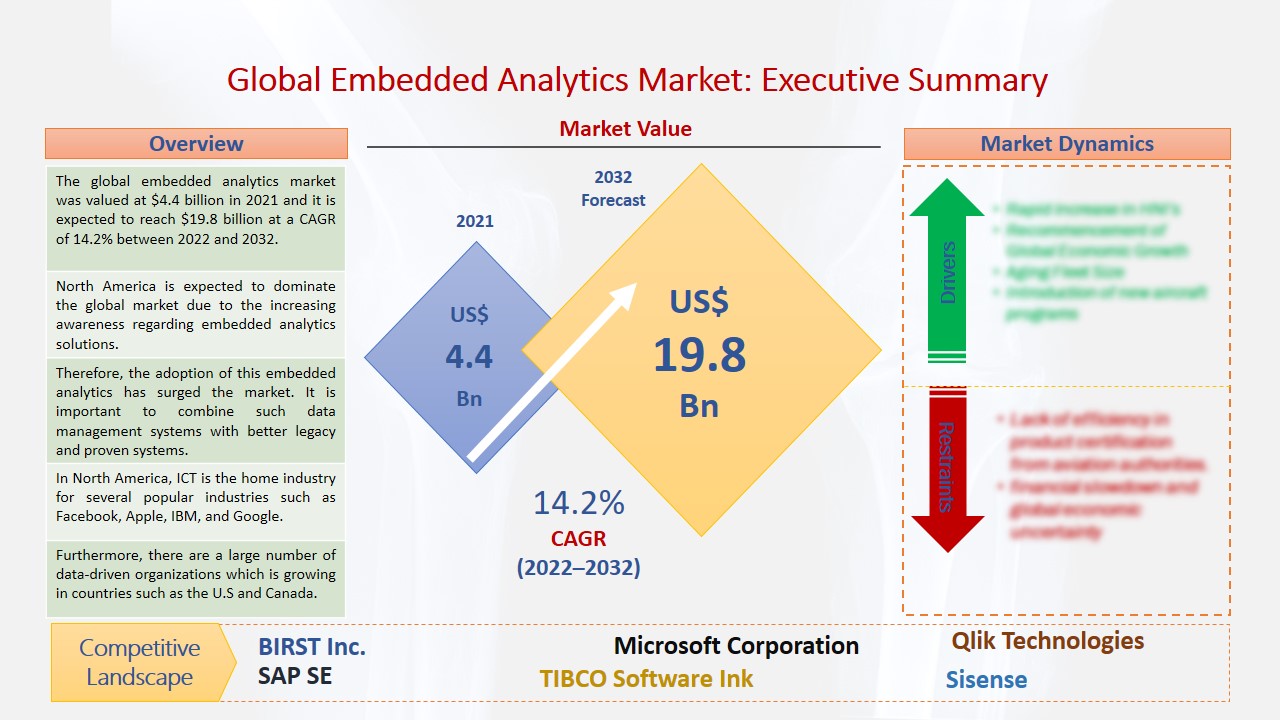 Source: SAI Research
The adoption of data modernization technologies across several industries in the North American countries is growing, and that is the main reason driving the growth of market in adopting various analytical solutions such as embedded analytics. In North America, ICT is the home industry for several popular industries such as Facebook, Apple, IBM, and Google. Furthermore, there are a large number of data-driven organizations which is growing in countries such as the U.S and Canada. Industries such as BFSI, manufacturing, and healthcare industries among others are holding the dominant position in adopting embedded analytics solutions. Additionally, key players such as Microsoft Corporation, IBM Corporation, Oracle Corporation, and other companies are situated in the U.S country. The activities and technological advancements are going to aid the embedded analytics market across the region. Therefore, this is expected to drive market growth during the forecast period from 2022 to 2032.
Embedded analytics solutions provide various software and services to process and analyze large number of data to generate essential insights within the particular application, which further helps in data-driven decision making. The main difference between BI and Embedded Analytics is that BI tools extract the insights from the silo of data analysis and lack in supporting a real-time business decision, while Embedded Analytics conducts insights and action in the same context with the support of business analytics. At present days, independent software or applications providers consider embedded analytics, because it has a new revenue stream for their software solution. Furthermore, these providers are approaching new customers by offering innovative technological solutions. Therefore, the demand for embedded analytics has grown in industries such as BFSI, Education, Retail, and Technology, among others.
Key players such as BIRST Inc., International Business Machines Corporation, Information Builders, Logi Analytics, Microsoft Corporation, Qlik Technologies, SAP SE, TIBCO Software Inc, OpenText, Sisense, Logi Analytics, and other companies are leading the embedded analytics market. These key players are investing large amounts of money to implement new business strategies, and launching innovative technologies to stay ahead in the competitive market across the globe.
Scope of the Report:
Report Coverage

Details

Base Year:

2021

Market Size in 2021:

USD 4.4 Billion

Historical Data for:

2019, 2020 and 2021

Forecast Period:

2022 to 2032

Forecast Period 2022 to 2032 CAGR:

14.2%

2032 Value Projection:

USD 19.8 Billion

Segments covered:

By Component - Software, Services.

By Deployment - On-Premises, Cloud-Based.

By Services - Managed Services, Consulting Services, Education and Training Services, and Others.

By Business Application - Sales and Marketing, Finance, Operations, Human Resources

Geographies covered:

North America - U.S, Canada, Mexico

Europe - Germany, France, Italy, U.K, Russia, Rest of Europe Countries

Asia-Pacific -India, China, Japan, South Korea, North Korea, Rest of Asian Countries

LAMEA - Brazil, Saudi Arabia, Rest of LAMEA

Companies covered:

BIRST Inc., International Business Machines Corporation, Information Builders, Logi Analytics, Microsoft Corporation, Qlik Technologies, SAP SE, TIBCO Software Inc, OpenText, Sisense, Logi Analytics, and other
The Embedded Analytics Market Has Been Segmented Into:
The Embedded Analytics Market – by Component:
The Embedded Analytics Market – by Deployment:
The Embedded Analytics Market – by Services:
Managed Services
Consulting Services
Education and Training Services
And Others
The Embedded Analytics Market – by Business Application:
Sales and Marketing
Finance
Operations
Human Resources
The Embedded Analytics Market – by Region:
North America
Europe
Germany
France
Italy
U.K.
Russia
Rest of Europe Countries
Asia-Pacific
India
China
Japan
South Korea
North Korea
Rest of Asian Countries
LAMEA
Brazil
Saudi Arabia
Rest of LAMEA
Note: This table of contents is a content of a published report. As per client requirement, cross-sectional analysis across all industries or specific geography or 'country-based' analysis can be provided as a part of paid customization. Please place your queries on sales@sheeranalyticsandinsights.com or query@sheeranalyticsandinsights.com