The Global Encoder Market was $1.50 Bn in 2020, and it is expected to reach $3.60 Bn by 2030. It is eventually growing at a commendable high compound annual growth rate CAGR of 9.1% between 2020-2030.. But the current pandemic of COVID-19 may make a slight difference in the growth rate in the present year. The Global Encoder Market is driven by the linear encoders that in turn will lead the global market. Even the optical sensing encoders will also continue to witness the extensive usage. These will accelerate the market growth in the forecasted period.
The Global Encoder Market Is Estimated to Witness Remarkable Growth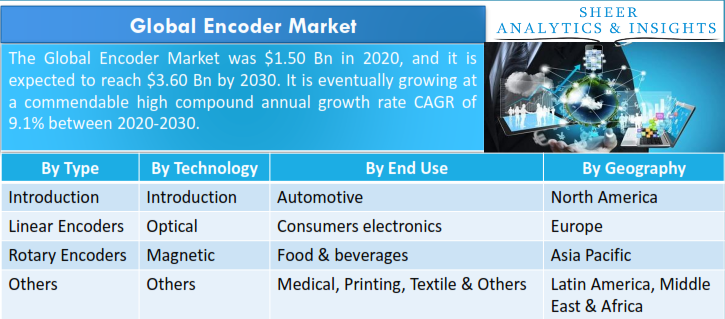 Source: SAI Research
The Global Encoder Market has been segmented into Type and technology type. By Type the Global Encoder Market is divided into Linear Encoders, Rotary Encoders. By Technology Type The Global Encoder Market is divided into Optical, Magnetic, Others. The promising prospects of the encoders in the end-use industries like the automotive, food & beverages, industrial provides a hige growth opportunities for the manufacturers of encoders.
By Region, Asia Pacific is Holding Major Market Share
The Global Encoder Market has been geographically segmented into North America, Europe, China, Asia Pacific, Latin America, South Asia & Pacific, Middle East & Africa, East Asia. In addition to this, Asia Pacific Global Encoder Market is holding the largest market share currently and is also estimated to show the highest compound annual growth rate in the upcoming forecasted period because of feature rich cars like those that are equipped with Bluetooth and cellular technology. This has prompted to witness a remarkable growth in the forecasted years.
But the sudden switch to the remote working because of the COVID-19 pandemic has also created a higb demand for the consumer electronics. This in turn is making a lucrative ground for the growth of this market. Since schools and offices are opting for the remote operations in between this pandemic due to increased cases of this infection. This will help to grow the demand for laptops, PCs, tablets, smartphones.
Major Players in The Global Encoder Market
Some of the key players in The Global Encoder Market include include Honeywell International Inc., Rockwell Automation, Inc., Heidenhain Corporation, Renishaw PLC, Scheneider Electric, TE Connectivity, Baumer Electric AG, OMRON Corporation, Panasonic Corporation, Mitutoyo Corporation, among others.
The Global Encoder Market Has Been Segmented Into:
Global Encoder Market, By Type
Linear Encoders
Rotary Encoders
Global Encoder Market, By Technology Type
Global Encoder Market, By End Use
Automotive
Consumers electronics
Industrial
Food & beverages
Medical
Printing
Textile
Others
Global Encoder Market, By Geography
North America

USA
Canada
Mexico
Rest of North America

Europe

UK
Germany
France
Spain
Italy
Russia
Rest of Europe

Asia Pacific

India
China
Japan
South Korea
Rest of Asia Pacific

Latin America, Middle East & Africa

Brazil
South Africa
UAE
Rest of LAMEA
Note: This table of contents is a content of a published report. As per client requirement, cross-sectional analysis across all industries or specific geography or 'country-based' analysis can be provided as a part of paid customization. Please place your queries on sales@sheeranalyticsandinsights.com or query@sheeranalyticsandinsights.com