The Global Enhanced Oil Recovery Market was $33.10 Bn in 2020, and it is expected to reach $78.90 Bn by 2030. It is eventually growing at a commendable high compound of annual growth rate CAGR of 9.1% between 2020-2030. Requiring advanced extraction techniques, the presence of several unconventional gas and oil resources, and mature fields in the country are the prime factor for the growth of this enhanced oil recovery market. Apart from that, the increasing government funding for EOR projects is another key factor for the market growth. Moreover, in the current pandemic of COVID-19 might make a slight difference in the growth rate in the current year. Now, moving forward, the robust demand for the Global Enhanced Oil Recovery Market in the Oil Recovery department is further estimated to create new necessities and augment the market of growth over the forecast period of 2020-2030.
Global Enhanced Oil Recovery Segment Is Estimated to Witness Remarkable Growth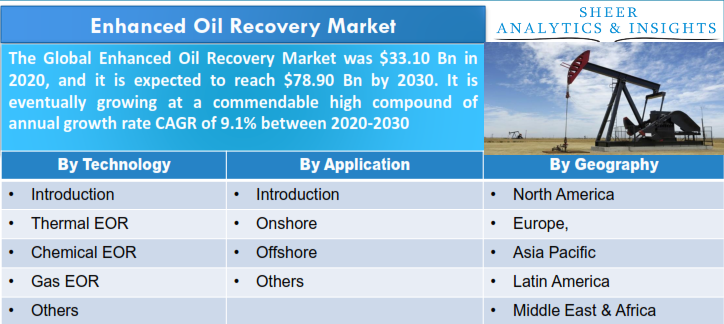 Source: SAI Research
The global Enhanced Oil Recovery market is segmented as technology and application. By technology, the global enhances oil recovery market is divided into Thermal EOR, Steam, Steam, In-Situ Combustion, Others ( Hot Water And Solar), Chemical EOR, Polymer, Surfactant, Alkaline Surfactant Polymer, Gas EOR, CO2, Other Gas (Nitrogen and Natural Gas), and Others (microbial, seismic, simultaneous water alternating gas, and water alternating gas). By application, the global enhanced oil recovery market has been bifurcated as Onshore and Offshore.
By Region, North America is Holding the Major Market Share
Global Enhanced Oil Recovery Market has been geographically segmented into North America, Asia Pacific, Latin America, Middle East, and Africa. In addition to this, North America has a significant share among those regions. As per the report, in 2019, the country accounted for a 38% share in the global market. Advanced technology, availability of the raw material, huge investment, and skilled labor are boosting the market of enhanced oil recovery market. Apart from North America, other regions such as Asia pacific or Europe are expected to increase the growth of the market in the forecast period of 2020-2030.
Major Players in Global Enhanced Oil Recovery Market
The report covers a detailed outlook of the company, and it includes the market share and company or industry profiles of key players operating in the global market. Key players in the report include Halliburton, BP p.l.c., Chevron Phillips Chemical Company LLC, China Petroleum & Chemical Corporation, ConocoPhillips Company, Equinor ASA, Exxon Mobil Corporation, Nalco Champion (Ecolab Inc.), Petrobras, PJSC Lukoil, Royal Dutch Shell plc, TechnipFMC, Croda International, RCS Group of Companies, and Ultimate EOR Services among others.
The Global Enhanced Oil Recovery Market Has Been Segmented into:
Global Enhanced Oil Recovery Market: By Technology
Thermal EOR

Steam
Steam
In-Situ Combustion
Others ( Hot Water And Solar)

Chemical EOR

Polymer
Surfactant
Alkaline Surfactant Polymer

Gas EOR

CO2
Other Gas (Nitrogen and Natural Gas)

Others (microbial, seismic, simultaneous water alternating gas, and water alternating gas)
Global Enhanced Oil Recovery Market: By Applications
Global Enhanced Oil Recovery Market: By Region
North America

USA
Canada
Mexico
Rest of North America

Europe

UK
Germany
France
Spain
Italy
Russia
Rest of Europe

Asia Pacific

India
China
Japan
South Korea
Rest of Asia Pacific

Latin America, Middle East & Africa

Brazil
South Africa
UAE
Rest of LAMEA
Note: This table of contents is a content of a published report. As per client requirement, cross-sectional analysis across all industries or specific geography or 'country-based' analysis can be provided as a part of paid customization. Please place your queries on sales@sheeranalyticsandinsights.com or query@sheeranalyticsandinsights.com