The Europe eGRC market was valued at $12.3 billion in 2021 and it is expected to reach $40.2 billion at a CAGR of 11.3% between 2022 and 2032. Enterprise Governance Risk Management controls an organization to achieve its targets by articulating preventive measures against the financial threat. The combination of consent is used to help organizations follow prescribed laws, guidelines, rules, and procedures. Thus, it also points to the efficiency that the internal employees of a company have to follow all the policies and procedures.
In Europe, U.K has been leading the eGRC market with highest revenue share over the last few years.
Factors such as the rising integration of modern technologies in risk management software increases in government regulatory frameworks and a surge in adoption of risk management solutions among various financial institutions are estimated to make huge growth opportunities in the European industries. Furthermore, in the last few years, the COVID-19 pandemic has been a leading key that made a positive influence on the growth of the eGRC market across the region. Auditors across multiple industries have been adopting risk management software and solutions to fulfill compliance requirements, as well as other audit-related organizational challenges. The subsequent rise in cyber-attacks and examples of various thefts associated with corporate data has helped the eGRC market to grow and gain some significant market opportunities. Moreover, to reduce such thefts business ventures have turned to risk management software packages in turn boosting the strength of the market. At present days, modern technologies such as artificial intelligence, machine learning, data analytics, and more have been adopted by multiple European companies and organizations. Thus, it has helped the market to gain several opportunities which have benefited the eGRC market across the region.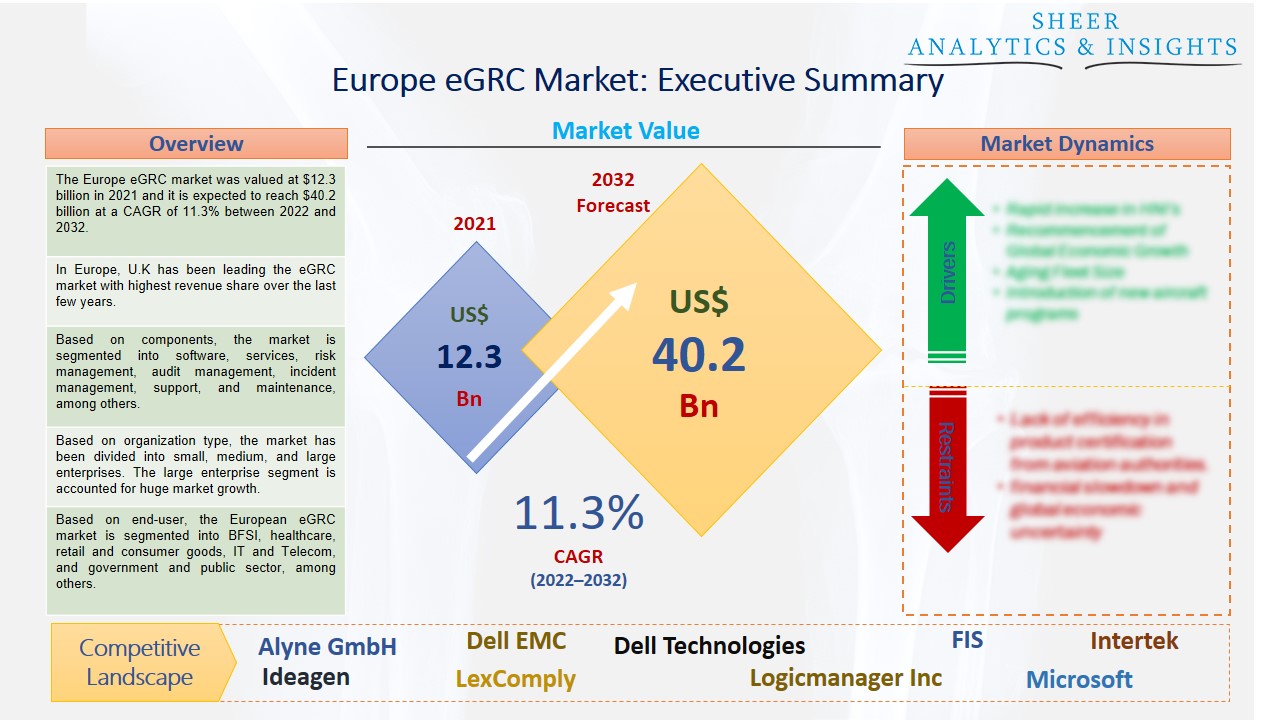 Source: SAI Research
Download Free PDF Sample Request
Based on components, the market is segmented into software, services, risk management, audit management, incident management, support, and maintenance, among others. The software segment has been dominating the eGRC market across the region. Due to growing cases of criminal activities such as cyber-attacks and financial thefts, identity theft, data theft, and physical thefts, among others in multiple European industries are estimated to boost the market during the forecast period.
Based on organization type, the market has been divided into small, medium, and large enterprises. The large enterprise segment is accounted for huge market growth. These enterprises are highly focused on implementing cost-effective solutions due to rising digital technologies such as machine learning, artificial intelligence, cloud, and others. These technologies are benefiting overall business units across the European market. Government guideline in growing its risk policies is trying to secure confidential information, which is expected to boost large investments in software and services.
Based on the deployment model, the Europe eGRC market is categorized into cloud and on-premises. The cloud-based deployment mode is expected to hold the largest share in upcoming years. Companies are adopting cloud-based platforms due to their scalability and cost-effectiveness. Therefore, the implementation of the cloud-based platform associated with the eGRC solution is used to efficiently manage data from multiple databases, different systems and warehouses. Hence, this segment is expected to have further growth in the European market.
Based on end-user, the European eGRC market is segmented into BFSI, healthcare, retail and consumer goods, IT and Telecom, and government and public sector, among others. Among these, the BFSI segment is anticipated to hold the largest share in the European eGRC market. The eGRC solution and services provide help in risk identification and management of the risks associated with customers, and multiple enterprises in the BFSI sector. Furthermore, the BFSI sector has been adopting advanced technologies and technological architecture for managing the risk landscapes. Thus, the BFSI segment is expected to boost the eGRC market across Europe.
Based on regions, the Europe eGRC market is categorized into the United Kingdom, Germany, France, Italy, Netherlands, Greece, Sweden, and other countries. Among these, major countries such as the United Kingdom and Germany are estimated to hold the largest share in upcoming years. Factors such as stringent regulatory government policies, increasing usage of advanced technologies, and integration of advanced data analytics such as artificial intelligence, machine learning, and more are providing solutions to a large number of companies and organizations across the region, which is projected to drive the growth of the market during the forecast period.
Microsoft Corporation has launched new eGRC services to fulfill today's security demand. The company has launched Microsoft Security Experts which provides several security-focused technologies from Microsoft and human expertise. U.K-based Company named Ideagen launched a brand new version of its Q-Pulse application to coincide with the eGRC software and solutions. It will create the latest evolution of quality, safety, risk, and compliance solutions. Alyne GmbH has launched a brand new campaign to reflect the evolution of the company's reach and ever-expanding offering into the European market. This new launch would enhance the core brand messaging which is estimated to convey a complex solution in an understandable and memorable process. Therefore, these new launches are expected to boost the eGRC market growth during the forecast period from 2022 to 2032.
According to the study, key players such as Alyne GmbH (Germany), Dell EMC (U.S), Dell Technologies Inc (U.S), FIS Corporation (U.S), IBM (U.S), Intertek (U.K), Ideagen (U.K), LexComply (India), Logicmanager Inc (U.S), Microsoft Corporation (U.S), Mphasis (India), MetricStream (U.S), MEGA International (France), Navex Global Inc (U.S), Oracle Corporation (U.S), Quantivate (U.S), Riskonnect Inc (U.S), Robert Half (U.S), StandardFusion (Canada), ServiceNow (U.S), Symphony Technology Group (U.S), SAS Institute (U.S), SAP SE (Germanay), The Woodbridge Company (Canada), Wise Company (U.K), Wolters Kluwer (Netherlands), among others are leading the Europe eGRC market.
Scope of the Report:
Report Coverage

Details

Market Size in 2021

US$ 12.3 Billion

Market Volume Projection by 2032

US$ 40.2 Billion

Forecast Period 2022 to 2032 CAGR
11.3%
Base Year:

2021

Historical Data

2019, 2020 and 2021

Forecast Period

2022 to 2032

Segments covered

By Component: Software, Services, Risk Management, Audit Management, Incident Management, Support and Maintenance & Others

By Organization Type: Small and Medium Enterprises, Large Enterprises

By Deployment Mode: Cloud, On-Premises

By End-User Type: BFSI, Healthcare, Retail and Consumer Goods, IT and Telecom, Government and Public Sector, Manufacturing & Others

Geographies covered

Europre (United Kingdom, Germany, France, Italy, Netherlands, Greece, Sweden, Others)

Companies covered
Alyne GmbH (Germany), Dell EMC (U.S), Dell Technologies Inc (U.S), FIS Corporation (U.S), IBM (U.S), Intertek (U.K), Ideagen (U.K), LexComply (India), Logicmanager Inc (U.S), Microsoft Corporation (U.S), Mphasis (India), MetricStream (U.S), MEGA International (France), Navex Global Inc (U.S) and others
Europe eGRC Market Has Been Segmented Into:
Europe eGRC Market –by Component:
Software
Services
Risk Management
Audit Management
Incident Management
Support and Maintenance
Others
Europe eGRC Market – by Organization Type:
Small and Medium Enterprises
Large Enterprises
Europe eGRC Market – by Deployment Mode:
Europe eGRC Market – by End-User Type:
BFSI
Healthcare
Retail and Consumer Goods
IT and Telecom
Government and Public Sector
Manufacturing
Others
Europe eGRC Market – by Regions:
Europe
United Kingdom
Germany
France
Italy
Netherlands
Greece
Sweden
Others
Note: This table of contents is a content of a published report. As per client requirement, cross-sectional analysis across all industries or specific geography or 'country-based' analysis can be provided as a part of paid customization. Please place your queries on sales@sheeranalyticsandinsights.com or query@sheeranalyticsandinsights.com