The Europe sports betting market was valued at $21.1 billion in 2021 and it is expected to reach $89.9 billion at a CAGR of 13.10% between 2022 and 2032. One of the most popular betting is wagering in sports, which taps into the passion of sports fans. A bet placed on a sport allows fans to prove their knowledge of a sport to show their loyalty to a particular team or competitor. Sports such as soccer, rugby, cricket, and horse racing, among others are also the focus of considerable gambling.
By region, Europe holds the largest share in the sports betting market.
Today, one of the most common forms of sports betting is odds betting, in which a casino or bookmaker evaluates the contestants in competition and assesses the probability of victory. Maximum football and basketball matches use a system known as a point spread. Thus, bookmakers determine the number of points that would serve as a spread for a particular contest. Moreover, there is also mixed systems betting. In a football match, odds are often set for the exact score of the game, while in hockey bettors first get extra goals and then bet with odds. Pools and fantasy leagues are also becoming popular in sports betting. Hence, they are widely organized by friends and coworkers. In this case, internet-based companies increasingly run large-scale versions of these activities. However, if bettors have superior knowledge regarding athletes and terms, then sports betting could be constantly profitable for them. Although the rising demand for sports betting across the European market is estimated to drive the sports betting market during the forecast period. Moreover, with recent global digitalization and its revolution, cloud platforms are being preferred widely for storing data, and there have been rising online transactions and payments among commercial as well as retail users.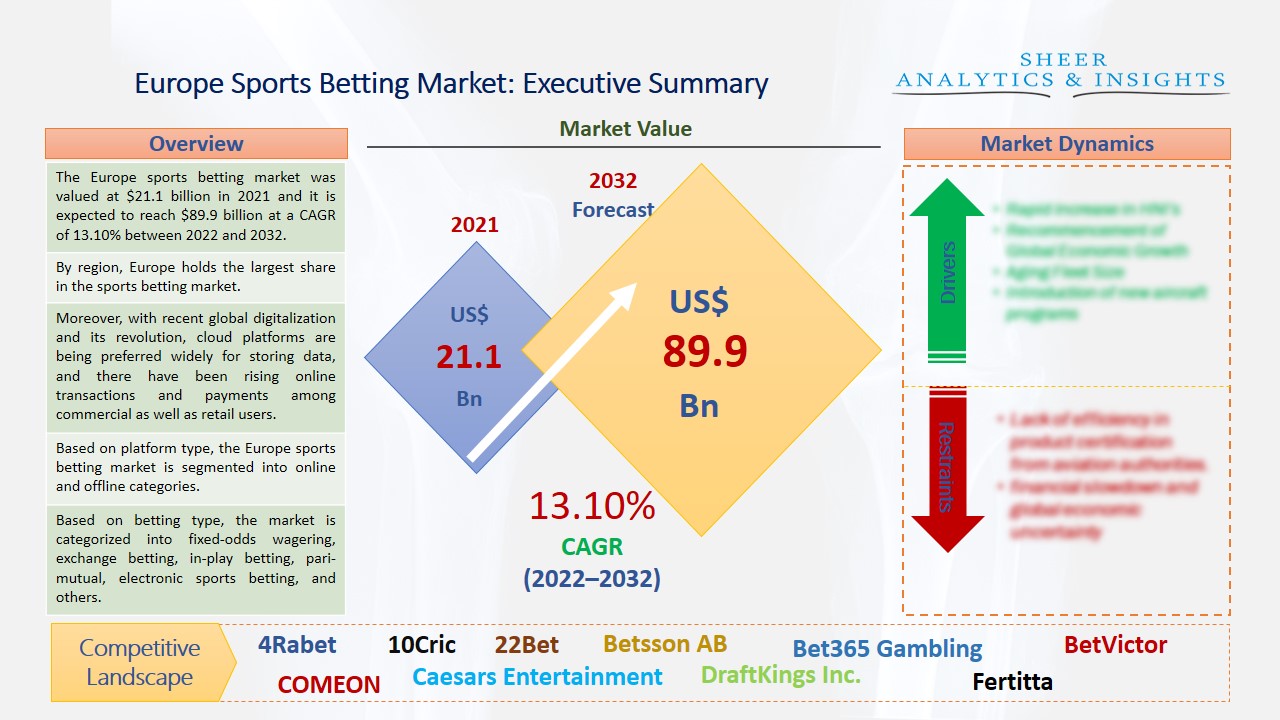 Source: SAI Research
Based on platform type, the Europe sports betting market is segmented into online and offline categories. The online category is estimated to gain the largest share across the region due to the rising sports activities through online games. The offline segment is also supporting the overall market from various sports such as football, cricket, horse racing, and hockey, among others. Based on sports type, the market is categorized into football, basketball, horse racing, baseball, cricket, hockey, and others. Among these, the football segment is accounted for the largest revenue share and it is anticipated to exhibit the highest growth rate during the forecast period due to the popularity of such games and enormous fan base worldwide owing to famous football players across the Europe region. Moreover, the rising number of worldwide tournaments such as FIFA World Cup, FA Cup, Copa America, UEFA, and Europa League, among other football championships has driven this segment and these factors are estimated to drive the growth of the Europe sports betting market throughout the forecast period.
Based on betting type, the market is categorized into fixed-odds wagering, exchange betting, in-play betting, pari-mutual, electronic sports betting, and others. The fixed-odds wagering category is becoming the largest segment and it holds the maximum revenue share, which would help the market, grow in the future. Due to the rising familiarity of this segment among customers that bet on sports such as baseball, football, cricket, and hockey, among others across Europe is expected to maintain its leading position throughout the upcoming years. However, the exchange betting segment is expected to hold the second-largest revenue share across the Europe market. Due to the rising number of people that are leveraging the exchange betting process to place their wagers, the exchange betting category is estimated to drive the growth of the market. Based on regional type, the Europe sports betting market is segmented into Germany, France, Italy, the United Kingdom, Russia, and the rest of the European countries. Germany and United Kingdom are anticipated to drive the market growth during the upcoming years due to the rising sports activities including online and other offline sports. However, some laws and governmental restrictions for online and offline activities are estimated to hamper the market growth for a while.
Major players across the European region are trying to participate in the competitive landscape with their strategic collaborations, mergers, and acquisition, partnerships to expand their business growth across various countries in Europe. 888 Holdings Company recently announced that it has signed an agreement with five industry veterans to form a new joint venture, which would operate 888 brands in online betting and sports markets across several countries in Europe. In 2020, Playtech, the world's leading gambling technology company, announced to launch its award-winning casino content with long-term strategic partner Bet365. Moreover, the company Bet365 has launched an application through which customers can bet on online platforms from various European countries in sports activities such as football, hockey, and horse racing, among others. In 2022, the Company called Entain launched an innovation hub with a first lab to open in London, which is projected to start-up investments and collaborations with the United Kingdom, European and global partners. Therefore, these investments and new launches of major companies are expected to drive the growth of the market during the forecast period from 2022 to 2032.
According to the study, key players such as 4Rabet (Cyprus), 10Cric (India), 22Bet (Cyprus), 888 Holdings (Spain), BetVictor (United Kingdom), Betsson AB (Sweden), Bet365 Gambling (U.K), COMEON (Canada), Caesars Entertainment (U.S), Churchill Downs Incorporated (U.S), DraftKings Inc (U.S), Entain (Isle of Man), Flutter Entertainment (Ireland), Fertitta Entertainment LLC (U.S), Kindred Group (Malta), MacAndrews and Forbes Holding (U.S), MGM Resorts International (U.S), Playtech (Estonia), PariMatch (Cyprus), Paddy Power (Ireland), Rivalry Corporation (Canada), SGHC limited (U.S), The Starts Group (Canada), Webis Holdings (Isle of Man), among others are leading the Europe sports betting market.
Scope of the Report:
Report Coverage

Details

Market Size in 2021

US$ 21.1 Billion

Market Volume Projection by 2032

US$ 89.9 Billion

Forecast Period 2022 to 2032 CAGR
13.1%
Base Year:

2021

Historical Data

2019, 2020 and 2021

Forecast Period

2022 to 2032

Segments covered

By Platform Type: Online, Offline

By Sports Type: Football, Basketball, Horse Racing, Baseball, Cricket, Hockey & Others

By Betting Type: Fixed Odds Wagering, Exchange Betting, In Play Betting, Pari-Mutuel, Electronic Sports Betting & Others

Geographies covered

Europe: Germany, France, Italy, U.K., Russia, Rest of Europe Countries

Companies covered

4Rabet (Cyprus), 10Cric (India), 22Bet (Cyprus), 888 Holdings (Spain), BetVictor (United Kingdom), Betsson AB (Sweden), Bet365 Gambling (U.K), COMEON (Canada), Caesars Entertainment (U.S), Churchill Downs Incorporated (U.S), DraftKings Inc (U.S), Entain (Isle of Man), Flutter Entertainment (Ireland), Fertitta Entertainment LLC (U.S), Kindred Group (Malta), MacAndrews and Forbes Holding (U.S), MGM Resorts International (U.S), Playtech (Estonia), PariMatch (Cyprus), Paddy Power (Ireland), Rivalry Corporation (Canada), SGHC limited (U.S), The Starts Group (Canada), Webis Holdings (Isle of Man), among others
The Europe Sports Betting Market Has Been Segmented Into:
The Europe Sports Betting Market – by Platform Type:
The Europe Sports Betting Market – by Sports Type:
Football
Basketball
Horse Racing
Baseball
Cricket
Hockey
And Others
The Europe Sports Betting Market – by Betting Type:
Fixed Odds Wagering
Exchange Betting
In Play Betting
Pari-Mutuel
Electronic Sports Betting
And Others
The Europe Sports Betting Market – by Regional Type:
Europe
Germany
France
Italy
U.K.
Russia
Rest of Europe Countries
Note: This table of contents is a content of a published report. As per client requirement, cross-sectional analysis across all industries or specific geography or 'country-based' analysis can be provided as a part of paid customization. Please place your queries on sales@sheeranalyticsandinsights.com or query@sheeranalyticsandinsights.com