The global facial injectable market was valued at $4.7 billion in 2021 and it is expected to reach $14.3 billion at a CAGR of 10.2% between 2022 and 2032. Consumers' increasing emphasis on looks has fuelled the market for facial injectable in recent years. Another factor driving market expansion is the rise in awareness of minimally invasive procedures as a result of different beauty advertisements run by major market participants.
By region, North America is expected to hold its dominant position in the facial injectable market globally.
To reduce the appearance of wrinkles and restore the facial fullness that diminishes with age, facial injectable are a type of filler that is manufactured or naturally occurring chemicals that are injected into the lines, folds, and tissues of the face. The apparent indications of aging, such as skin laxity, fine lines, and wrinkles, can be reversed using facial injectable procedures, which are widely regarded as safe and effective. Even without a topical anesthetic or nerve block, the majority of facial injections are not painful, but we do not want our patients to have any worry before the treatment. With anesthetic cream administered to the sites before injection, many patients have tolerable pain alleviation. Deep injections might last for up to a year, while more recent medicines on the market could last for up to two years. Several benefits of facial injectable are propelling the market growth. For instance, dermal fillers restore volume to your face, smooth out wrinkles, and plump up lines. These medications are injected directly beneath your skin by your healthcare professional. Dermal fillers are chosen by people to accentuate their facial features or to look younger.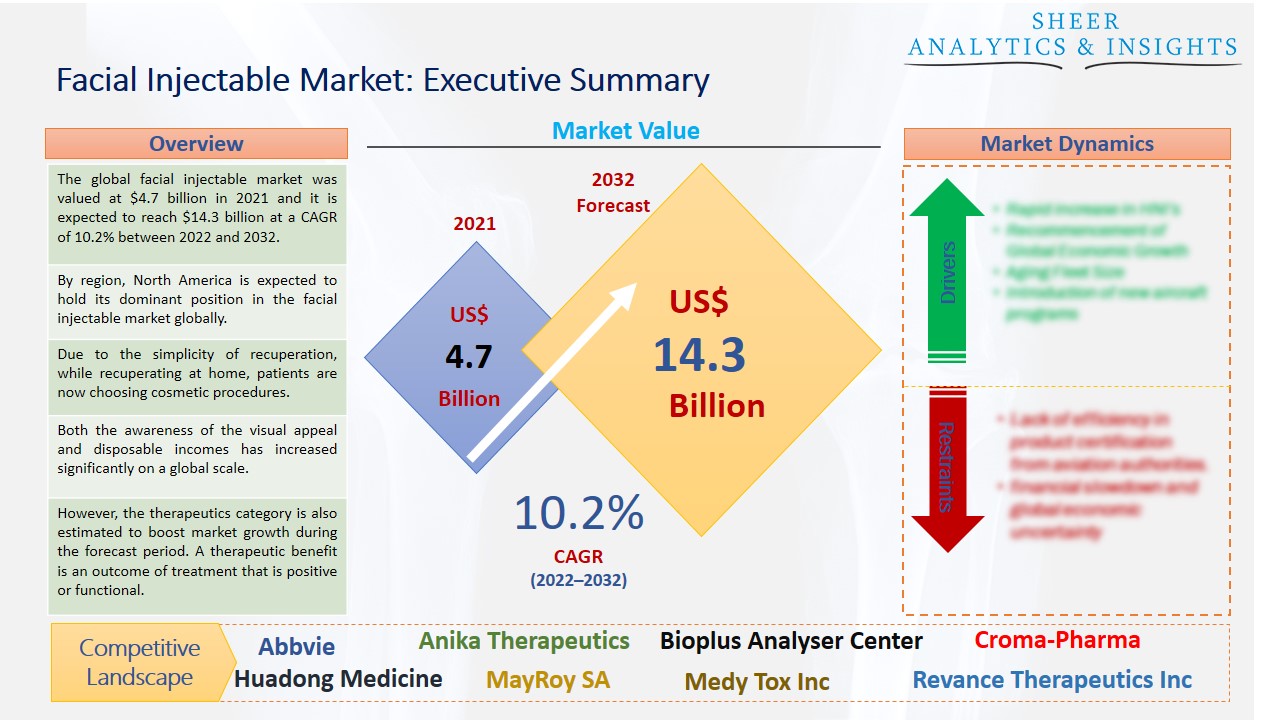 Source: SAI Research
Due to the simplicity of recuperation, while recuperating at home, patients are now choosing cosmetic procedures. As a result, the market experienced a surge during the epidemic, and this tendency is anticipated to continue. The demand for facial injectable procedures is anticipated to be driven by the presence of well-established key players like Allergan, Sinclair Pharma, and Galderma with a comprehensive injectable fillers portfolio treating a broad range of skin indications like wrinkles, pigmentation, lip plumping, scars, restoring facial fullness, as well as enhancing facial contours. The population's growing desire to seem youthful and aesthetically pleasing is anticipated to fuel the market during the projected period, along with rising face injectable effectiveness and approvals.
Cosmetic procedures with less risk are used in aesthetic operations to enhance attractiveness. Both the awareness of the visual appeal and disposable incomes has increased significantly on a global scale. As a result, attitudes toward cosmetic procedures have changed as more people opt to enhance their physical features. As they are thought to be safer and necessitate little to no downtime, minimally invasive procedures like face injectable are becoming more and more popular. Among the facial injectable on the market are neurotoxins like botulinum toxin and dermal fillers like hyaluronic acid and calcium hydroxyapatite. The market for cosmetic products has increased as a result of the demand for minimally invasive cosmetic operations. Moreover, the market for cosmetic products has increased as a result of the demand for minimally invasive cosmetic operations. Due to the desire to maintain a natural and healthy appearance, aesthetic medicine is gaining major popularity in emerging nations. People there view it as a standard component of medical care. These rising factors would create more growth opportunities for the market.
Based on product type, the anti-aging or anti-wrinkle injection segment accounted for the largest share of the market due to its rising demand among a wide number of customers across several emerging nations. Anti-wrinkle injections are intended to provide a minimally invasive, non-surgical option for enhancing and maintaining the appearance of your facial skin. The forehead creases, frown lines, and crow's feet that result from muscle over activity respond best to this anti-wrinkle treatment. The results' duration is between three and four months. All of our patients are informed by us that the first year of anti-wrinkle injection therapy may require a total of three treatment sessions. On the other hand, the polymer fillers segment is expected to accelerate market growth in the future. To lower the price of producing additives, polymer additives are employed. Fillers often referred to as extenders, are additions that give a polymer more bulk, effectively lowering the amount of base polymer required and lowering costs.
In terms of application type, the market is categorized into therapeutics and aesthetics. The aesthetic category holds the largest share of the market and is projected to accelerate market growth during the forecast period. This expansion is the result of more people using facial injectable for aesthetic operations including treating lip lines, facial wrinkles, and facial lines, to mention a few. The market is anticipated to increase as a result of factors including rising disposable income and increasing awareness of cosmetic procedures. However, the therapeutics category is also estimated to boost market growth during the forecast period. A therapeutic benefit is an outcome of treatment that is positive or functional. Any procedure or approach used to treat illnesses or disorders falls under the definition of the word therapeutic. Therefore, a therapeutic benefit is an advantageous outcome that results from a procedure intended to treat a disease or problem.
Based on end-user type, the beauty clinics segment holds the largest share of the market. Regular facials not only help you unwind but also significantly enhance the tone, texture, and look of your skin. Additionally, facials support collagen formation and cellular health by enhancing circulation. Furthermore, regular salon visits will keep your hair in top shape, which is one of the main benefits. For your hair to be properly groomed and cared for, choosing to visit the salon every 4 weeks is advised. These factors would accelerate this segment over the forecast period.
Geographically, North America holds most of the share of the facial injectable market globally. The large geriatric population in the United States and Canada is responsible for this growth, which is expected to fuel the demand for facial injectable over the forecast period. America is the largest regional market region as a result of the expansion of the biotechnology industry, cancer and diabetes sectors, and a developed health sector. Additionally, the industry has grown as a result of more regulatory approvals for facial injectable. However, several nations, including South Korea, Australia, and India, support the Asia-Pacific area. In these developing nations, there is projected to be a growing emphasis on physical beauty, which will significantly impact the market for facial injectable treatments. This is due to increased healthcare infrastructure investment, an aging population, and growing public knowledge of effective cosmetic surgery options. Other growth drivers for this region include a rise in medical tourism and rising disposable income.
Moreover, mergers, collaborations, partnerships, and agreements between facial injectable manufacturers are boosted by increasing demand for facial injectable, positive government assistance in terms of product approval for new application areas, and commercialization of unique solutions in the facial injectable market. Due to the rise in cosmetic tourism across Asia-Pacific, cosmetic product manufacturers are always concentrating on expanding their product reach. All these primary factors would boost the market growth during the forecast period from 2022 to 2032.
According to the study, key players such as Abbvie (U.S), Anika Therapeutics (U.S), Bioplus Analyser Center (India), Croma-Pharma (Austria), Galderma Holdings SA (Switzerland), Huadong Medicine (China), MayRoy SA (U.S), Medy Tox Inc (South Korea), Revance Therapeutics Inc (U.S), SciVision Biotech (Taiwan), Teva Pharmaceuticals (Israel), Zimmer Biomet (U.S), among others are leading the global facial injectable market.
Scope of the Report:
Report Coverage
Details
Market Size in 2021

US$ 4.7 Billion

Market Volume Projection by 2032

US$ 14.3 Billion

Forecast Period 2022 to 2032 CAGR
10.2%
Base Year:

2021

Historical Data

2019, 2020 and 2021

Forecast Period

2022 to 2032

Segments covered

By Product Type: Polymer Fillers, Collagen, Anti-Aging or Anti-Wrinkle Injection & Injectable Implants

By Application Type: Therapeutics, Aesthetics

By End-User Type: Beauty Clinics, Dermatology Clinics, Hospitals

Geographies covered

North America, Europe, Asia-Pacific, LAMEA

Companies covered
Abbvie (U.S), Anika Therapeutics (U.S), Bioplus Analyser Center (India), Croma-Pharma (Austria), Galderma Holdings SA (Switzerland), Huadong Medicine (China), MayRoy SA (U.S), Medy Tox Inc (South Korea), Revance Therapeutics Inc (U.S), SciVision Biotech (Taiwan), Teva Pharmaceuticals (Israel), Zimmer Biomet (U.S) & Others
The Global Facial Injectable Market Has Been Segmented Into:
The Global Facial Injectable Market – by Product Type:
Polymer Fillers
Collagen
Anti-Aging or Anti-Wrinkle Injection
Injectable Implants
The Global Facial Injectable Market – by Application Type:
The Global Facial Injectable Market – by End-User Type:
Beauty Clinics
Dermatology Clinics
Hospitals
The Global Facial Injectable Market – by Regions:
North America
Europe

U.K.
France
Germany
Italy
Rest of Europe

Asia Pacific

India
China
Japan
Australia
Rest of Asia Pacific

LAMEA
Middle East
Latin America
Africa

South Africa
Egypt
Others
Note: This table of contents is a content of a published report. As per client requirement, cross-sectional analysis across all industries or specific geography or 'country-based' analysis can be provided as a part of paid customization. Please place your queries on sales@sheeranalyticsandinsights.com or query@sheeranalyticsandinsights.com