The 'Global Blockchain Technology Market' was valued at $6.1 Billion in 2020 and is expected to reach $183.2 Billion 2031 at the CAGR of 36.8% between 2021 and 2031
Blockchain Technology Market has successfully incorporated rectifications against all major failure models which has massively impacted business models for generations, which is likely to augment the demand of the technology throughout various industry verticals. Byzantine fault tolerance being a major feature incorporated through blockchain where each node crash can be properly prevented and rectified as there are series of blocks protecting each node form crashing and a series of backup data to make a pre-empted data set based on backup data provided by the existing series of chains. The legendary problem of double spending has also been major innovative system incorporation in blockchain technology. It also legitimizes the transaction without any intermediary also combines proof of transaction, digital identity of the inception block and follows till the end user making it impossible to create a double spending loop since both the parties being present in the same chain creating a massive potential market for various applications and industry to adapt the technology from 2021 to 2031.
Market estimates for this study have been based on revenue being derived through regional pricing trends. Demand for Blockchain Technology has been derived by analyzing the global and regional demand for Blockchain Technology in each application for its respective functions. The global Blockchain Technology market has been analyzed based on expected demand. Forecasts have been based on expected demand from Blockchain Technology applications. We have used the bottom-up approach to estimate the global revenue of the Blockchain Technology market, split into regions. Based on provider type, application and function type, we have summed up the individual revenues from all the regions to achieve the global revenue for Blockchain Technology. The application split of the market has been derived using a bottom-up approach for each regional market separately, with the global application segment split being an integration of regional estimates. Companies were considered for the market share analysis, based on their innovation and application and revenue generation. In the absence of specific data related to the sales of Blockchain Technology of several privately held companies, calculated assumptions have been made in view of the company's penetration and regional presence across all applications.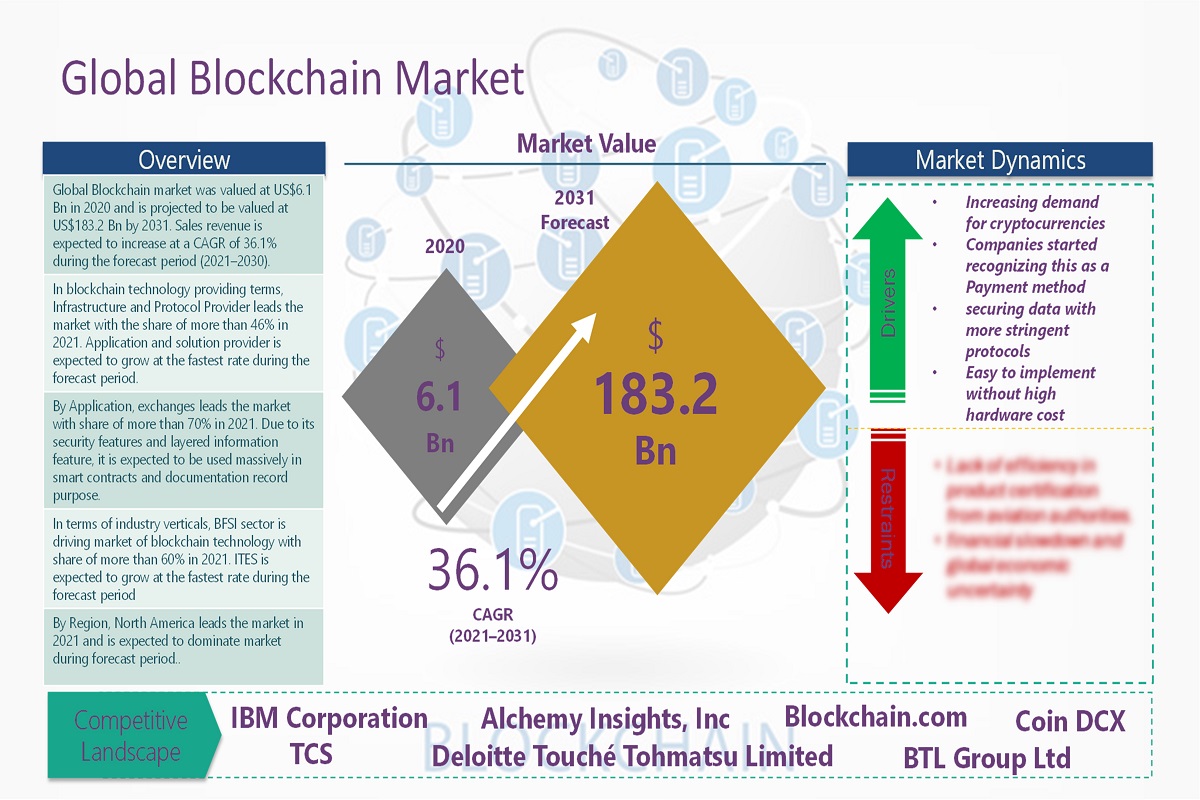 Source: SAI Research
Which holds major share of application market. But with growing popularity of other applications such as smart contracts, documentations and digital identity, and exchanges, share of blockchain usage in payment methods is expected to go below 36.8% through the forecast period 2021-2031. Market of 'Blockchain technology' is still at a very nascent stage and with a billion dollar investments in research and development of applications throughout various industry verticals, market growth has a very high potential.
Major applications of blockchain technology covered in report are payments, exchanges, smart contacts, 'documentation and digital identity covering various sectors as banking, financial services and insurance (BFSI)', 'government and public sectors', 'healthcare and life sciences', 'retail and e-commerce', automotive, and 'media and entertainment'. World Economic Forum predicted 10% of the global GDP to be stored in Blockchain by the year 2031.
Global economy is on the verge of a tectonic shift towards a transparent system with legitimacy where Blockchain technology plays a vital role influencing the shift with its innovative approach of distributed open ledger where transactions are noted permanently with digital identity, documentation, payment history, smart contracts and many more where all the information is stored in blocks with a chain of blocks backing up the data since inception giving record keeping a whole new platform. Proof of work mechanism is also a platform where intellectual properties can be transferred or kept without any chance of replication or delicacy or false claims as the network itself keeps a record of the inception of the property in the original block where it first appeared providing a platform with millions or even billions of users verifying the legitimacy. Transparent economic environment would provide a new world with a solution to accountability, one of the major problems which have consequences in every aspect of economic flaws and corruption. Blockchain technology has the potential to create a corruption free and accountable environment leading to massive impacts on every domain possible.
North America as a leader in the technology investing a huge amount of resources to innovate more applications of Blockchain technology throughout the sectors providing a pathway for others to join the platform in order to develop an accountable economic culture with long term benefits and impacts. Europe is also in the verge of expansion with blockchain technology as major companies like Microsoft, KPMG, IBM implementing them throughout their own distribution system creating platforms globally for faster delivery and growth of blockchain. Market of blockchain technology will experience a massive and sudden boost in terms of revenue, potential applications, and industry verticals providing and creating a network of blockchain to operate at a very fundamental level.
Some of the major players in the Blockchain technology market are Alchemy Insights, Inc, Blockchain Technology.com, Microsoft Corporation, IBM Corporation, Deloitte Touche Tohmatsu Limited, Paxful, Mythical games, Chainalysis, Inc., Ripple Labs Inc., Chain Inc., BTL Group Ltd, Global Arena Holding Inc., New York Digital Investment Group LL, Coin DCX, Robinhood Markets, Inc., Digitalx Limited, and EarthPort Plc.
Scope of the Report
Report Coverage

Details

Base Year:

2020

Market Size in 2020:

US$ 6.1 Billion

Historical Data for:

2018 to 2020

Forecast Period:

2021 to 2031

Forecast Period 2021 to 2031 CAGR:

36.8%

2031 Value Projection:

US$ 183.2 Billion

Segments covered:

By Provider Type: (Application & Solution Provider, Middleware Provider, Infrastructure and Protocol Provider.)

By Application: (Payments, Exchanges, Smart Contracts, Documentation, Digital Identity)

By Industry Verticals: (Banking, Financial services and Insurance(BFSI), Government and Public Sector, Healthcare, Retail and E-commerce, Logistics and Transportation, Media and Entertainment, ITES

Geographies covered:

North America: U.S., Canada, Mexico

Europe: Germany, U.K., Spain, France, Italy, Russia, Rest of Europe

Asia Pacific: China, India, Japan, Australia, South Korea, ASEAN, and Rest of Asia Pacific

Africa: South Africa, North Africa, and Africa

Middle East: GCC, Israel, and Rest of Middle East

Latin America: Brazil, Argentina, Rest of Latin America

Companies covered:

Alchemy Insights, Inc, Blockchain Technology.com, Microsoft Corporation, IBM Corporation, Deloitte Touche Tohmatsu Limited, Paxful, Mythical games, Chainalysis, Inc., Ripple Labs Inc., Chain Inc., BTL Group Ltd, Global Arena Holding Inc., New York Digital Investment Group LL, Coin DCX, Robinhood Markets, Inc., Digitalx Limited, and EarthPort Plc.
The global Blockchain Technology market has been segmented into:
Global Blockchain Technology Market: By Provider
Application & Solution Provider
Middleware Provider
Infrastructure and Protocol Provider
Global Blockchain Technology Market: By Application
Payments
Exchanges
Smart Contracts
Documentation
Digital Identity
Global Blockchain Technology Market: By Industry verticals
Banking, Financial services and Insurance(BFSI)
Government and Public Sector
Healthcare
Retail and E-commerce
Logistics and Transportation
Media and Entertainment
ITES
Global Blockchain Technology Market: By Geography
Europe

U.K.
Italy
France
Germany
Rest of Europe
Asia Pacific

India
China
Japan
Rest of Asia Pacific
Middle East and Africa

UAE
South Africa
Rest of Middle East and Africa
Latin America

Brazil
Argentina
Rest of Latin America
Note: This table of contents is a content of a published report. As per client requirement, cross-sectional analysis across all industries or specific geography or 'country-based' analysis can be provided as a part of paid customization. Please place your queries on sales@sheeranalyticsandinsights.com or query@sheeranalyticsandinsights.com