The global glycerin market was valued at $1.89 billion in 2021 and it is expected to reach $4.7 billion at a CAGR of 8.9% between 2022 and 2032. Glycerin is a colorless, odorless liquid with having sweet flavor. It is trihydroxy alcohol that is also known as glycerol. Glycerin is mainly produced in two different industrial processes such as hydrolysis and transesterification of fatty acids. Moreover, it is widely used in various products such as food and beverages, beauty, and personal care products.
Asia-Pacific hold the largest share in glycerin market across the globe and the region is expected to hold its leading position during the forecast period.
Glycerin is widely used to increase the viscosity, density, and freezing point of product formulations. Grade glycerin is segmented into crude glycerin and refined glycerin which is used in pharmaceutical as well as personal, cosmetics and home care products. However, refined glycerin is expected to be the largest demand in end-user industries over the upcoming years. Moreover, government regulation acts in various countries have been imposed on glycerin products for the safety of their consumers. Therefore, these are expected to negatively impact the growth of the global glycerin market through the forecast period. Based on the source, glycerin is segmented into biodiesel, fatty acids, fatty alcohols, and other resources. Among these sources, bio-diesel is expected to boost the market due to its increasing demand in the transportation and petroleum industries.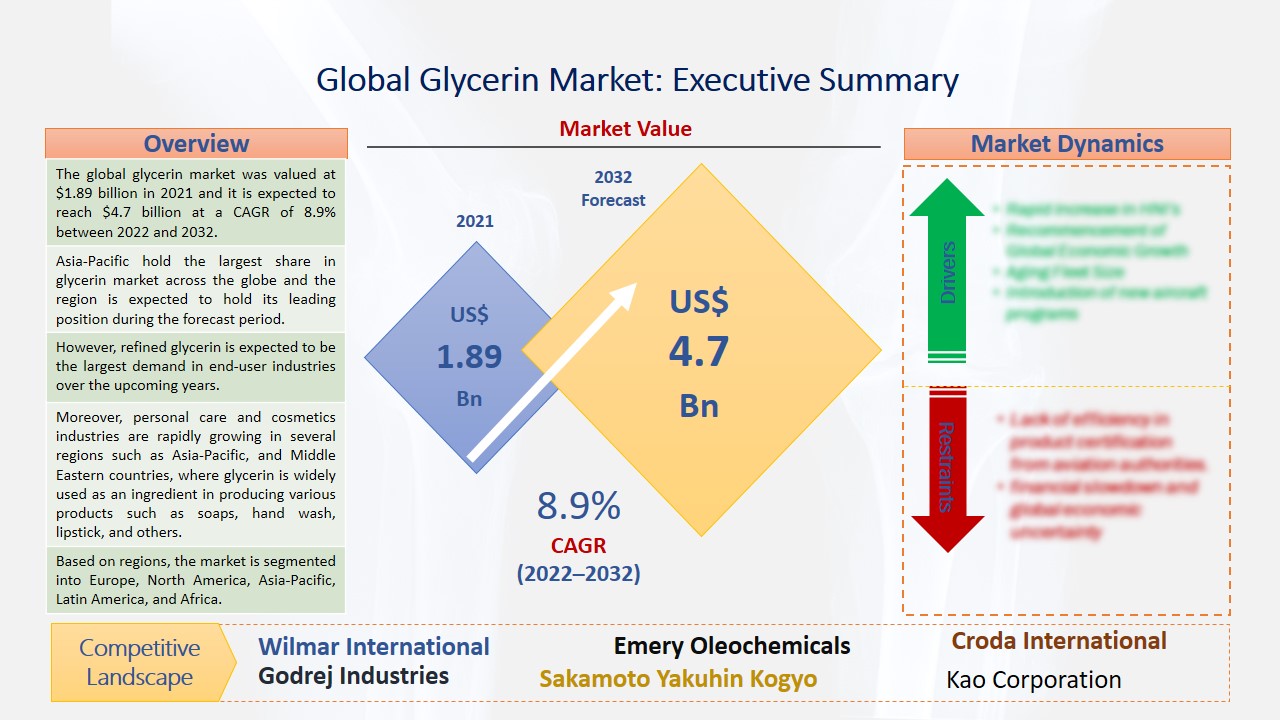 Source: SAI Research
Glycerin is used safely in personal care such as toothpaste, shaving cream, and skincare products. It also helps to prevent the loss of moisture in various food products. Therefore, glycerin is used in denaturants, oral care, skin and hair protection, and fragrance ingredients. Demand for glycerin is increasing at present days because it is helpful for human skin as it repairs the skin, and reduces trans-epidermal water loss. Several global manufacturers such as Unilever, Johnson and Johnson, and others are adopting glycerol as a raw material to fulfill the rising demand of consumers. Moreover, personal care and cosmetics industries are rapidly growing in several regions such as Asia-Pacific, and Middle Eastern countries, where glycerin is widely used as an ingredient in producing various products such as soaps, hand wash, lipstick, and others.
Based on regions, the market is segmented into Europe, North America, Asia-Pacific, Latin America, and Africa. Among these regions, the Asia-Pacific region is dominating the glycerin market across the globe. Moreover, China is the largest consumer of glycerin in the Asia-Pacific region. Products such as personal care and cosmetics are one of the largest and fastest-growing sections in the country. In addition, increasing demand for skin care, personal hygiene, hair care, fragrances, makeup, and other things are expected to have a positive impact on the growth of the glycerin market in China.
Key players such as Wilmar International (Singapore), Emery Oleochemicals (Malaysia), IOI Group (Malaysia), Croda International (U.K), Cargill Inc (U.S), Kao Corporation (Japan), P&G Chemicals (U.S), Godrej Industries (India), Groupe Avril (France), Granol (Brazil), Sakamoto Yakuhin Kogyo Company Limited (Japan), Twin Rivers Technology (U.S) and others are leading the global glycerin market. Some major players are trying to enhance their business growth by implementing new strategies to stay ahead in the competitive market.
Scope of the Report:
Report Coverage

Details

Base Year:

2021

Market Size in 2021:

US$ 1.89 Billion

Historical Data for:

2019, 2020 and 2021

Forecast Period:

2022 to 2032

Forecast Period 2022 to 2032 CAGR:

8.9%

2032 Value Projection:

US$ 4.7 Billion

Segments covered:

By Grade: Refined Glycerin, Crude Glycerin.

By Application: Beauty and Personal Care, Industrial Chemicals, Pharmaceutical, Food and Beverage, Animal Feed, Fuel Additive and Others.

By Source: Vegetable Oil, Soaps, Bio-Diesel, Synthetic & Others.

Geographies covered:

North America: U.S., Canada, Mexico

Europe: Germany, U.K., Spain, France, Italy, Russia, Rest of Europe

Asia Pacific: China, India, Japan, Australia, South Korea, ASEAN, and Rest of Asia Pacific

Africa: South Africa, North Africa, and Africa

Middle East: GCC, Israel, and Rest of Middle East

Latin America: Brazil, Argentina, Rest of Latin America

Companies covered:

Wilmar International (Singapore), Emery Oleochemicals (Malaysia), IOI Group (Malaysia), Croda International (U.K), Cargill Inc (U.S), Kao Corporation (Japan), P&G Chemicals (U.S), Godrej Industries (India), Groupe Avril (France), Granol (Brazil), Sakamoto Yakuhin Kogyo Company Limited (Japan), Twin Rivers Technology (U.S) and others
The Global Glycerin Market Has Been Segmented Into:
The Global Glycerin Market – By Grade:
Refined Glycerin
Crude Glycerin
The Global Glycerin Market – By Application:
Beauty and Personal Care
Industrial Chemicals
Pharmaceutical
Food and Beverage
Animal Feed
Fuel Additive
And Others
The Global Glycerin Market – By Source:
Vegetable Oil
Soaps
Bio-Diesel
Synthetic
And Others
Global Glycerin Market – By Geography
North America
Europe

U.K.
Russia
France
Italy
Germany
RoE

Asia Pacific

South Korea
Japan
China
India
Australia
RoAPAC

Latin America, Middle East and Africa (LAMEA)
Note: This table of contents is a content of a published report. As per client requirement, cross-sectional analysis across all industries or specific geography or 'country-based' analysis can be provided as a part of paid customization. Please place your queries on sales@sheeranalyticsandinsights.com or query@sheeranalyticsandinsights.com