The global green hydrogen market was valued at $3.45 billion in 2021 and it is expected to reach $170.9 billion at a CAGR of 40.7% between 2022 and 2032. Water is electrolyzed to create green hydrogen, which is then processed using electricity provided by renewable energy sources like solar or wind energy. The demand for the hydrogen economy is anticipated to be driven by the presence of supportive government policies promoting it as well as growing environmental concerns around rising carbon emissions from the use of fossil fuels. It is projected that this tendency will offer the industry a potential growth environment.
By region, Europe holds the largest green hydrogen market globally.
One of the objectives that nations from all over the world have set for 2050 is decarbonizing the planet. The generation of an element like hydrogen, which produces green hydrogen, is one of the keys to achieving this goal because it now accounts for more than 2% of all worldwide CO2 emissions. Learn how this is accomplished and what effect it will have over the next few decades. Moreover, the industry and hydrogen have a long-standing partnership. Since the beginning of the 19th century, this gas has been utilized to power automobiles, airships, and spacecraft. The global economy's unavoidable process of decarburization will increase the significance of hydrogen. In addition, we will surely be looking at one of the fuels of the future if its production costs drop by 50% by 2030 as anticipated by the World Hydrogen Council.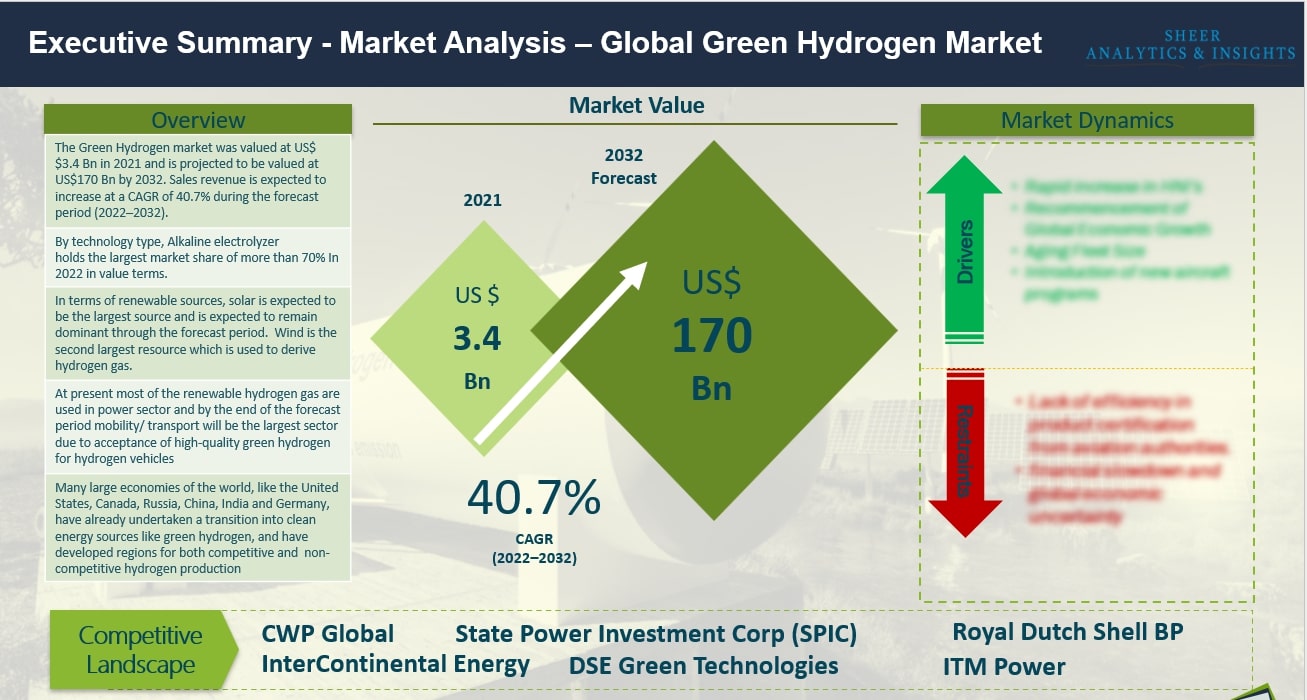 Source: SAI Research
Download Free PDF Sample Request
For the green hydrogen market, market-trend-based strategies include implementing AI technology to boost operational efficiency, providing IoT-related advisory solutions to boost operational efficiency, implementing digital twin technology solutions to lower risks, implementing smart meters to precisely measure the flow rate and concentration of hydrogen gas, increasing investments to take advantage of the rising demand, and concentrating on growth strategies and formulas. In the green hydrogen market, players have adopted strategies such as expanding and modernizing existing green hydrogen projects across the globe through partnerships and collaborations, constructing new, cleaner energy infrastructure through partnership contract agreements, concentrating on joint ventures, and investigating. Hence, these rising factors are expected to propel the market growth during the forecast period from 2022 to 2032.
Additionally, as nuclear and green hydrogen fuel utilization rises, the green hydrogen industry is expanding. The biggest problems preventing the expansion of the green hydrogen market, however, are the initial investment necessary to build up hydrogen infrastructure and the prohibitive maintenance expenses. Additionally, the market for green hydrogen will experience an increase in revenue as regulations and laws supporting green hydrogen in the energy sector increase. In addition, environmental concerns over rising carbon emissions from the usage of fossil fuels are intensifying. Additionally, the expanding number of projects using hydrogen will increase the market's reach internationally.
Based on technology type, the alkaline electrolyzer segment accounted for the largest share of this market. Demand for this segment has been increasing in several emerging nations across the globe, which would drive also drive market growth in the future. The main reasons for alkaline electrolysis technology's quick market expansion and domination over other production technologies are listed below. Numerous easily available and inexpensively produced electrolytes are used in alkaline electrolysis. In contrast to PEM electrolyzers, which operate at temperatures between 70 and 90 degrees Celsius, alkaline electrolyzers have lower power and current densities and a wider operating temperature range of 100 to 105 degrees Celsius. Alkaline electrolyzes are also anticipated to rise in popularity since they are more readily available and less expensive than PEM electrolyzers. On the other side, the solid oxide electrolyzer segment has also been leading the market growth due to its rising demand. Electrolytes used in solid oxide electrolysis are simple to copy or swap out, and they don't corrode either electrode much. A SOEC could be used to electrolyze carbon dioxide and water vapor to produce syngas, in addition to producing hydrogen and oxygen. Applications for energy generation and storage may benefit from this conversion.
In terms of application type, the transportation category accounted for the largest share of this market. Hydrogen can be utilized in internal combustion engines or fuel cells for transportation. A hydrogen fuel cell is two to three times more efficient than an internal combustion engine running on gasoline due to its high energy efficiency. However, power generation is also expected to accelerate market growth over the forecast period. Additionally, Given that water is continuously reused, hydrogen is viewed as a substitute for fossil fuels. Additionally, the rise of the electrolyzer industry has been fueled by wind and solar energy sources for the electricity required in electrolysis.
Geographically, the European region holds most of the market share due to the presence of a lot of key players and manufacturing industries which is helping other end-user industries as well as the green hydrogen market to have significant growth. In Europe, hydrogen serves as the main energy source. With the European Green Deal, Europe hopes to lessen greenhouse gas emissions and get its economy ready for a post-carbon era. The large expenditures made by European economies in the pursuit of an energy transition into a clean, hydrogen-based economy over the coming years are also contributing to the increased demand in Europe. On the other side, North America and Asia-Pacific are both regions that are expected to drive the market with significant growth due to the rising demand for the green hydrogen market.
According to the study, key players such as FuelCell Energy, Air Liquide, Air Products, Plug Power., Adani Green Energy Ltd., Bloom Energy, SINOPEC, Reliance Industries Limited., Cummins Inc., Enapter, Fortum , Green Hydrogen Systems , Linde, Shell, Siemens Energy, Toshiba America Energy Systems, among others are leading the global green hydrogen market.
Scope of the Report:
Report Coverage
Details
Market Size in 2021

US$ 3.45 Billion

Market Volume Projection by 2032

US$ 170.9 Billion

Forecast Period 2022 to 2032 CAGR
40.7%
Base Year:

2021

Historical Data

2019, 2020 and 2021

Forecast Period

2022 to 2032

Segments covered

By Application - Power and Industry ,Mobility/ Transport, Chemical Feedstock, Construction.

By Technology - Alkaline Electrolyzer, Proton Exchange Membrane (PEM) Electrolyzer, Solid Oxide Electrolyser (SOE).

By Renewable Source - Solar, Wind, Algae & Others.

Geographies covered

North America, Europe, Asia-Pacific, LAMEA

Companies covered
Adani Green Energy Ltd., Cummins Inc., CWP Global , DSE Green Technologies, Green Hydrogen Systems, InterContinental Energy, Linde,Reliance Industries Limited, Royal Dutch Shell BP, Siemens, SINOPEC, State Power Investment Corp (SPIC), Suzhou Green Hydrogen Energy, Toshiba America Energy Systems, TotalEnergies, Vestas, ITM Power
,
The Global Green Hydrogen Market Has Been Segmented Into:
The Global Green Hydrogen Market – by Application Type:
Power and Industry
Mobility/ Transport
Chemical Feedstock
Construction.
The Global Green Hydrogen Market – by Technology Type:
Alkaline Electrolyzer
Proton Exchange Membrane (PEM) Electrolyzer
Solid Oxide Electrolyser (SOE)
The Global Green Hydrogen Market – by Renewable Source:
The Global Green Hydrogen Market – by Regions:
North America
Europe
Asia Pacific
Rest of the World
Note: This table of contents is a content of a published report. As per client requirement, cross-sectional analysis across all industries or specific geography or 'country-based' analysis can be provided as a part of paid customization. Please place your queries on sales@sheeranalyticsandinsights.com or query@sheeranalyticsandinsights.com