The Global Hand Sanitizer Market was $5.2 Bn in 2020, and it is expected to reach $13.20 Bn by 2028. It is eventually growing at a commendable high compound annual growth rate CAGR of 12.3% between 2020-2028. However, the current pandemic of COVID-19 is expected to aggravate the market at much faster rate. The hand sanitizer liquid, or gel solution used to prevent contagious diseases spread as well as help patients to get safe from other bacteria too. The hand sanitizer market is primarily driven by rising public awareness about personal hygiene. Moreover, the current outbreak of COVID-19 is projected to fuel the market demand for hand sanitizers across the world. The ease of accessibility and availability across distribution channels is expected to drive the market growth in the coming forecast period.
Global Gel Product Type Segment Is Estimated to Witness Remarkable Growth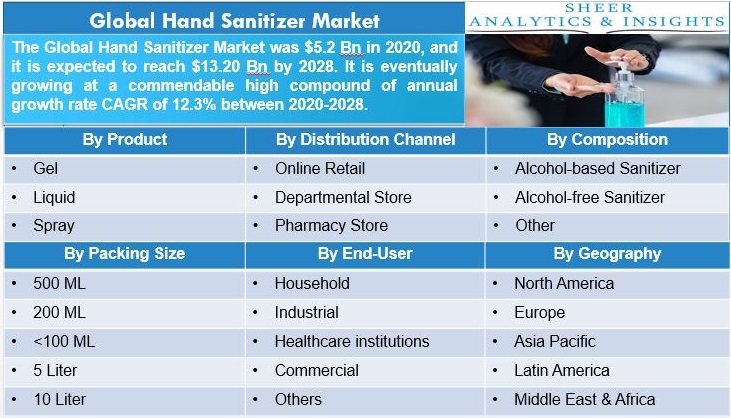 Source: SAI Research
The global Hand Sanitizer Market has been segmented into Product, Type, By Composition, and by Distribution Channel. By product type, the global Hand Sanitizer Market is divided into Gel, Liquid, Spray, and Others. By composition, global Hand Sanitizer Market is divided into Alcohol-based Sanitizer, and Alcohol-free Sanitizer. By distribution channel, the global Hand Sanitizer Market is divided into Online Retail, Departmental Store, Pharmacy Store, and Others. By packaging size, it is segmented into 500 ML, 200 ML, <100 ML, 5 Liter, 10 Liter and Others. In term of end users, it is segmented into Household, Industrial, Healthcare institutions, Commercial and Others. Gel Product Type Segment is estimated to witness remarkable growth over the forecast period due to the ease of handling and bacterial removal, and its accessibility from general stores to supermarkets.
By Region, North America is Holding the Major Market Share
The global Hand Sanitizer Market has been geographically segmented into Asia-Pacific, Europe, North America, Latin America, the Middle East, and Africa region. In addition to this, North America Hand Sanitizer Market is holding the largest market share currently and is estimated to show the fastest compound annual growth rate in the upcoming forecast period due to factors such as high awareness of hand hygiene among consumers. Moreover, the region is strongly hit by the COVID-19 which is expected to accelerate the demand for hand sanitizers that contribute towards the growth of Hand Sanitizers in the region. The Hand Sanitizer Market in the Asia Pacific region, however, is projected to show a decent growth rate over the forecast period due to increasing concerns towards health and wellness. Covid-19 impact on the Asia Pacific is also a reason for fueling the market of hand sanitizer. Europe and LAMEA region are also projected to experience significant growth over the forecast period from 2020 to 2028.
Major Players in Hand Sanitizer Market
Some of the prominent players in the global Hand Sanitizer Market include 3M Company, Best Sanitizers Inc., Chattem Inc., Gojo industries INC., Henkel AG & Company, Kutol Products Company, Inc, Lion Corporation, Medline Industries, Inc., Nice-Pak Products, Inc., The Procter & Gamble Company, Reckitt Benckiser Group, Skinvisible Inc., Unilever Plc, Vi-Jon Laboratories.
The Global Hand Sanitizer Market Has Been Segmented Into:
Global Hand Sanitizer Market: By Product
Global Hand Sanitizer Market: By Packing Size
500 ML
200 ML
<100 ML
5 Liter
10 Liter
Others
Global Hand Sanitizer Market: By Composition
Alcohol-based Sanitizer
Alcohol-free Sanitizer
Global Hand Sanitizer Market: By Distribution Channel
Online Retail
Departmental Store
Pharmacy Store
Others
Global Hand Sanitizer Market: By End User
Household
Industrial
Healthcare institutions
Commercial
Others
Global Hand Sanitizer Market: By Region
North America

USA
Canada
Mexico
Rest of North America

Asia Pacific

India
China
Japan
Australia
Rest of Asia Pacific

Europe

UK
Germany
France
Spain
Italy
Russia
Rest of Europe

Latin America, Middle East & Africa

Brazil
South Africa
UAE
Rest of LAMEA
Note: This table of contents is a content of a published report. As per client requirement, cross-sectional analysis across all industries or specific geography or 'country-based' analysis can be provided as a part of paid customization. Please place your queries on sales@sheeranalyticsandinsights.com or query@sheeranalyticsandinsights.com