The global hand tool sets market was valued at $24.2 billion in 2021 and it is expected to reach $39.8 billion at a CAGR of 4.3% between 2022 and 2032. Manufacturers are aware of how important it is to occasionally alter tool designs and provide new features. Today's tools must be durable, have consistent performance, and be made in a way that they meet the needs of the task for which they are chosen.
By region, North America accounted for the highest share for hand tool sets market across the globe.
The design and development of these tools, which are capable of both high performance and multi-functional operation, are emphasized by the tool producers. By decreasing the amount of time needed for the service and the full operation, the multi-functional tool can improve the efficiency of the operation. Companies are working to create and produce high-quality, extremely durable tools to boost the flow of customers after detecting the issue with the product durability of multi-functional tools.
Well-known businesses operating in the market plan acquisition tactics to increase their market penetration. For instance, SK Professional Tools was purchased by Great Star USA, a significant market player. The company hopes to strengthen and expand its sales and distribution in the United States with this acquisition. In addition, businesses use cutting-edge production equipment to increase output, conserve resources, and meet organizational objectives. In addition, attempts are being made to ingratiate innovation's worth into the entire market ecosystem by creating creative yet distinctive product designs through a great interest in R&D activities to foster wholesome market development globally.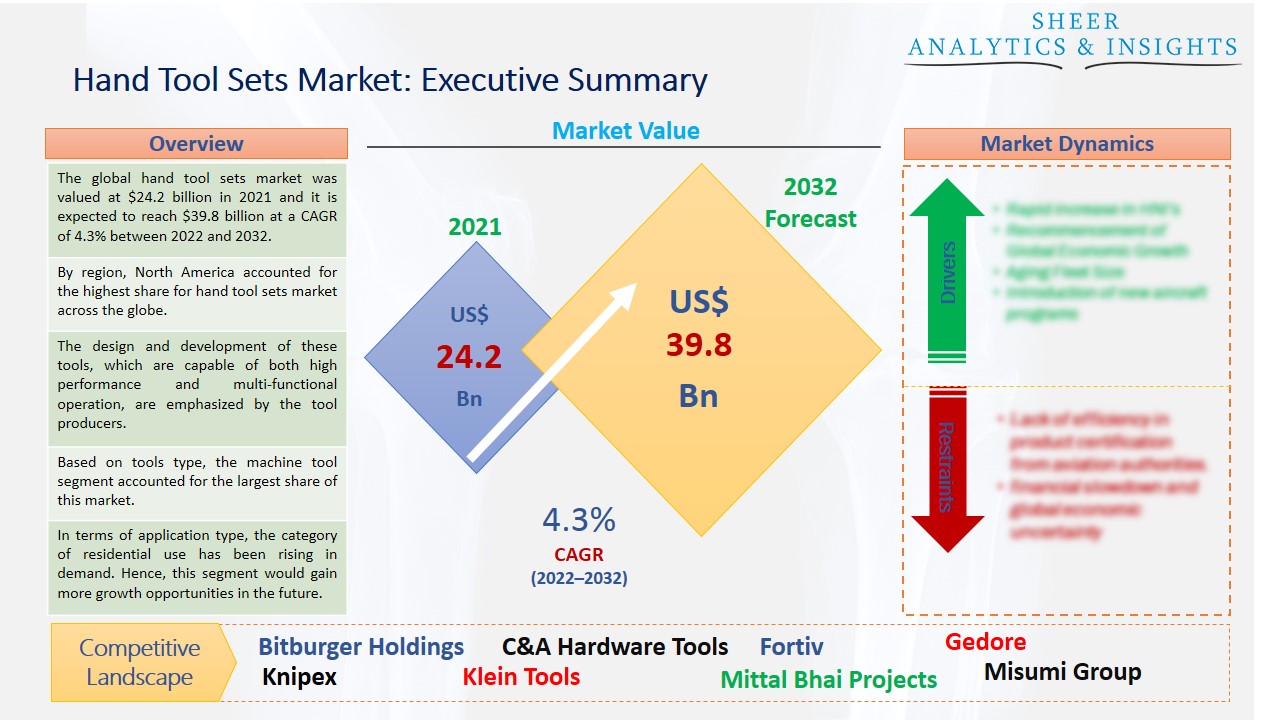 Source: SAI Research
Download Free PDF Sample Request
Over the projected period, sales of hand-operated tools might also be hampered by power tools that are capable of executing similar and consistent tasks for an extended period. It is projected that the market will be driven by the cost-effective product development of precise tools with cutting-edge machinery across various geographies. Global market expansion is predicted to be aided by the growth of industrial manufacturing clusters and the expansion of heat treatment units inside these facilities.
The businesses are also devoting time and resources to developing and enhancing production facilities to produce more precise, long-lasting, and feature-rich instruments. To purchase property and establish a sustainable manufacturing ecosystem, the corporations are also looking for specific government assistance from their governments, such as the waiver of higher import duties and subsidiaries as well as a reduction in stamp duty. Moreover, all nations on the planet are currently going toward automation. All industries must undergo this evolution to survive the forthcoming difficult time and meet the rising consumer demands. Additionally, automation benefits producers in a variety of ways, such as by lowering operational costs, minimizing human labor, enhancing worker safety, boosting output, and enhancing output quality.
Based on tools type, the machine tool segment accounted for the largest share of this market and is also anticipated to drive market growth during the forecast period. A collection of tools used by a machine operator is known as a hand tool set. Both tools for working on the machine directly and tools for working with other machines or parts are included. A spindle, collet, main shaft, headstock assembly, and other tiny elements are some of the parts that make up the machine tool. On the other hand, the electrician tool segment is also increasing in demand across several emerging countries. The equipment used by electricians is used to conduct electrical testing and troubleshoot home electronics, wires & cables, and other power-related apparatus. Additionally, the electrical, chemical, and allied industries' high demand for novel items created by hand tool manufacturers, such as the break-over wrench, cross tyre wrench, and double insulated products, predicts an upbeat growth outlook for these categories.
In terms of application type, the category of residential use has been rising in demand. Hence, this segment would gain more growth opportunities in the future. The demand for basic mechanical hand tools for DIY projects, such as nuts, bolts, screws driver sets, hammer drill electric screwdrivers, and others, is growing. Home-use tools include power tools, such as drills, saws, and drivers, wrenches and sockets, vacuum cleaners and lawn mowers, trimmers, hedge clippers, weed eaters & cultivators, and more. To decrease the size, weight, and upkeep of tool kits while yet being able to be utilized for numerous applications across a range of industries, many firms are concentrating on producing multi-purpose tools.
Geographically, the North American region has been dominating the global hand tool sets market and is also anticipated to hold its dominant position during the forecast period from 2022 to 2032. A large portion of the machine tools segment's revenue was created in North America due to the region's strong demand from end users such as factories, foundries, and other businesses that process metal. The primary driving forces behind this trend include issues like high labor costs, consumer preference for independent or self-services, and rising homeownership among nuclear families and millennials. On the other hand, the Asia-Pacific region is also expected to become the second-largest market over the forecast period. The market's expansion is due to the rising popularity of western culture, the accessibility of component fixture and repair tutorials for everyday activities, and the widespread usage of do-it-yourself techniques. Additionally, it is anticipated that the rise of regional producers and a healthy level of competition will accelerate the uptake of the product.
According to the study, key players such as Bitburger Holdings (Germany), C&A Hardware Tools (China), Fortiv (U.S), Gedore (Germany), Knipex (Germany), Klein Tools (U.S), Mittal Bhai Projects (India), Misumi Group (Japan), Pangu Industrial (China), Robert Bosch (Germany), Stahlwille (Germany), Snap-On Incorporated (U.S), Stanley Black and Decker (U.S), Taparia Tools (India), among others are leading the global hand tool sets market.
Scope of the Report:
Report Coverage
Details
Market Size in 2021

US$ 24.2 Billion

Market Volume Projection by 2032

US$ 39.8 Billion

Forecast Period 2022 to 2032 CAGR
4.3%
Base Year:

2021

Historical Data

2019, 2020 and 2021

Forecast Period

2022 to 2032

Segments covered

By Tools Type: Machine Tool, Electrician Tool, General Tool & Others

By Application Type: Residential Use , Professional Use & Others

Geographies covered

North America, Europe, Asia-Pacific, LAMEA

Companies covered
Bitburger Holdings (Germany), C&A Hardware Tools (China), Fortiv (U.S), Gedore (Germany), Knipex (Germany), Klein Tools (U.S), Mittal Bhai Projects (India), Misumi Group (Japan), Pangu Industrial (China), Robert Bosch (Germany), Stahlwille (Germany), Snap-On Incorporated (U.S), Stanley Black and Decker (U.S), Taparia Tools (India), among others.
The Global Hand Tool Sets Market Has Been Segmented Into:
The Global Hand Tool Sets Market – by Tools Type:
Machine Tool
Electrician Tool
General Tool
Others
The Global Hand Tool Sets Market – by Application Type:
Residential Use
Professional Use
Others
The Global Hand Tool Sets Market – by Regions:
North America
Europe

The U.K.
France
Germany
Italy
Rest of Europe

Asia Pacific

India
China
Japan
Australia
Rest of Asia Pacific

LAMEA
Middle East
Latin America
Africa
Note: This table of contents is a content of a published report. As per client requirement, cross-sectional analysis across all industries or specific geography or 'country-based' analysis can be provided as a part of paid customization. Please place your queries on sales@sheeranalyticsandinsights.com or query@sheeranalyticsandinsights.com