The global humanoid robots market was valued at $600 million in 2021 and it is expected to reach $7491 million at a CAGR of 25.20% between 2022 and 2032. Advanced features have been introduced in producing humanoid robots. Later, it boosted the overall growth of the market during the forecast period. Moreover, the adoption of humanoid robots for security purposes such as detection of intrusion and terror activities is supporting the market to have profitable growth.
After the Asia-Pacific, North America region is expected hold the maximum market share during the forecast period.
Humanoid robots have several characteristics features such as autonomous learning, self-maintenance, and safe interaction with humans and the environment. These types of robots can do things that human beings cannot do by themselves. Therefore, it seems like these robots are more capable of doing things which is not possible for a normal person. At present day, humanoid robots along with artificial intelligence algorithms increasing in demand. These are becoming very essential in hospitals or medical sectors as they can be used as medical assistants and training aids. In addition, they can execute difficult tasks from several body positions and movements.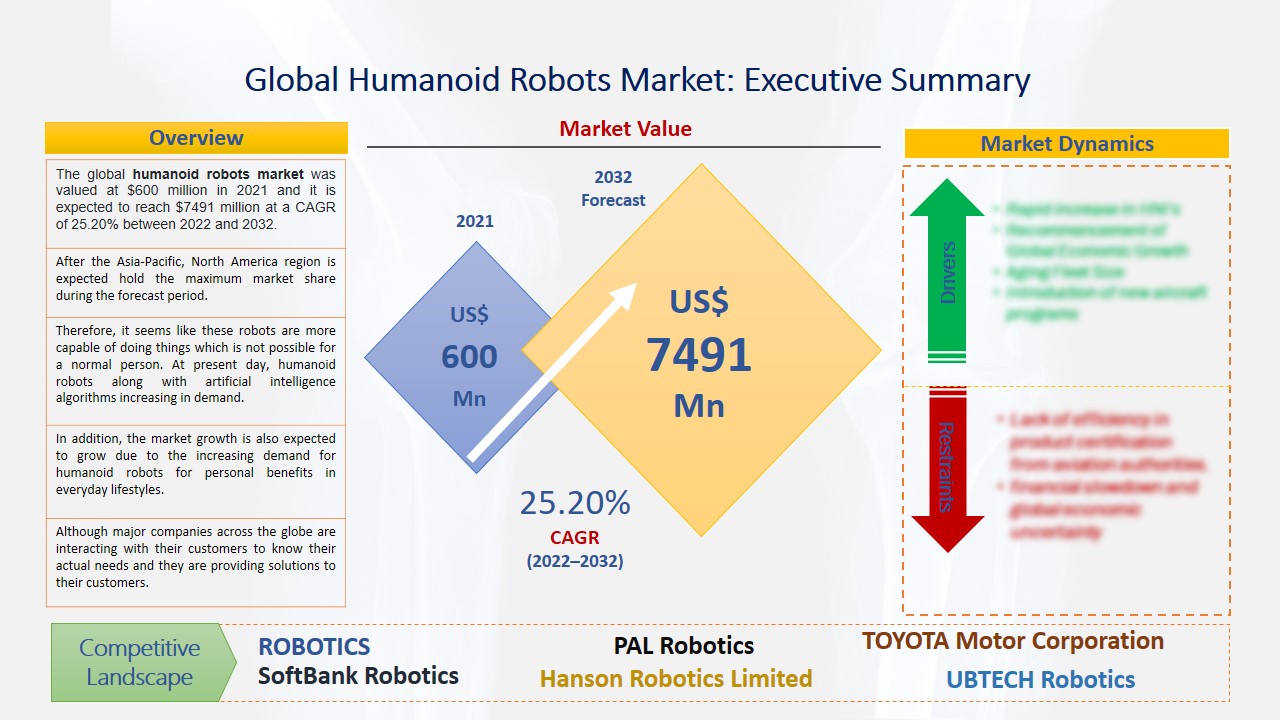 Source: SAI Research
A humanoid robot can educate itself. It can look for information on the internet and collect various data for more knowledge. These humanoid robots can be used in various industries such as defense and aerospace industries for particular works such as transmitting real-time alerts on detection of intruders and disaster responses. They need less than a second to react to a movement and they can perform tasks that would be very difficult for a human being to do. Furthermore, these robots can be adopted in commercial and retail industries to provide customers information and as well as to get customers' data such as email, phone numbers, addresses, and location.
With the support of the government in various countries, humanoid robots are used in educational institutes for teaching. In addition, the market growth is also expected to grow due to the increasing demand for humanoid robots for personal benefits in everyday lifestyles. For these initiatives, the significant investments need more support from government and R&D activities as well. To execute such plans, the overall market is needed to have good products investments and advertisements too. Although major companies across the globe are interacting with their customers to know their actual needs and they are providing solutions to their customers.
The key players such as ROBOTICS (South Korea), PAL Robotics (Spain), TOYOTA Motor Corporation (Japan), SoftBank Robotics (Japan), Hanson Robotics Limited (Hong Kong), UBTECH Robotics (China), Toshiba Corporation (Japan), Trossen Robotics (U.S), Willow Garage (U.S), Honda (Japan) and others are dominating the market across the globe. Some of the key players are enhancing their business growth by implementing new technological business strategies and doing business partnerships with other companies to stay ahead in the competitive market across the globe.
Scope of the Report:
Report Coverage

Details

Base Year:

2021

Market Size in 2021:

USD 600 million

Historical Data for:

2019, 2020 and 2021

Forecast Period:

2022 to 2032

Forecast Period 2022 to 2032 CAGR:

25.20%

2032 Value Projection:

USD 7491 million

Segments covered:

By Component - Software, Hardware.

By Product - Biped, Wheel Drive.

By Application - Hospitality, Retail, Healthcare, Military and Defense, Construction, Education, Media and Entertainment and others

Geographies covered:

North America - U.S, Canada, Mexico

Europe - Germany, France, Italy, U.K, Russia, Rest of Europe Countries

Asia-Pacific -India, China, Japan, South Korea, North Korea, Rest of Asian Countries

LAMEA - Brazil, Saudi Arabia, Rest of LAMEA

Companies covered:

ROBOTICS (South Korea), PAL Robotics (Spain), TOYOTA Motor Corporation (Japan), SoftBank Robotics (Japan), Hanson Robotics Limited (Hong Kong), UBTECH Robotics (China), Toshiba Corporation (Japan), Trossen Robotics (U.S), Willow Garage (U.S), Honda (Japan) and others
The Global Humanoid Robots Market Has Been Segmented Into:
The Global Humanoid Robots Market – by Component
The Global Humanoid Robots Market – by Product
The Global Humanoid Robots Market – by Application
Hospitality
Retail
Healthcare
Military and Defense
Construction
And Others
Education
Media and Entertainment
The Global Human Microbiome Market – by Region
North America
Europe
Germany
France
Italy
U.K.
Russia
Rest of Europe Countries
Asia-Pacific
India
China
Japan
South Korea
North Korea
Rest of Asian Countries
LAMEA
Brazil
Saudi Arabia
Rest of LAMEA
Note: This table of contents is a content of a published report. As per client requirement, cross-sectional analysis across all industries or specific geography or 'country-based' analysis can be provided as a part of paid customization. Please place your queries on sales@sheeranalyticsandinsights.com or query@sheeranalyticsandinsights.com