The global hydrogen fuel cell vehicles market was valued at $1.29 billion in 2021 and it is expected to reach $260.1 billion at a CAGR of 64.3% between 2022 and 2032. The trend toward clean fuels and green technology has changed as a result of the population boom's impact on growing pollution levels and the need to successfully reduce carbon emissions. In recent years, this has had a positive impact on the demand for FCV. Demand for FCVs has increased recently due to the switch from conventional fuel vehicles to eco-friendly vehicles. Throughout the projected period, the market expansion is being fueled by additional factors such as stringent environmental regulations, the availability of incentives and subsidies for clean fuels, and hazardous gas emissions from combustion engine vehicles.
By region, Asia-Pacific region is expected to dominate the hydrogen fuel cell vehicles market across the globe.
Electric cars (EVs) and hydrogen fuel cell vehicles (FCVs) both power their wheels using electric motors rather than internal combustion engines. FCVs produce their electricity onboard, in contrast to EVs, which rely on batteries that need to be plugged into recharge. In a fuel cell, hydrogen (H2) gas from the fuel tank and oxygen (O2) from the air combine to produce electricity with the only waste products being water and heat. Additionally, numerous automakers are offering FCVs for sale or lease in a few markets, especially in California, where there are currently a few hydrogen refueling stations. Infrastructure for hydrogen is also emerging in other parts of the nation. Fuel cell transit buses are currently patrolling the streets of places like Boston, Massachusetts, and Flint, Michigan, and stations are being planned for or constructed in the Northeast and Hawaii. As infrastructure develops and technology advances over the coming years, there are plans to increase FCV offers.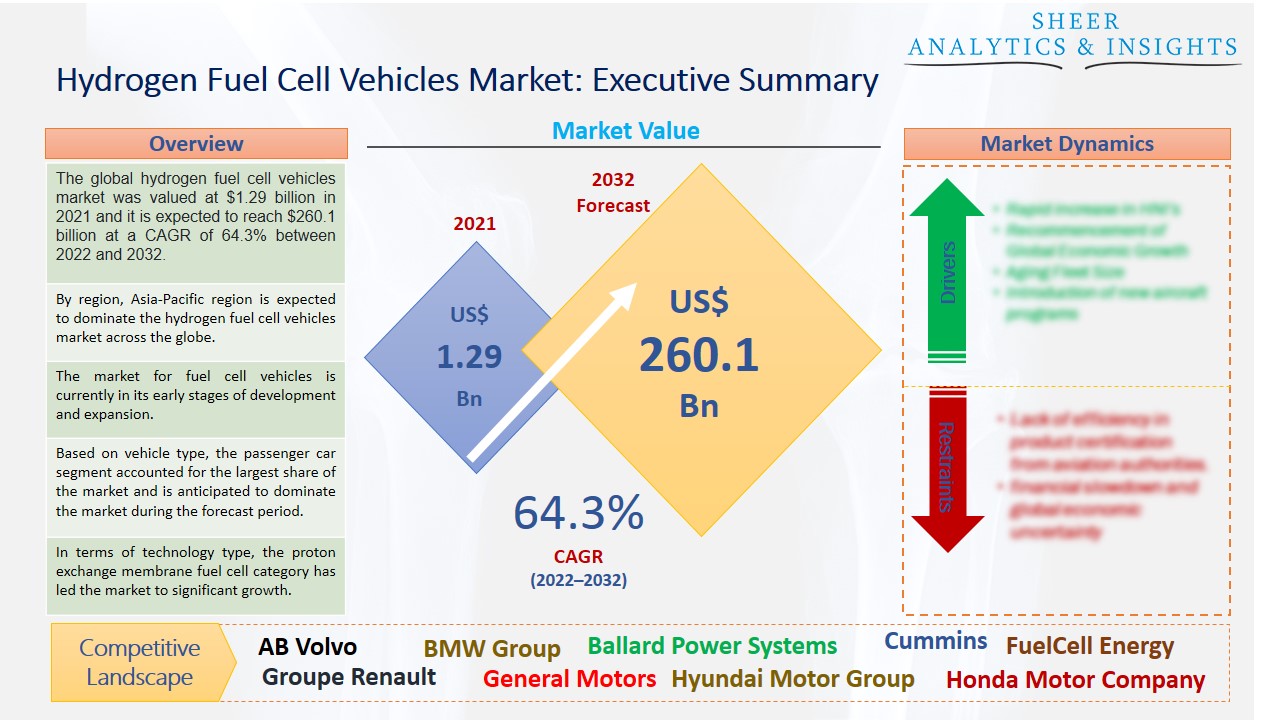 Source: SAI Research
Download Free PDF Sample Request
The market for fuel cell vehicles is currently in its early stages of development and expansion. A few vehicles from Toyota Motor Corporation, Honda Motor Corporation, and Hyundai Motor Group are currently operating in some particular places, but many technologies are still in the experimental stage. Based on their previous prototypes, European automakers like BMW AG and Audi are creating fuel cell vehicles with a later launch date in mind. Following in the footsteps of BMW and Audi are numerous additional businesses. In addition, market dynamics are influences that have an impact on the prices and actions of market participants in the US hydrogen fuel cell vehicle market. When the supply and demand curves for a particular good or service alter as a result of these pressures, pricing signals are produced.
The market for hydrogen fuel cell vehicles is also anticipated to increase as a result of additional causes including technological developments, enhanced performance, reduced noise, rising petroleum prices, and strict government environmental conservation regulations. However, it's anticipated that the expensive price of these vehicles would partially restrain market expansion. However, in the upcoming years, industry participants may anticipate finding plenty of chances thanks to innovations and aggressive research and development.
Based on vehicle type, the passenger car segment accounted for the largest share of the market and is anticipated to dominate the market during the forecast period. The market for fuel cell vehicles is experiencing substantial expansion as a result of the rapid uptake of passenger automobiles in nations like Japan and South Korea. The cost of vehicle fuel is driven by the depletion of fossil fuel reserves. The government is being prompted by this to search for environmentally friendly and low-emission sources to fuel automobiles. A passenger vehicle is essentially a road vehicle, such as a car, truck, or van, used to transport people rather than cargo. Manufacturers of passenger cars have developed a market niche for appealing to the country's middle class with affordable costs, high-quality features, compact sizes, and straightforward financing choices.
In terms of technology type, the proton exchange membrane fuel cell category has led the market to significant growth. Furthermore, this category is also expected to lead the market in the future due to its rising demand. Protons are conducted in PEMFC using polymer electrolytes. A typical PEMFC electrolyte with outstanding mechanical strength, exceptional flexibility, high chemical stability, and excellent proton conductivity is perfluorosulfonic acid (PFSA) polymer, also known as Nafion. However, the market for solid oxide fuel cells is also expanding since these fuel cells can run at high temperatures and don't need pricey catalysts like ruthenium. Stationary applications are where solid oxide fuel cells are most frequently used.
Geographically, the Asia-Pacific region has been leading the market growth over the past few years and is also projected to hold its dominant position during the forecast period from 2022 to 2032. However, the North American region holds most of the market share. This is explained by elements like increased purchasing power, improved transit systems, availability of hydrogen refueling stations, and technological breakthroughs. Additionally, the governments of the United States and Canada are urging their citizens to buy automobiles that use alternative forms of energy. On the other hand, due to significant investments made by key companies and governments in the region, analysts expect that the Asia Pacific will experience a quick and steady increase in market share over the projection period. For instance, South Korean automakers Hyundai Motor and SK Holding have announced plans to invest billions of dollars, which will be crucial in bridging the gap between hydrogen's ideals and its practical applications.
According to the study, key players such as Daimler AG, Honda Motors Co. Ltd., Nikola Corporation, Toyota Motor Corporation, Hyundai Motor Group, Ballard Power System Inc., Volvo AB, General Motors, BMW AG, Audi AG and among others are leading the global hydrogen fuel cell vehicles market.
Scope of the Report:
Report Coverage
Details
Market Size in 2021

US$ 1.29 Billion

Market Volume Projection by 2032

US$ 260.1 Billion

Forecast Period 2022 to 2032 CAGR
64.3%
Base Year:

2021

Historical Data

2019, 2020 and 2021

Forecast Period

2022 to 2032

Segments covered

By Vehicle Type: Car , Bus , Truck, Material Handling Vehicles (Forklift) & Others

By Technology Type: Proton Exchange Membrane Fuel Cell, Alkaline Fuel Cell, Solid Oxide Fuel Cell & Others

Geographies covered

North America, Europe, Asia-Pacific, LAMEA

Companies covered
Daimler AG, Honda Motors Co. Ltd., Nikola Corporation, Toyota Motor Corporation, Hyundai Motor Group, Ballard Power System Inc., Volvo AB, General Motors, BMW AG, Audi AG and Others
The Global Hydrogen Fuel Cell Vehicles Market Has Been Segmented Into:
The Global Hydrogen Fuel Cell Vehicles Market – by Vehicle Type:
Car
Bus
Truck
Material Handling Vehicles (Forklift)
Others
The Global Hydrogen Fuel Cell Vehicles Market – by Technology Type:
Proton Exchange Membrane Fuel Cell
Alkaline Fuel Cell
Solid Oxide Fuel Cell
Others
The Global Hydrogen Fuel Cell Vehicles Market – by Regions:
North America
Europe

U.K.
France
Germany
Italy
Rest of Europe

Asia Pacific

India
China
Japan
Australia
Rest of Asia Pacific

LAMEA
Middle East
Latin America
Africa

South Africa
Egypt
Others
Note: This table of contents is a content of a published report. As per client requirement, cross-sectional analysis across all industries or specific geography or 'country-based' analysis can be provided as a part of paid customization. Please place your queries on sales@sheeranalyticsandinsights.com or query@sheeranalyticsandinsights.com