The India digital payment market was valued at $1.4 Trillion in 2021 and it is expected to reach $23.2 Trillion at a CAGR of 28.4% between 2022 and 2032. Digital payment is a type of electric transaction that is made through various mobile payment applications without any physical exchange of money involved. The Indian Government has been projecting many ways to develop and encourage digital payments platforms across the country, which would help the market gain significant growth in upcoming years.
In India, Andhra Pradesh holds the largest share in the digital payment market.
The unified payment interface of NPCI is the most widely used platform across the country. In the last few years, it has accounted for more than four hundred crore transactions. It was almost twice the transaction that was seen in the last two years. However, the usage of digital payment applications among Indian citizens has increased considerably. During and after the pandemic situation of COVID-19, the digital payment method has been rising. Several major factors such as growing usage of smartphones, mobile payment applications, increase in high-speed internet facilities, and net banking facilities are estimated to drive the Indian digital payment market during the upcoming years. In addition, India has been already leading the digital payment market for the last few years. Moreover, RBI has developed many rules regarding digital payment to conduct online transactions safer and more secure. Authentication for all recurring credit and debit card payments has been implemented by the RBI, and this requires all the payment companies to replace the details of the card with an alternative code called a token. This will help the customers to conduct secure digital payments through mobile applications or internet banking processes.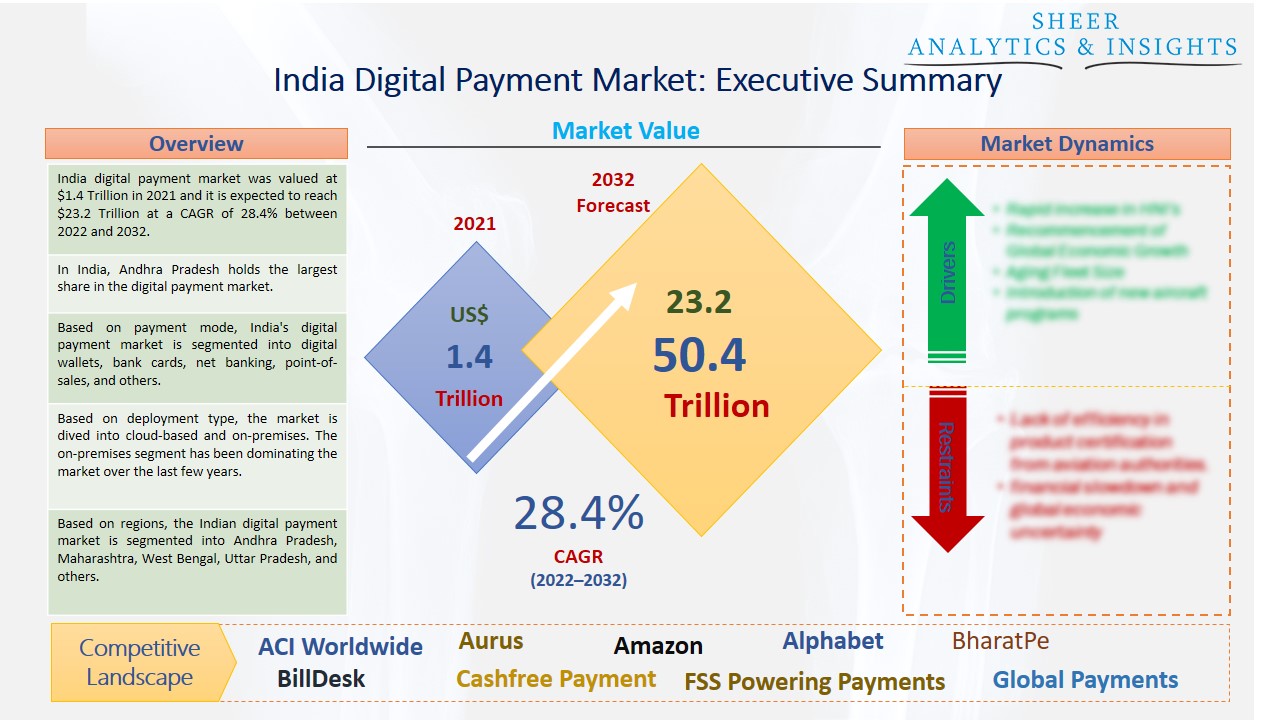 Source: SAI Research
Based on payment mode, India's digital payment market is segmented into digital wallets, bank cards, net banking, point-of-sales, and others. The point-of-sales segment has dominated the market with the maximum share over the last few years. Demand for point-of-sale in retail stores including offline and online to make money transactions is growing. In addition, these payment modes provide several benefits such as customized customer experiences, fast checkout options, and multiple payment options. At present days cloud-based point-of-sales are increasing among retailers. They are adopting this payment mode to increase their services for Indian customers. Besides this, the net banking category is also expected to support the digital payment market in India. This payment model provides benefits such as activity tracking, developed time efficiency, and ease of banking. Hence, these rising factors are estimated to drive the digital payment market in near future.
Based on deployment type, the market is dived into cloud-based and on-premises. The on-premises segment has been dominating the market over the last few years. This kind of deployment helps organizations and businesses by giving full control of applications and systems. Cloud deployment is another leading segment that is projected to gain significant share during the forecast period. Primary factors such as the continuation of smart city projects, and an increase in retail stores with the unmanned facility, among others are projected to boost the Indian digital market.
Based on end-user, the Indian digital payment market is categorized into healthcare, BFSI, IT and Telecom, media and entertainment, retail and e-commerce, transportation, and others. Among these, the BFSI category is accounted for the largest share in the digital payment market across the country. The demand for digital payment is growing; hence Indian banks are adopting digital payment solutions to conduct national and international transactions.
Based on regions, the Indian digital payment market is segmented into Andhra Pradesh, Maharashtra, West Bengal, Uttar Pradesh, and others. Among these, Andhra Pradesh holds the largest share in the digital payment market across the country. Factors such as increasing mobile usage, growing internet activities with a high-speed connection, and mobile applications are projected to boost the market in this state. Cities such as Bengaluru, Mumbai, and others are also estimated to have significant growth during the forecast period.
HDFC Bank has launched PayZapp and SmartBuy applications which allow customers to pay all their bills online, buy goods and services, tickets, and recharge their mobile and send money to anyone across the country. The bank is also projected to launch a new digital credit card for customers who can make payments safely. Last year, Instamojo launched e-commerce services and focused on empowering direct-to-consumer for independent online stores. Moreover, BharatPe launched a merchant shareholding program for its merchant partner. The company launched the buy-now-pay-later platform with the launch of PostPe. It would provide credit to Indian consumers to buy now and pay later from anywhere across the country. Customers can download the Postpe application and can get an interest-free credit limit of up to rupees ten lakhs. Additionally, users can use this app and conduct payments by scanning QR codes through the application. Novatti Group is expected to launch AUD stable coin to provide online payment solutions. Furthermore, this would provide clients and other customers with an innovative new product by producing potential new revenue streams. Hence, these new launches by some of the Indian key players are estimated to drive the digital payment market during the forecast period from 2022 to 2032.
According to the study, key players such as ACI Worldwide (U.S), Aurus Inc (India), Amazon.Com (U.S), Alphabet Inc (U.S), BharatPe (India), BillDesk (India), Cashfree Payment (India), FSS Powering Payments (India), Global Payments (U.S), HDFC (India), Instamojo (India), ICICI Bank (India), Flipkart (India), Novatti Group (India), NPCI (India), Nimble Vision (India), Paypal Holdings (U.S), PineLabs (India), One97 Communications (India), RazorPay (India), Stripe (U.S), SBI (India), Visa (U.S), Vista Equity Partners (U.S), Wirecard (India), among others are leading the India digital payment market.
Scope of the Report:
Report Coverage

Details

Market Size in 2021

US$ 1.4 Trillion

Market Volume Projection by 2032

US$ 23.2 Trillion

Forecast Period 2022 to 2032 CAGR

28.2%

Base Year:

2021

Historical Data

2019, 2020 and 2021

Forecast Period

2022 to 2032

Segments covered

By Payment Mode: Digital Wallets, Bank Cards, Net Banking, Point-of-Sales & Others

By Deployment Type: Cloud, On-Premises

By End-User: Healthcare, BFSI, IT and Telecom, Media and Entertainment, Retail & E-Commerce, Transportation, Others

Geographies covered

India: Andhra Pradesh, Maharashtra, West Bengal, Uttar Pradesh & Others

Companies covered
ACI Worldwide (U.S), Aurus Inc (India), Amazon.Com (U.S), Alphabet Inc (U.S), BharatPe (India), BillDesk (India), Cashfree Payment (India), FSS Powering Payments (India), Global Payments (U.S), HDFC (India), Instamojo (India), ICICI Bank (India), Flipkart (India), Novatti Group (India), NPCI (India), Nimble Vision (India), Paypal Holdings (U.S), PineLabs (India), One97 Communications (India), RazorPay (India), Stripe (U.S), SBI (India), Visa (U.S), Vista Equity Partners (U.S), Wirecard (India), among others
India Digital Payment Market Has Been Segmented Into:
India Digital Payment Market – by Payment Mode:
Digital Wallets
Bank Cards
Net Banking
Point-of-Sales
And Others
India Digital Payment Market – by Deployment Type:
India Digital Payment Market – by End-User:
Healthcare
BFSI
IT and Telecom
Media and Entertainment
Retail & E-Commerce
Transportation
Others
India Digital Payment Market – by Regions:
India
Andhra Pradesh
Maharashtra
West Bengal
Uttar Pradesh
Others
Note: This table of contents is a content of a published report. As per client requirement, cross-sectional analysis across all industries or specific geography or 'country-based' analysis can be provided as a part of paid customization. Please place your queries on sales@sheeranalyticsandinsights.com or query@sheeranalyticsandinsights.com