The India freelance job market was valued at $7.3 billion in 2021 and it is expected to reach $50.4 billion at a CAGR of 16.1%% between 2022 and 2032. A freelance job is a contract-based work or profession, where a person works by using his or her skills and experience to provide services to organizations or various businesses. In simple terms, a person can work with multiple clients from several organizations and take on various projects without committing to a single employer.
In India, Bengaluru is leading the freelance job market across the country.
Freelancing usually involves jobs also known as gigs that allow a worker to work from home situations. However, freelancing does not always mean that a person has to work from home. Workers might have to work at their client's office that is depending on the type of work and the requirements of clients. This is a contract between a single worker and a client. A few years before, there had not been many efforts from the Indian Government toward supporting freelance workers. Currently, the Indian Government is assisting freelance workers through an initiative called Digital India Platform through which they hire various freelancers to help carry out the tasks. Anyone with computer knowledge can be hired by the government to execute such works, which would benefit the person for some particular time. Therefore, these major factors have driven the growth of the freelance job market over the past few years. However, while there are several benefits for freelance workers, there are also some downsides. For instance, a freelancer might have a lot of inconsistent workloads. One can get a lot of projects in one month, but not much in the next month. This is the primary reason that a person might experience difficulties in finding clients. In addition, a freelancer must need track, manage, and put aside money for all taxes. In most freelance jobs, taxes are automatically deducted from their paycheck. These cons might hinder the growth of the freelance jobs market for some time across India.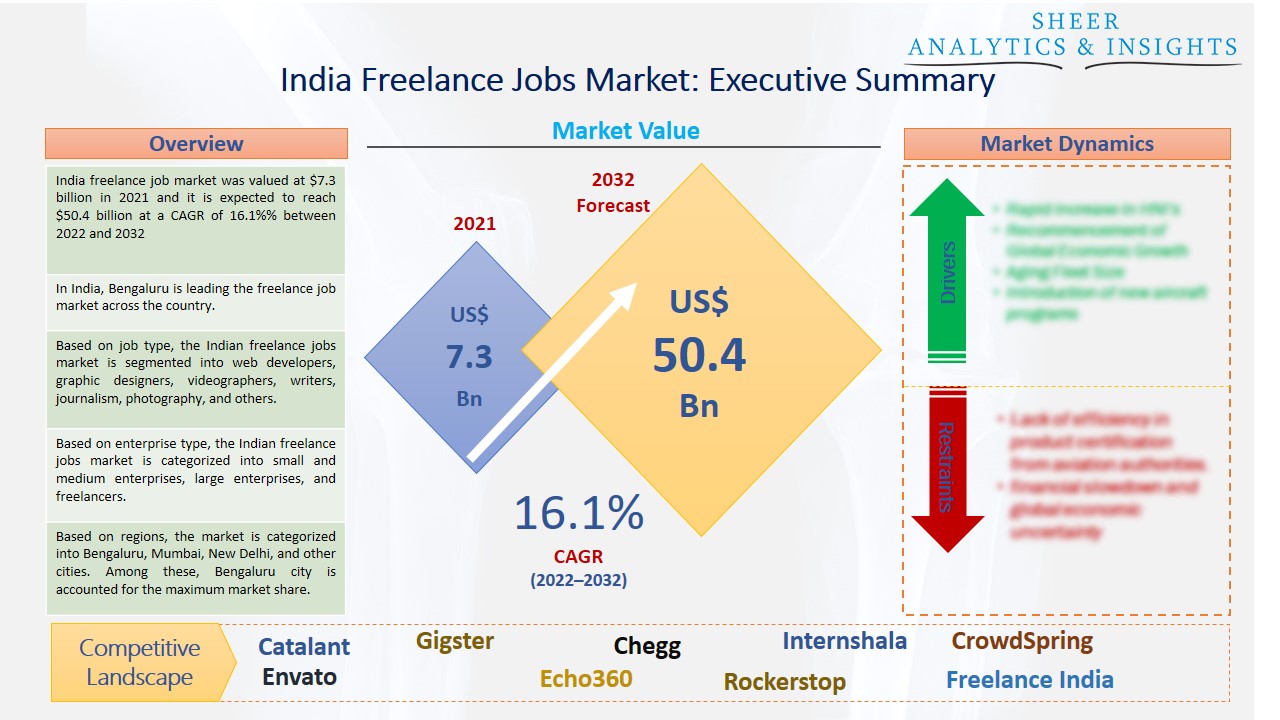 Source: SAI Research
Based on job type, the Indian freelance jobs market is segmented into web developers, graphic designers, videographers, writers, journalism, photography, and others. Writer and journalism segments hold the maximum share and these are estimated to fuel the market growth in upcoming years. Due to increasing recruitment for freelance writers and journalists, the freelance jobs market is expected to have significant growth opportunities. Other segments are also supporting the market to grow in a certain way. There are lots of companies and organizations that are hiring freelance photographers, graphic designers, videographers, web developers, and others to get benefits from freelance services by providing freelance jobs to various independent workers. Based on enterprise type, the Indian freelance jobs market is categorized into small and medium enterprises, large enterprises, and freelancers. The large enterprise and freelancer segments hold the maximum share of the market. Various companies are developing at present days. They need to execute some tasks in between certain periods. Hence, they hire temporary workers who have experience in that particular field until the task is completed.
Based on regions, the market is categorized into Bengaluru, Mumbai, New Delhi, and other cities. Among these, Bengaluru city is accounted for the maximum market share. Due to the rising development of various new companies and the increase in hiring freelancers for organizations, the Indian freelance jobs market is projected to have significant growth in upcoming years in major cities such as Bengaluru, Mumbai, and others. Moreover, Individual changes in technology, culture, population, and professional needs and goals, have led companies to reevaluate their human resource policies to adapt to the rising freelance economy. The number of job opportunities has been increased for freelance workers in major cities across India. Therefore, the overall market is estimated to grow more in upcoming years. Furthermore, Technological integration into freelance marketplace models has changed the way people work. From appearing in an office setup to working remotely, freelancers gain the flexibility to improve their work and life balance.
India-based Company Freelance India has started to hire many freelance workers in executing tasks such as graphic designing, Photoshop editing, logo making, 2D and 3D animation making, and more. This key player is one of the most popular platforms for over a decade now. Moreover, this company is offering genuine work in various categories and also allows freelancers to create a Google listing of their work. Another India-based Company named Flexible has launched Remote Tools 2.0 with brand new features for both remote workers and remote-first product makers. Last month, Internshala has launched Chalo India, Let's Work from Home, which is a brand new initiative. Through this, the company is providing virtual internship opportunities for a large number of Indian students. The major focus of this initiative is to provide more than 5000 virtual internships to various aspirants across the country. Under this initiative, students with all educational backgrounds can apply for this internship, whether they are studying engineering, business management, arts, media, commerce, or others. Fiverr Company has launched new AI-generated voice auditions for voice-over artists. This is an Artificial Intelligence-powered voiceover tool that provides customers instant access to personalized samples of scripts while magnifying the productivity of voiceover artists. Therefore, these new innovative launches from some key players are estimated to boost the Indian freelance jobs market during the forecast period from 2022 to 2032.
According to the study, key players such as 99designs (Australia), Catalant (U.S), Chegg (India), CrowdSpring (U.S), Envato (Australia), Echo360 Inc (U.S), Freelance India (India), Flexiple (India), Fiverr (Israel), Freelancer.Com (Australia), Gigster (U.S), Guru.Com (U.S), IKEA (Sweden), Internshala (India), INGKA Holding (Netherlands), Nexxt Inc (U.S), PeoplePerHour (U.K), Rockerstop (India), SkyWord (U.S), Toptal (Hungary), Truelancer,Com (India), Upwork Inc (U.S), WriterAccess (U.S), WorknHire (India), Youth4Work (India), among others are leading the Indian freelance job market.
Scope of the Report:
Report Coverage

Details

Market Size in 2021

US$ 7.3 billion

Market Volume Projection by 2032

US$ 50.4 billion

Forecast Period 2022 to 2032 CAGR

16.1%%

Base Year:

2021

Historical Data

2019, 2020 and 2021

Forecast Period

2022 to 2032

Segments covered

By Job Type: Web Developer, Graphic Designer, Videographer, Writer, Journalism, Photography & Others

By Enterprise Type: Small and Medium Enterprises, Large Enterprises, Freelancers

Geographies covered

India: Bengaluru, Mumbai, New Delhi & Others

Companies covered
99designs (Australia), Catalant (U.S), Chegg (India), CrowdSpring (U.S), Envato (Australia), Echo360 Inc (U.S), Freelance India (India), Flexiple (India), Fiverr (Israel), Freelancer.Com (Australia), Gigster (U.S), Guru.Com (U.S), IKEA (Sweden), Internshala (India), INGKA Holding (Netherlands), Nexxt Inc (U.S), PeoplePerHour (U.K), Rockerstop (India), SkyWord (U.S), Toptal (Hungary), Truelancer,Com (India), Upwork Inc (U.S), WriterAccess (U.S), WorknHire (India), Youth4Work (India), among others
India Freelance Jobs Market Has Been Segmented Into:
India Freelance Jobs Market – by Job Type:
Web Developer
Graphic Designer
Videographer
Writer
Journalism
Photography
Others
India Freelance Jobs Market – by Enterprise Type:
Small and Medium Enterprises
Large Enterprises
Freelancers
India Freelance Jobs Market – by Regions:
India
Bengaluru
Mumbai
New Delhi
Others
Note: This table of contents is a content of a published report. As per client requirement, cross-sectional analysis across all industries or specific geography or 'country-based' analysis can be provided as a part of paid customization. Please place your queries on sales@sheeranalyticsandinsights.com or query@sheeranalyticsandinsights.com